Derby County manager Steve McClaren admits England scars
Pain of national team failure still hurts high-flying Derby manager but, he tells Richard Rae, it was part of a learning process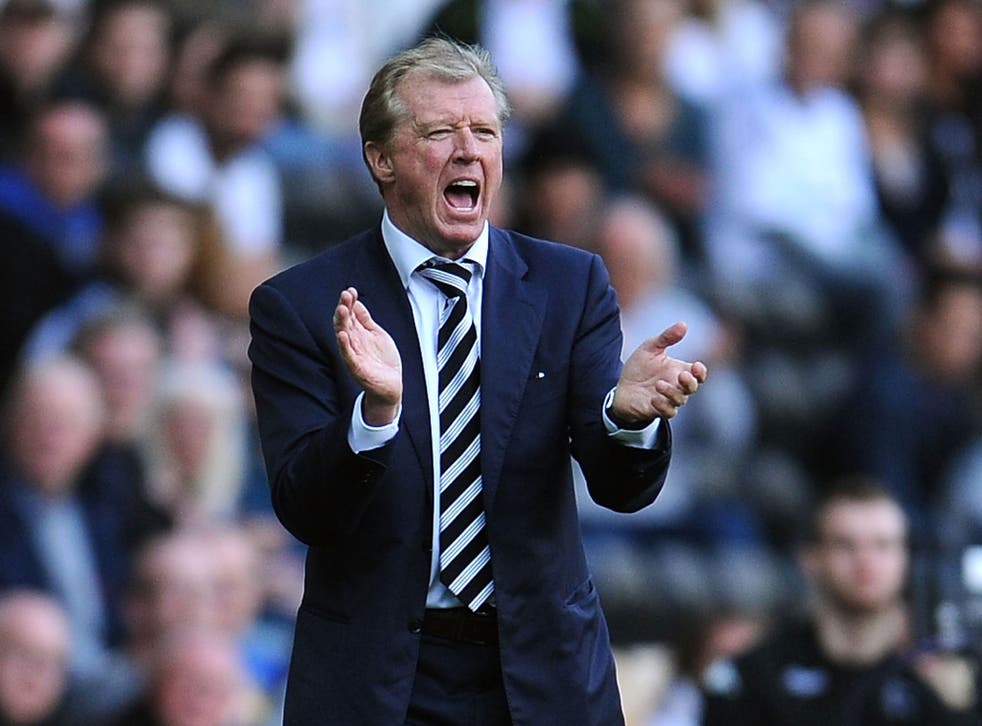 On the day of the 2014 World Cup draw, Steve McClaren can talk about his experience as England manager with a certain equanimity. That he is able to do so, he adds with the awareness of one accustomed to criticism, is more a function of the passage of time than in any transformation he is effecting in the fortunes of Derby County.
"England left its scars and you have to get over that as an individual," he says. "Many people forget and move on, but it's still there. I went abroad and had great experiences and lost myself for a couple of years, but I wanted to come back to England, not to restore my reputation, purely to coach.
"Now I'm just getting on with my job. Through experience I know it's not the lows that count, it's how you come back from them, and that's the message we are passing on to the team here, that we will have disappointments but you just have to get back on the horse. That's what I've done each time and hopefully with success here at Derby."
In that respect, McClaren appears to have come to terms with the fact his 18 games in charge of the national side, incorporating as they did a miserable failure to qualify for Euro 2008, will probably always colour people's opinions of his abilities.
Harder to gainsay, however, are his achievements in domestic football, though it does not stop many trying. Thus the Yorkshireman had little to do with Manchester United winning five major trophies, including the Champions League in 1999, during his time as assistant manager to Alex Ferguson. Winning the League Cup with Middlesbrough and taking the Teesside club to a Uefa Cup final in 2006 was down to chairman Steve Gibson funding a series of expensive acquisitions. He may have guided FC Twente to their first ever Dutch league title, but he failed at Wolfsburg, Nottingham Forest and then on his return to Twente. And so on.
Even now at Derby, where the Rams have won six and drawn one of the eight games they have played since he took over, and moved from 14th to fourth in the Championship, success is being achieved on the back of the work done by former manager Nigel Clough.
Statistics, however, suggest otherwise. Clough's Derby may have been the division's top scorers but they conceded goals for fun. McClaren and assistants Paul Simpson and Eric Steele have tightened them up at the back to such effect that in the last four games, all of which have been won, they have conceded only twice.
"Goalscoring is clearly a strength and it comes from different areas, it's not just one player getting them all, which is a huge thing," says McClaren. "But we were in the bottom three for conceding and you achieve nothing when you do that, so we've tried to address that, to get the balance right.
"As of late we've been defending well and that's the platform. Even in a poor game against Middlesbrough on Wednesday we got that right, while at the same time playing enough football to win."
"The change [in management] was a big shock for the players, they've been asked to adapt very quickly, and to their credit they've done that. They've taken on board what we've asked of them and they deserve all the credit."
While most Rams supporters would be happy with a play-off place, the rapidity of recent progress has led others to start talking of automatic promotion. McClaren says he understands the "buzz", but the nature of the Championship should make everyone cautious.
"We're nowhere near that stage, absolutely nowhere near. All clubs in this division are capable of going on a run and then falling away, and Derby County have been the same. It's an inconsistent division and we're trying to provide and build consistency. If we're still in this position in March and April, then you can say we are genuine contenders."
Noting yesterday's World Cup draw, his reaction tended to the practical. "I was fortunate to do 2002 in Japan [as assistant to Sven Goran Eriksson] when we were based in Kobe for the majority of the tournament, which was a big help.
"Then for the quarter-final [against Brazil] we had to go to Tokyo, it was a full day's travel and we never recovered from it. At the start of the second half we had no energy.
"There are many facets to a World Cup, but the one thing I know is the [England] organisation will be top, no detail will be missed. Roy [Hodgson] will have no qualms about that, it's purely managing the players as individuals, and the team, the energy and their attitudes."
Which is where his critics will say McClaren fell down, with England at least. At Derby, as experienced defender Richard Keogh acknowledges, the McClaren touch is proving altogether more astute.
"We always had quality in the group brought together by the former manager, and he recognised that. He's explained where we can improve, changed a few little things, and it's come together well."
Well travelled: Mcclaren's career
1979 Joins Hull from school
1992 Retires after spells with Derby, Bristol City and Oxford 1995 Returns to Derby as assistant to Jim Smith, helping them reach the Premier League
1999 Becomes Alex Ferguson's assistant at Manchester United 2000 Takes on role as coach with England
2001 Moves to Middlesbrough, leading club to 2004 League Cup and 2006 Uefa Cup final
2006 Replaces Sven Goran Eriksson as England manager
2007 Sacked after failing to reach Euro 2008 (below)
2008 Appointed Twente manager, leading them to the title
2010 Takes over at Wolfsburg, but only lasts nine months
2011 Unsuccessful stint at Nottingham Forest before returning to Twente for 13 months
2013 Takes over at Derby
Join our new commenting forum
Join thought-provoking conversations, follow other Independent readers and see their replies