Eddie Howe: The Bournemouth manager is England's Special One
EXCLUSIVE: At the age of just 37 Eddie Howe has astonished  the football world by guiding his club from near extinction to the riches of the Premier League – and doing so by serving up attacking, skilful football.  In his first major interview since securing promotion the Bournemouth manager talks to Glenn Moore
Glenn Moore Comments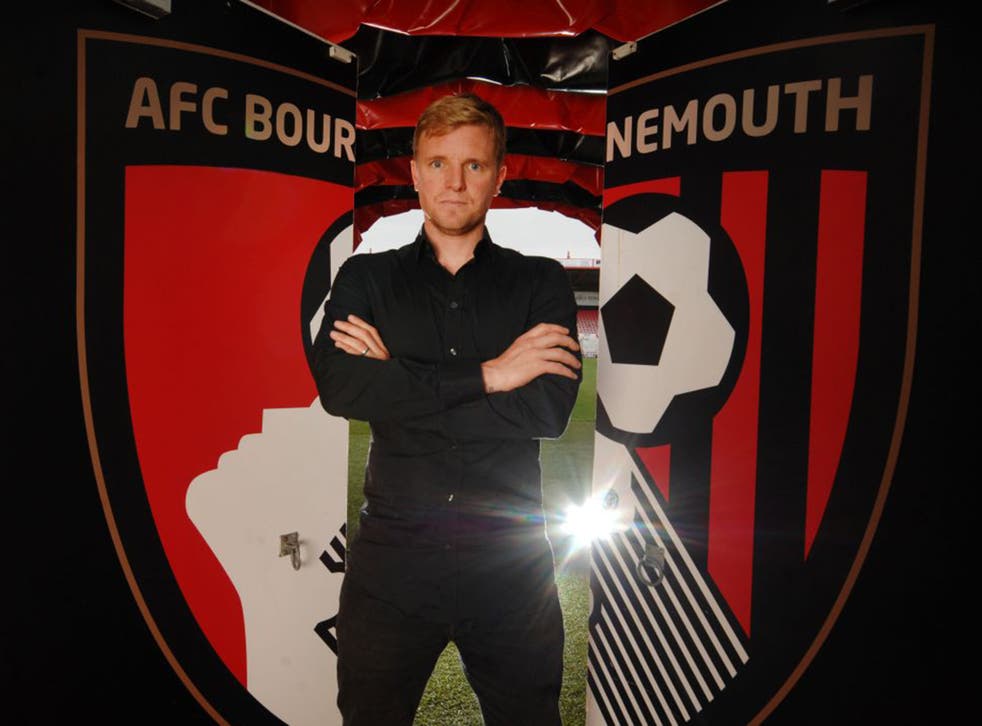 The season is over, but for Eddie Howe the evening routine has not changed. "You get in after a long day and think, 'Right, family time'," he says, "but we have a dog, and if you have a dog you better walk it.
"So you take the dog out and think, 'This is a chance to make that phone call.' You come back with the dog, you are still on the same call, and you think, 'I still have four or five calls to make.' It never ends. But I do enjoy it – I must enjoy it."
Bournemouth's next competitive match is not until 8 August but there is no rest for the rising star of English football management. That match will be in the Premier League, the little Dorset club's first top-flight match in a 116-year history.
That they are even contemplating such a thing is testament to Howe's extraordinary success. When he took over, Bournemouth were in danger of going out of the League. They secured promotion a couple of weeks ago with a display of football that prompted Gary Lineker to tweet: "Wonder whether we've possibly found the English special one?"
Bournemouth are promoted

Show all 8
After three promotions in six years, the Cherries' neat but modest Dean Court ground is far from ready for the latest one. Last week the Premier League descended to outline the work needed to reach minimum standards off the field. Howe had to be involved because the structural changes will affect his players, who train on adjacent pitches. When those meetings were over he turned to his main task, trying to get Bournemouth ready on the pitch. They are already even money to go straight down. Given the speed of their rise, and the problems last year's promoted trio have had, with Burnley relegated yesterday, those odds seem generous.
"This week has been incredibly busy," Howe says as we talk on Friday afternoon, in his first interview since Bournemouth won the Championship title last weekend. Howe is recovering from a rare outing as a player – he took part in the annual staff v youth team game. It was a rare defeat – "3-1", says the trainee who escorts me from reception to Howe's office with a grin.
Howe, a boyish 37, is wearing a club tracksuit and looks young enough to still be playing, but doesn't often and is already stiffening up. His desk, as you would expect, is meticulously tidy. The office walls are covered with print-outs detailing such aspects as where on the pitch opponents have taken shots. He believes in the marginal gains philosophy, but also draws on more traditional tutors.
"We have had one-to-one meetings with all the players and my staff, then quickly had to return to player recruitment. That's painstaking work and you've got to get it right."
Planning is complicated by not knowing who is available until other promotion and relegation issues are settled, but the broad principles are in place. "I am going to be loyal to the core group that have got us this far," he says. "The dangers are you make too many changes and disrupt the team, or make too few and don't change the group. We have to get that balance right."
Many managers of sides coming into the Premier League look to foreign players as a relatively cheap way of buying experience and technique. Leicester have, Burnley have not, but Howe, while acknowledging what Artur Boruc and Yann Kermorgant brought to his team, is cautious, and those two had experience of the English game.
"I think we would stay British. Any signing we do make has to be able to have an impact straight away. I look for several things. Playing ability, of course, and where they fit into the team. I am very much against signing a player who is good, but you don't know where he will fit in.
"You think, 'I will mould him into the team', but that usually doesn't work. And character. We are not going to win the games we did last year, you need the character to deal with disappointments."
Howe's teams have a reputation for playing bright, positive football and, broadly speaking, he hopes to do the same in the Premier League. "We will stick to our principles of play," he says, before adding a note of caution. "We would be stupid to go to Chelsea and places like that and play the same way we did in the Championship. But we are an attacking team."
There is one other attribute required of new recruits. "We want players absolutely who are coachable. That is one of my first requirements, because we are very hands-on on the training ground. We are very passionate about our coaching. You can't do that if you are obstructive to wanting to learn."
This is the secret of Howe's remarkable achievements. Hard work and good coaching. There has been some investment on the way, but their wage bill was that of a mid-table club last season, and the record signing Callum Wilson's £3 million fee was covered by selling Lewis Grabban.
And when he started there was no money, no money at all.
Eddie Howe never planned to be a coach. A promising centre-half who began with Bournemouth, his career was blighted by injury after a £400,000 move to Portsmouth. He had to drop back down to then lower-division Bournemouth, but was forced to retire at 29.
"I came to coaching when I realised I couldn't play. Even when [the then Bournemouth manager] Kevin Bond offered me the chance [to coach the reserves], I didn't think it was something I wanted to do long-term. But once I tried it I got the bug. I suddenly found I was studying, doing my badges and falling in love with it."
In January 2009 Howe, by then a youth coach, was asked to take over the first team. Bournemouth were so impoverished they could not even pay the rent due a local school for training pitches. "They were great," Howe remembers, "as were a lot of the local businesses. They were like, 'Let's rejig the payment plan, can you afford this?'
"I'd come in, see strangers, and be told, 'They are bailiffs, come to take something from the club shop.' I'd be fielding questions from players asking, 'When are we getting paid?'
"But the players were magnificent. Some could have left. They were on minimal wages as it was, they had families to support, and they had to give everything to stay in the division. I will always remember that as one of the best teams I have managed because of what they gave."
Bournemouth were in the League Two relegation zone, seven points adrift of safety, when Howe took over. And under a transfer embargo. They stayed up and, still under that embargo, won promotion the following season. "I was forced to work with the players I had," Howe recalls. "What a great learning tool. It made me realise sometimes you don't have to look for new players, you just have to make the ones you have work better."
Howe's partner in Bournemouth's rise has been Jason Tindall. Having previously played together in the Cherries' central defence it might have seemed an obvious partnership. In fact it wasn't.
"We were not great friends as team-mates. We didn't socialise. We had a mutual respect but we weren't close, we didn't really have a relationship. When I was offered this job I said I wanted Jason [then the assistant manager] to stay. I didn't know whether we would work together well, but we instantly clicked and have not looked back.
"We are a partnership, I trust him implicitly, he has been invaluable. There has to be a guy that is leading the team, the players need to know who is leading the team, but we coach together."
Do they have different roles as coaches? "The manager is usually the bad cop," he smiles. "I have to make the decisions and give that news to the players. Jason plays his role well, he is approachable, the ear for the players."
Coaching has been at the heart of Bournemouth's success. There is a desire to improve players rather than replace them. To Howe, the key factors are to keep it fresh and ensure it is always relevant. "It is something I am constantly demanding of Jason and he is of me. We have been quite loyal to the squad, so we need to change our sessions."
And how are the sessions created? "We use a blank canvas. We don't get drills out of books, we get them out of ourselves. On something we need to solve, we work backwards to come up with new ideas. We follow our core philosophy and from those elements we manufacture drills."
Howe is passionate about coaching and regrets not having become involved in it as a player ("I would have been a better player"). Some of his squad are learning from his mistake.
"I encourage my players to do it. A few have gone on courses this summer. It gets them to think differently. I love my players to be thinkers, to try and outthink me would be great. I don't mind questions being asked."
But there are times when innovation is traded for repetition, including just recently when Bournemouth stuttered as the finishing tape neared. "We had lost our fluency so I went back to some core exercises," says Howe.
Their next match was at Bolton on a Monday night and Bournemouth, having rediscovered their flowing attacking football, produced a scintillating 3-0 victory to secure promotion.
The modern coach has to know his way around a laptop as well as the training ground. Howe uses a lot of video, for analysis, inspiration, and introduction as every tool is used to help players settle in.
"It is difficult for new players sometimes and the speed with which they settle can have a big impact on their performances," he says.
Howe did not have many managers as a player, but they were all good ones: Tony Pulis, Mel Machin, Sean O'Driscoll, Harry Redknapp, Bond and, with the England Under-21s, Peter Taylor.
He learnt from them all, he says. "I was 16, just out of school, and did pre-season with the first team under Tony [Pulis]. It was tough, but really enjoyable and a good grounding. Mel Machin had really good ideas on the game and instilled good discipline. Sean O'Driscoll was totally different in terms of how to treat players and how to coach. That is where attractive, expansive football was really instilled in me." His experiences with Redknapp are revealing, subverting the latter's image as a wheeler-dealer who spends most of his time on the training pitch with a mobile clamped to his ear.
"I took a lot from Harry. People talk about his man-management but he is very clever. And with his staff, Joe Jordan and Kevin Bond, very good on the training ground. Kevin Bond was a big influence. They were really good people to learn from."
Having made a great start to his managerial career at Bournemouth, Howe's next lessons were hard-learned. After two years at Dean Court boardroom instability led Howe (and Tindall) to accept an offer to join Burnley, then newly relegated from the Premier League. They lasted 21 months before returning to Bournemouth.
This is seen by some as putting a question mark on Howe as to whether he can do it away from the South Coast. Howe sees it differently. "It was a difficult challenge, I had a new team to build, the club had just been relegated, there were big personalities. I was aware very quickly it was not the environment of a winning team, so I was trying to change it and modernise the club, but when you are trying to change people's mindsets and environment it takes time.
"We let a lot of players go, signed a lot of new ones. Subsequently five or six have gone on to be outstanding for Burnley [including Danny Ings, Kieran Trippier and Ben Mee]. Sean Dyche deserves all the credit for the way he has taken the team on – I am not taking credit for that – but we left him with a core of good players. I don't think we did a bad job for Burnley." Personal matters did not help. Howe, his wife, Vicki, and a new baby moved north, but while they were in Lancashire his mother died.
"I had no experience of bereavement like that, someone I was very close to, and I didn't expect what happened to happen," he says. "That was very difficult, not just for me but for the family. There were a lot of changes in my life as well in terms of a first child and what that brings, it was a bit of a whirlwind off the field."
Professionally, however, it was invaluable. "When I went to Burnley I thought I was a good manager. When I came back I realised I was a lot better – more experienced, a better coach, mentally stronger. You only truly grow when you are out of your comfort zone, as I was at Burnley."
Will he be at Bournemouth forever, though? It seems unlikely. Howe admits he will have to leave one day, not least to bury the Burnley question. And his track record makes it inevitable that bigger clubs will come knocking for his services. He has even been talked about as a future England manager, but is quick to knock that one back.
"At this stage of my career talk about England embarrasses me," he says. "I have done nothing in the game really. I'm fiercely patriotic so wouldn't say no if asked, but it's a long way off."
And, certainly, he is in no hurry to leave. He loves the area, loves the club, and when he is lured away it will not be for cash.
Howe, who must be the only Premier League manager who lives in a semi-detached house – which is neither on the beach nor the exclusive Sandbanks peninsula – says: "I have never been motivated by money all my career. I have always been motivated by happiness and job satisfaction."
He has that, in buckets and spades, but there is a price, as for all managers. "I did have this chat with the wife when I took the job. I said, 'Life will never be the same while I am in this role because I will become obsessed. Our life will change.' Nothing could have been more accurate.
"I am obsessed with the role. I work incredibly hard to try and bring success to the team and my family life has suffered. Any manager who doesn't tell you that is not telling the truth, because if you do it properly it is all-consuming all the year, you constantly have things to do. I am loving it but it is hard work.
"I struggle to switch off at all. That is not to say I don't enjoy my life with my family, but football is always just a second away and you are thinking of something you have to do."
Register for free to continue reading
Registration is a free and easy way to support our truly independent journalism
By registering, you will also enjoy limited access to Premium articles, exclusive newsletters, commenting, and virtual events with our leading journalists
Already have an account? sign in
Join our new commenting forum
Join thought-provoking conversations, follow other Independent readers and see their replies