Leeds United 2 Brighton & Hove Albion 1 match report: Injury time winner from debutant Luke Murphy hands home side opening day victory over Seagulls
Disputed winner ruins Brighton's day as Leeds begin life after Bates with three points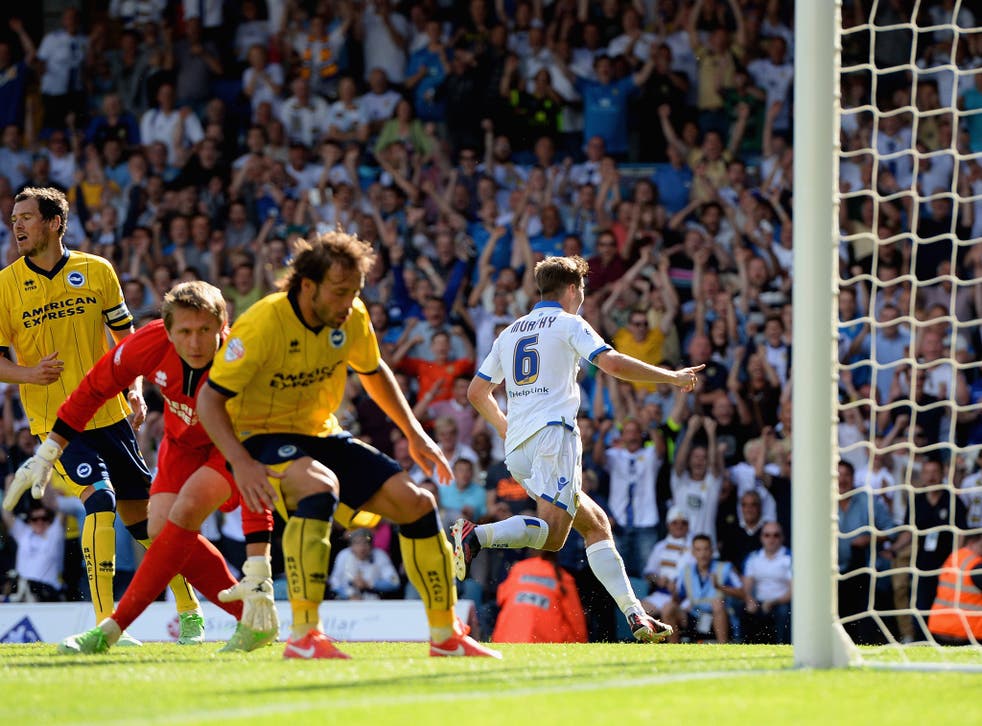 It felt like the end of a season, not its beginning. The players ran to the crowd and blew kisses in the direction of thousands of rhythmically raised arms. The Tannoys repeatedly boomed out the score. There were broad, ridiculous grins.
There are nine months to go but for Leeds United their ninth year outside the limelight might be less painful than the others. Not only did Elland Road feel like a Premier League ground, it is one the club might soon manage to buy back from its owners who reside not in Morley or Headingley but the British Virgin Islands. The crowd was more than 33,000.
It was probably not coincidence that it was the first match since Ken Bates's departure, something the crowd celebrated with chants directed against the "Chelsea bastard" a few seconds after kick-off.
Having sold Leeds, Bates had hoped to remain as president until he was removed by the kind of dispute that has been responsible for so many redundancies in Yorkshire - the right to use a private jet to fly to and from Monaco. The 81-year-old has vowed to rectify this by spending time with people who must know him almost as well as his wife - his lawyers.
Still, Bates' wonderfully combative programme notes were missing and so, too, was some of the ill-fortune that has hounded the club under him. In stoppage time, Will Buckley was presented with a help-yourself header to win the game for Brighton that produced what the Leeds manager, Brian McDermott, described as "a match-winning save" from his keeper, Paddy Kenny.
Seconds later, one of McDermott's summer signings, Matt Smith, knocked down a long ball for another - Luke Murphy - who ran through to score. Everything seemed perfect apart from the fact that Murphy had handled the ball. In McDermott's words: "It connected with his hand, whether it was handball, I don't know."
Most managers, especially those in their first game, would have been guaranteed to dissolve into righteous indignation but, asked directly if Brighton had been cheated out of a point, Oscar Garcia, merely commented that if Buckley had scored, it would not have mattered. In everything; dress, style of football and post-match comments he is not Neil Warnock.
This was an afternoon that brought together the two clubs mismanaged by Brian Clough. His 44 days at Leeds have produced books, a novel and a television film but Clough's nine months at Brighton were arguably worse. Under him, Brighton finished 19th in the old Third Division in 1974 below such vital football forces as Aldershot, Halifax and York City. The only time they are referred to in "The Damned United" is when Peter Taylor, despite trying to persuade him not to move to Yorkshire, adds ruefully: "I can't deny Brighton are a small club." "Aye," says Clough. "Midgets."
Brighton have grown up considerably since then. The part of Garcia's CV that would have appealed to them was the time spent under Johan Cruyff and Bobby Robson at Barcelona. Even if you do not believe the first Gus Poyet knew about his sacking was when he was told live on air by the BBC, his dismissal still left an aftertaste that needs to be washed out.
There was plenty for Garcia to admire in defeat but asked if there were any areas for improvement, he replied curtly: "the players will know tomorrow".
They began better than they finished. Brighton's first shot was parried by Kenny before five minutes were up and then Andrea Orlandi put through Leonardo Ulloa. The Argentine struck his shot with the same power and precision that his countryman Sergio Aguero, employed to beat Kenny and win Manchester City the title with the final shot of the season.
Gordon Strachan was drawn to Elland Road not just for nostalgic reasons but for a chance to assess Ross McCormack before Scotland travel to Wembley later this month. The signs, at least early on, were encouraging.
Now that Bates has gone, there are those who believe that anyone brought in by Warnock, his last manager, ought to go the same way but Michael Tonge held the byline artfully and McCormack took two touches to bring the cross under control. Had Bruno Saltor been quicker, the defender would have made the interception, but he was not and, with the ball in the net, he slapped the turf in frustration.
It was not a game he would want to remember. Having been dumped on his back by a roughhouse challenge from Adam Drury that, to his astonishment, was deemed fair, Saltor was mocked by the crowd for being irredeemably soft and southern. He was signed from Valencia which, seen from Elland Road, is very south indeed.
Register for free to continue reading
Registration is a free and easy way to support our truly independent journalism
By registering, you will also enjoy limited access to Premium articles, exclusive newsletters, commenting, and virtual events with our leading journalists
Already have an account? sign in
Join our new commenting forum
Join thought-provoking conversations, follow other Independent readers and see their replies