Millwall fans 'have the right' to invade pitch and celebrate with players after play-off victory, says Aiden O'Brien
Millwall's goalscoring hero Steve Morison claimed fans who ran onto the pitch 'ruined' the celebrations but teammate O'Brien defended them and claimed they deserved to join in the fun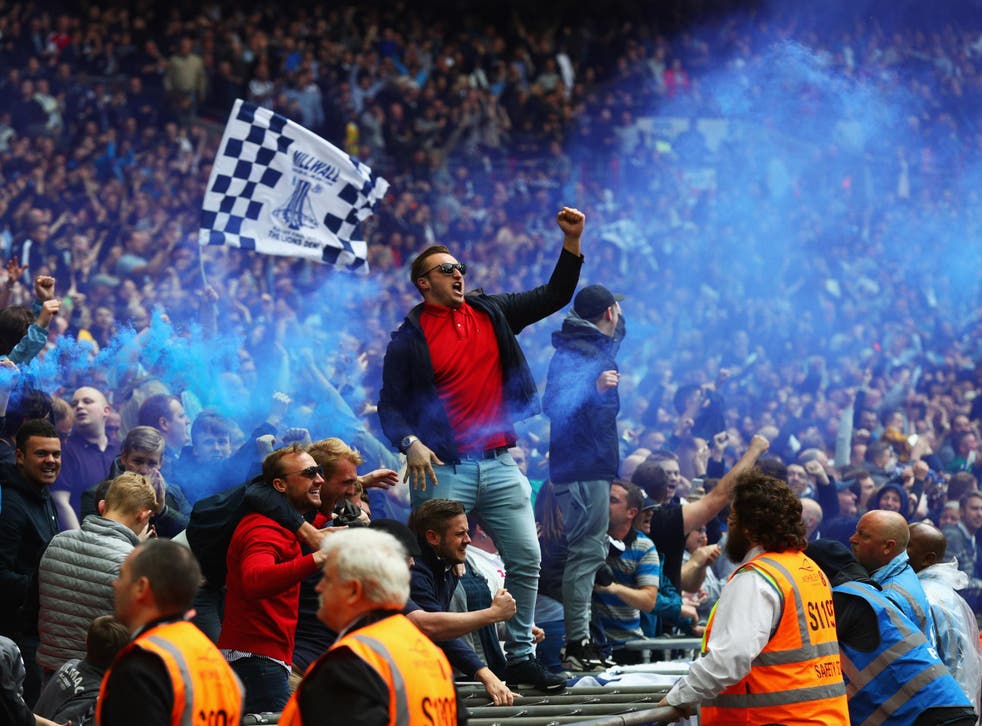 Millwall forward Aiden O'Brien defended the club's fans who were criticised for running on to the pitch to celebrate their Sky Bet League One play-off final win against Bradford.
O'Brien appeared overwhelmed by Millwall's victory after striker Steve Morison had struck the only goal with five minutes remaining.
Lions fans poured on to the Wembley turf at the final whistle, with some goading Bradford boss Stuart McCall and his players, while match-winner Morison said they had "ruined" the moment in his post-match television interview.
But O'Brien, who progressed through the London club's academy, refused to join in the condemnation.
"No, they have the right to do that you know," he told Press Association.
"They've been supporting us all through the season. They should celebrate as much as we celebrate.
"It's a team thing and they're part of the team. They can run on the pitch in my eyes for all they want, they deserve to."
Millwall clinched promotion back to the Championship following relegation in 2015 and wiped away memories of last season's play-off final defeat to Barnsley.
"Oh wow man!" O'Brien exclaimed when asked how it felt to be back in the second tier.
"As I said to a couple of the guys earlier, it has been - words won't even come into my head.
"I can't really explain to you how I feel right now because I'm emotional, I'm buzzing. I don't know what's going on really, it's just unbelievable.
"I can't wait to get out tonight. Wherever the drinks are, we're going."
The Lions were forced to defend in numbers for long periods and did so doggedly as Bradford looked the more likely side to make the breakthrough before Morison's late intervention.
O'Brien admitted Bradford, beaten by Millwall in last season's play-off semi-finals, had dominated possession, but said that had not concerned Neil Harris' side.
"We knew their game-plan, we knew they were going to try and overload all over the park and create two-v-ones and three-v-twos and four-v-threes, but you've just got to stand strong as a team.
"They can't break you down if you stick together as a team. Space doesn't hurt you, it's the player on the ball that's going to hurt you."
Bradford defender Rory McArdle conceded his side had paid for missed chances.
Striker Billy Clarke was denied by Jordan Archer's brilliant first-half save in a one-on-one while Tony McMahon's goalbound free-kick was deflected for a corner off Shaun Hutchinson's head.
McArdle was off target with two headers and McMahon blazed into the side-netting in the closing moments.
"We dominated the ball for the whole game really and created a few good chances," McArdle told Press Association.
"The keeper's made a good save from Billy in the first half, I probably should have done better with a couple of headers as well.
"They created a few chances, but in hindsight, if we had taken our's early on it would have changed the game completely."
Some of Bradford's crestfallen players were in no mood to speak to the media afterwards and McArdle said his manager kept his post-match talk short in the dressing room.
"The longer the game goes on you know if anybody's going to score it's probably going to be a winner and unfortunately that's how it's turned out," McArdle added.
"It's fine lines. On another day one of them might have gone in and we might be talking about something different."
PA
Join our new commenting forum
Join thought-provoking conversations, follow other Independent readers and see their replies