Can Norwich and Brentford's cunning and imagination bridge the gap to the Premier League?
Championship's one and two are model underdogs aiming to hold their own in the top flight, but can shrewd decisions on and off the pitch ever be enough?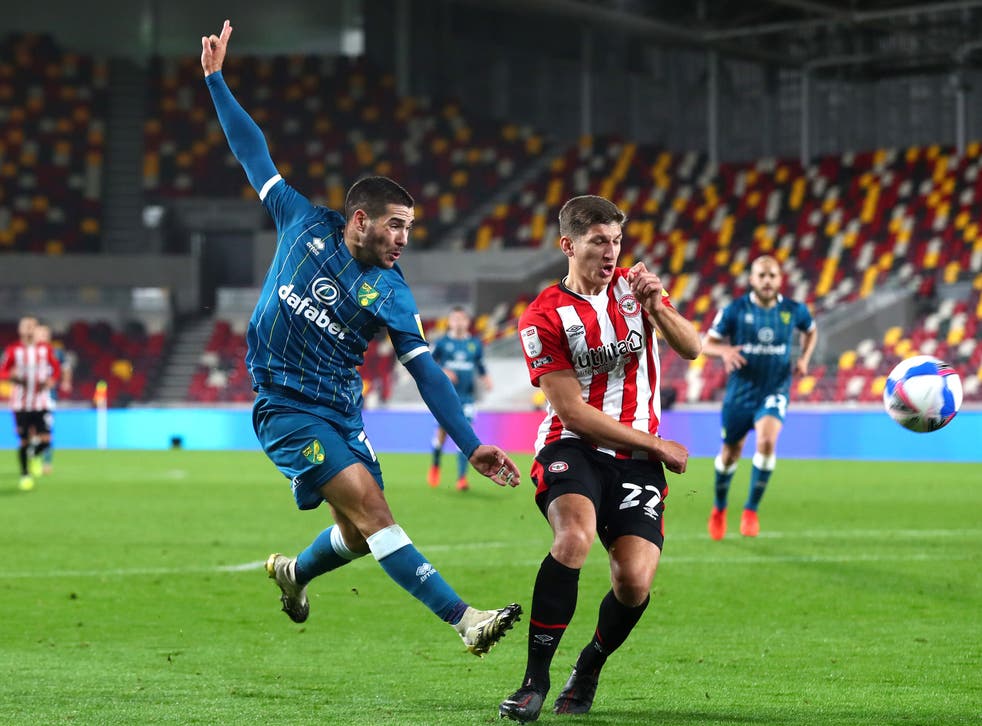 It may not be quite like the silent whir of a Tesla passing through Silicon Valley, but tonight Carrow Road is the hub for two of English football's brightest thinkers. Norwich and Brentford are not just the Championship's one and two, but the beacon for how clubs can stay afloat, and even skim a little off the top, while surfing an increasingly volatile tide. 
On the surface, they bear few similarities. Norwich are one of England's most traditional clubs, founded by two schoolmasters, owned by a beloved celebrity chef, who've bounced from promotion to relegation with a free spirit but utter predictability. Brentford, on the other hand, have garnered a reputation for beating the odds under the guidance of a visionary gambling tycoon, who's taken them from being debt-ridden in the third division to the envy of directors across Europe for their shrewd recruitment. 
But if it's not the rutting over new technology by two tech giants, there is still a shared philosophy that binds Norwich and Brentford's success. The former's technical director, Stuart Webber, refers to it as "the infinite game". Essentially, it means that the primary focus is not the short-term goal of winning promotion - and then the not insignificantly harder challenge of staying in the Premier League - but creating an environment where every aspect of the club is strengthening in stable unison.
It sounds painfully simple, but it also means being able to accept, or even be set up, for failure - a concept not too easily sold or abided by ambitious players, coaches, owners and especially supporters. Take the summer of 2019, for example, when after winning promotion to the Premier League, Norwich invested just £6.2m in the transfer market - by way of comparison, eventual champions Liverpool spent £30m on agents fees alone. The club's shoestring budget effectively rendered relegation a formality, but they were still able to grow in scale on the way down, even as the pandemic ransacked their profits.
It meant that, rather than being stripped of their prized assets by more powerful clubs, Norwich were able to control their own destiny. Ben Godfrey and Jamal Lewis were sold for a fee likely to exceed £35m in add-ons, while interest in Emiliano Buendia, Todd Cantwell and Max Aarons was rebuffed. The trio have since spearheaded the club's promotion bid this season, with Norwich currently seven points clear at the top of the table. And if they are successful, the reward will far outweigh the lure of financial relief.
The sums of Norwich's astute investment have slowly been funnelled into infrastructure at the club. Where there once stood a sea of Portakabins, for example, there is now a state-of-the-art training ground. It might not be Silicon Valley, but it will, if recent history tells us anything, breed some of the best players England has to offer. And so the cycle and its roots will grow stronger, even as Norwich yo-yo between divisions, with the hope that eventually they may wield the strength to hold their own in a league pumped up on billionaire's financial steroids. 
At Brentford, the training ground may still be marked by Portakabins, but a glistening new stadium is their own product of progressive ownership. The club has won an almost mythical reputation as champions of infinitesimal data and analytics under Matthew Benham, plucking players from relative obscurity and selling them for eye-watering profits; think Ollie Watkins, Said Benrahma, Neal Maupay, Ezri Konsa and Chris Mepham. 
But while they are fundamentally guided by the same principles as Norwich, Brentford have often taken a radically different approach. It was most obvious in their decision to scrap their academy in 2016, instead favouring the B team model, comprising a team of youth players taken from other clubs. To be able to grow the club holistically, its owner essentially decided it first had to streamline its resources. 
The results are plain to see, even if Brentford fell agonisingly short of promotion last season. The club sold their two greatest assets but were left with plenty in reserve, while Watkins' replacement, Ivan Toney, has been phenomenal, even if his success was more easily predicted. This is the club's seventh season in the Championship, steadily evolving to a point where promotion feels almost inevitable. It has in most senses been a rapid rise, but Benham has always resisted the temptation to be reckless. After all, in a knee-jerk industry, it's best to cover your hide before venturing into the dark. 
The looming question is whether such cunning investment and imagination can ever bridge the vast financial gap to becoming an established Premier League team. After all, Brentford's success has not come without a cost; Benham has already invested well over £100m of his own money into the club. Nor has any team been chewed up and spat out by the Premier League so many times as Norwich, even if they seem to be seizing control over that cycle of boom and bust. Can the infinite game sustain a club who do not benefit from equally bottomless resources, or does it only lead as far as a threshold? At Norwich, it is already a slow pattern of repetition and incremental gains. But for Brentford, we may just be beginning to find out. 
Join our new commenting forum
Join thought-provoking conversations, follow other Independent readers and see their replies