Swansea City appoint Graham Potter as manager after agreeing compensation with Ostersunds FK
Swansea have agreed personal terms with Potter, along with his assistant Billy Reid and recruitment analyst Kyle Macauley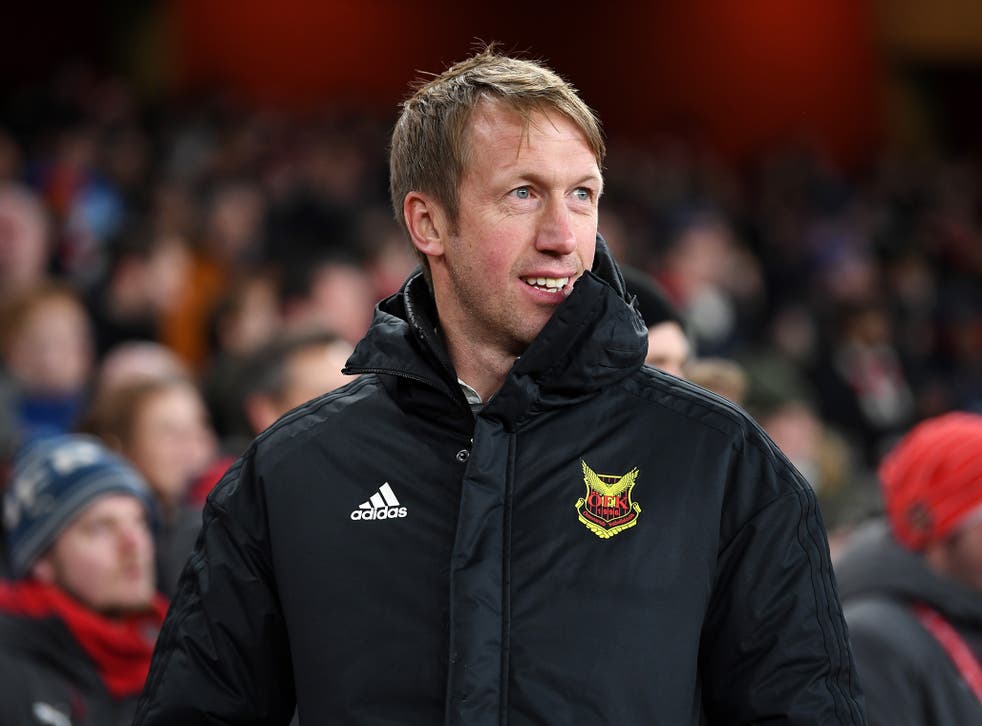 Swansea City have appointed Graham Potter as the club's new manager after agreeing a compensation package with the Swedish club Ostersunds FK, in a move that signals an intent to return to an emphasis on technical coaching and possession-based football.
Swansea have agreed personal terms with Potter, along with his assistant Billy Reid and recruitment analyst Kyle Macauley, and the 43-year-old manager will travel to south Wales next week to complete the move.
Potter spent seven years in charge of Ostersund, leading the tiny Swedish club from the third tier to the top flight. He won the 2016-17 Swedish Cup to qualify for the Europa League this season where they were knocked out by Arsenal in the round-of-16 in a European run which helped raise his profile and bring his achievements in Sweden to the wider football world.
Potter will take over a club that has misplaced its recipe for success over the past three years, suffering relegation from the Premier League this season after a sharp decline amid the sale of several key players like the former captain Ashley Williams and the striker Fernando Llorente.
Swansea have departed from the unwavering commitment to technical, possession football which brought success in a period from Roberto Martinez's appointment in 2007 in League One through to an eighth-placed finish in the Premier League under Garry Monk in 2014-15, via winning the League Cup under Michael Laudrup in 2012-13.
However, Potter's arrival signals an intent to return to those values. The Englishman was appointed by Ostersund's chairman Daniel Kindberg in 2011 with no managerial experience but with a vision to put his studies into practice, having completed a masters degree in leadership and emotional intelligence while working with the Leeds Metropolitan University football team.
He had an enormous impact in Sweden, persuading players to move to Ostersund – a small city in the middle of the vast northern tundra – where they could improve under his coaching free from distraction.
Potter developed an environment where mistakes were to be learned from, not punished, and some of his more unusual methods garnered attention and a little amusement, like the annual theatrical show the players put on for the town which Potter said helped to take them out of their comfort zone and trust each other.
Training involved working almost entirely with the ball on scenarios which might occur during the next match, and Potter tasked his players with solving the individual problems they were likely to face on the weekend. He quickly unified a group of misfits behind a slick passing game rarely seen in Sweden, and they picked off some of the biggest clubs in the country.
Ostersund chairman Kindberg said there were no ill feelings towards the man who has transformed Ostersunds FK. "I understood the challenge and I understood Graham's ambition," he said. "A whole region had hoped Potter would stay at OFK. Having talked to Graham almost every day for seven and a half years, I feel a great emptiness now.
"Graham has had a major impact on the development of the club and a decisive factor for the strong platform we are now building. We are so happy and grateful for the huge work Graham has done. He is a wonderful person and I will miss his warmth, humour and conversation a lot."
Swansea will be an entirely different challenge on a far bigger scale, but Potter has previously made clear his intention to make an impact in English football and now has the opportunity at one of the Championship's biggest clubs.
Join our new commenting forum
Join thought-provoking conversations, follow other Independent readers and see their replies