The Independent's journalism is supported by our readers. When you purchase through links on our site, we may earn commission.
Former Wigan player and coach Roberto Martinez opens up on 'shock' of club going into administration
Exclusive interview: Current Belgium boss, who represented the Latics both on and off the pitch, talks to The Independent about his response to last week's surprise development, as well as Carlo Ancelotti's future at another former club of his, Everton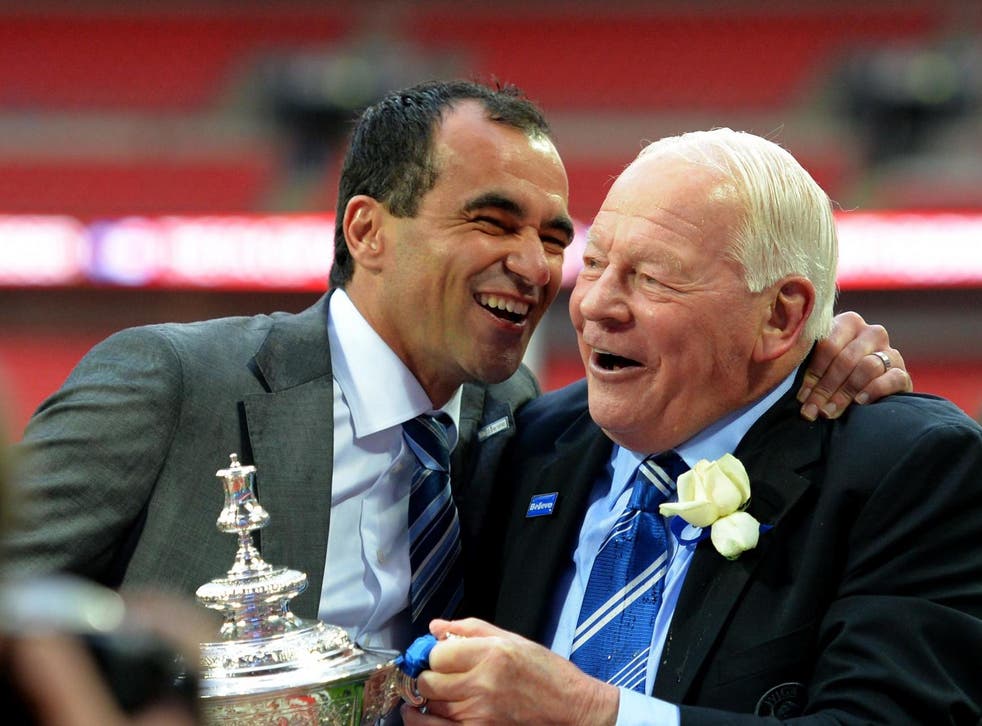 Former Wigan player and coach Roberto Martinez has opened up on his reaction to the "shock" news that his old club are going into administration.
Much like Martinez's approach to football, the Spaniard's response to the situation combined emotion and consideration.
"Initially it was a real surprise – a surprise and a shock," the current Belgium manager told The Independent.
"The Whelan family were at the club for 23 years and when there is a new owner – and with the level of investment that was done – you don't expect a club to go into administration, and not when the team is safe in the Championship and you're looking at the possibility of building on what's happening.
"Wigan Athletic never dealt in that way and that is a real shock. And then you've got the worry; every time a club goes into administration you have to be worried about what's going to happen next.
"But there are really good people now at Wigan; the Chief Exec Jonathan Jackson is a lifelong Latics supporter and he will help the administrators to try to find the new ownership. But it was shocking news."
Former midfielder Martinez, now 46, represented Wigan on the pitch from 1995 to 2001, making 187 performances. He then guided the club from the dugout between 2009 and 2013, winning the FA Cup in his final season in charge. That trophy, won at Wembley with victory over Manchester City just days before the Latics were relegated from the Premier League, was almost as surprising as the news that the club had been placed in administration.
Once Martinez's initial emotion in response to last week's development had died down, he thought about the scenario more analytically. That in itself certainly does not come as a surprise.
"The situation almost highlighted two areas for me," Martinez told The Independent.
"One, that we have to celebrate the time that [former owner and chairman] Dave Whelan brought to the club, because it shows you that Wigan Athletic was a unique football club – family club, well run, and if you do that you're allowed to dream in football and you can achieve the things that Wigan Athletic achieved in eight years in the Premier League, like being able to play in Europe, winning the FA Cup.
"But then the other side is that it's almost a moment for the football league and the institutions to look after the owners that are going to be making decisions for football clubs – institutions that affect generations, that affect the real football fans, and they've been there for nearly or over 100 years.
"I don't think [there's] a fit and proper test to be an owner; there must be more things in place to almost protect the clubs in these initial moments of difficulty.
"We need to see real custodians, not just owners – that was a real feeling that I had."
Hong Kong-based International Entertainment Corporation received shareholder approval to complete the acquisition of Wigan from the Whelan family in November 2018, then sold the majority of the club's shareholdings to Next Leader Fund – also Hong Kong-based – as recently as June this year. At the start of July, it was announced that the club – 14th in the Championship and eight points clear of relegation – were going into administration.
"It's not the first club that has gone into difficulty this season," Martinez said. "We've got 92 professional clubs in the British game and that's quite unique in Europe. We need to preserve it, we need to admire it, otherwise we're gonna lose it."
A month after Wigan's 2013 FA Cup triumph, Martinez took over at Everton. He would manage the Goodison Park side from 2013 until 2016. In the four years since, Ronald Koeman, David Unsworth, Sam Allardyce and Marco Silva have all filled and vacated the role of first-team coach for the Toffees. As of last December, the position is Carlo Ancelotti's, something that excites Martinez.
"Carlo Ancelotti [has] all the experience of the world," Martinez said. "I'm really looking forward to seeing a full season of Carlo Ancelotti at the club, and he will make decisions in the next five games."
Everton are 11th in the Premier League standings on 44 points, with European football seemingly just out of reach as the season nears its conclusion.
"All the players at the club are in a way – directly or indirectly – fighting for their futures," Martinez said. "I don't think in Everton's case any player can afford to think: 'Okay, the season is over.'
"That's not the way the club works, there's an intensity – having to perform in every game, the fans expect you to win every game. So I think for Carlo Ancelotti it will be a really good period to get a lot of information. Of course, trying to get as high up the table [as possible], but almost building towards that first full season."
While Martinez's primary focus over the coming year will be preparing contenders Belgium for next summer's rescheduled Euros, it is apparent that he will follow whatever futures await Wigan and Everton with an analytical eye – but one that will inevitably, involuntarily glint with passion from time to time.
You can watch Everton v Southampton at 6pm Thursday 9 July for free on Amazon Prime Video, or fans can stream the game at no cost on Twitch.
Join our new commenting forum
Join thought-provoking conversations, follow other Independent readers and see their replies