Raheem Sterling says racism is 'the only disease in the world right now'
How do you fix racism in football?
Months since Moussa Marega walked off the pitch after receiving racist abuse, Callum Rice-Coates looks at how the sport can affect true change
Moussa Marega simply walked off the pitch during his Porto's game at Vitoria Guimaraes back in February. His eyes were wide open, brow furrowed. He was understandably furious.
The Malian shouted towards the stands as Porto's staff dragged him down the tunnel with teammates attempting to calm him down.
His reaction was visceral. Marega, having scored earlier in the game, had become the latest victim of racial abuse at a football stadium in Europe.
"I would just like to tell those idiots who come to the stadium to make racist chants, go f*** yourself," he later wrote on Instagram.
In early March it was revealed that Vitoria had been fined €714, a measly punishment. An investigation from the FPF – Portugal's football federation – is ongoing. But there is a general mistrust across Europe that any strong action will be taken.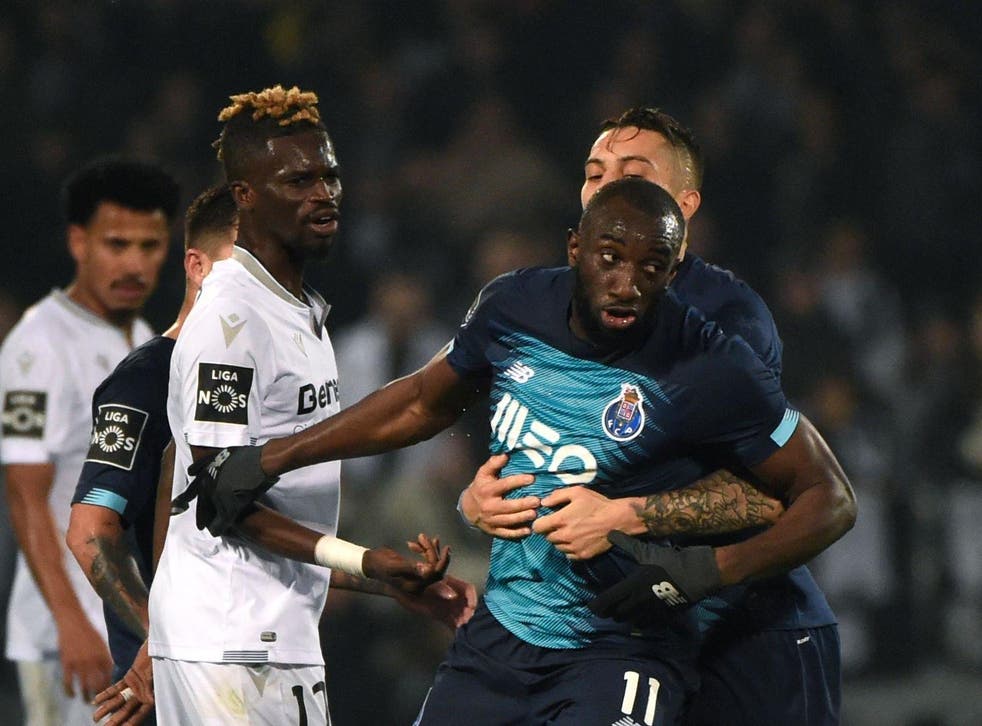 This was the most recent high-profile incident, one that was met with another wave of anger. There would, though, quite possibly have been more black players forced to walk off the pitch had football across the continent not been postponed following the outbreak of Covid-19.
Portugal is not unique. In Italy, racism in stadiums [and even away from the pitch] has been a problem for some time. There have been serious instances of racist abuse during football matches in Spain and in Bulgaria, too.
But this is not a localised problem. No country has yet risen above it. It was only in December that Chelsea's Antonio Rudiger alleged he was the target of racist abuse in a game against Tottenham.
"We have a racism problem in the Premier League and in England, and the Premier League have got to stand up," Gary Neville said in the aftermath of that incident. "They hide behind the FA. Football players in this country are receiving abuse while they're playing football and doing their jobs. That is unacceptable."
A report in the Guardian in January revealed that there had been a 50 per cent rise in racist incidents at football matches in the UK during 2019.
The general consensus, amongst those with authority on the subject, is that there is still not enough being done to combat racism in football. There have been initiatives set up by Uefa, some of which are commendable. But they can, and should, be prioritising this issue, not simply doing the bare minimum to appease dissenting voices. Uefa were approached by The Independent for this piece but did not wish to comment.
There has been no better time for the sport as a whole to reflect. This period without football – most of which has been spent endlessly discussing when it might return – could have been used to spark change, to focus in on one of the globe's most pressing issues. Systemic and consistent racism is as much an existential threat to football as the financial implications of Covid-19.
While thousands take to the streets in the US and UK following the murder of George Floyd, football is planning its careful return. But it is not separate from this. Difficult questions need to be asked and answered.
Protests are gathering momentum. The demand for real, tangible change is growing. And football cannot hide away in the background. Eradicating racism is not a choice, nor is it a topic to be debated. It is a necessity. No longer can monkey chants, obscene gestures and words be tolerated in football stadiums.
Every resource and as much time and effort as is required should be poured into this. And it needs to happen now. Not in ten years. Not in five years. Now.
Football is often guilty of losing sight of what matters. For many it is a harmless distraction from the realities of life. But it has a responsibility to do better, to make a stand that is more than just performative deferment.
The Independent spoke to academics, experts and journalists across Europe about racism in football, about what can be done to move forward and make true changes.
Manuel Carvalho – Journalist for Portuguese Newspaper Publico
"Racism is surely a big problem in the stadiums. Because racist attitudes or racist insults are commonly seen as normal by supporters and they are highly tolerated even by those who fight against racism in daily life. It is like a state of exception – in the stadiums ordinary people can say what it impossible to be said in other public spheres. It is a kind of normalisation of racism.
"The importance of Marega's case was that it exposed and brought to public discussion that sort of behaviour. And the severe criticism that followed was, I believe, a good start.
"Uefa and government should penalise teams and supporters for their racist acts or their tolerance to racism; but to eradicate the problem from football, every fan should be involved. Marega's case began to change people minds about this task."
Les Back – Professor of Sociology at Goldsmiths University and co-author of 'The Changing Face of Football: Racism, Identity and Multiculture in the English Game'
"In researching racism in English football I think the most alarming thing we found was how endemic racism was inside the game itself. This came through in the experience of black players inside the system and their relationships with coaches and managers. It was easy to demonise bigoted fans and make the problem of racism about them. It was much harder to face the fact that the institutions of football and the people who run the game are still predominantly white.
"I think what football often brings into focus how uneven any progressive change or lessening of racism is across the continent. In the UK the voice of overt popular racism in the stadia had been muted but then last year we saw a 50 per cent increase according to police statistics.
"Then we had the fixture between England and Bulgaria where some Bulgaria supporters directed Nazi salutes and monkey chants at England's black players – something that was common but has largely disappeared from UK football stadia.
"We are living through hateful times where racism has again been given open license. Football is often where the grip of those toxic forces is staged most publicly. Is it getting worse? Yes, it most definitely is. Is Uefa doing enough? No, it isn't.
Willem Haak – Author of a study on 'Racism in Italian Football'
"One of the most eye-opening discoveries I made during my research was that the issue of racism is widespread among a majority of Italian football clubs. Between the 2010-11 season and the 2018-19 season, 19 Serie A clubs were involved in incidents regarding ethnic racism. Juventus were fined 29 times in this period.
"The Italian authorities changed the laws regarding demonstrations of territorial and ethnic racism multiple times, and after those new laws were introduced, the new rulings always seem to work in the short term as the number of racist incidents diminished.
"The problem is that the rules to combat racism eventually were always ineffective and not complete, which you can see in the numbers. The average number of racist incidents per season in the Serie A did not decline between 2010 and 2019, while there has been an awful lot of incidents in this period: 156 times, teams were fined after an incident regarding territorial or ethnic racism. On average, there are almost 18 incidents regarding racism in one single Serie A-season. It still is a huge problem. I find it striking that the FIGC (Italian Football Federation) still thinks that handing out fines – most of them of €10,000, which is not a lot of money for a professional football club – is enough to combat racism.
"The numbers are clear, but I don't think that the Serie A is the only European competition in which racism is a problem. However – and with all respect for Italy, which is a nation I love – it is clear that some issues regarding racism are quite deeply rooted in Italian society.
"Therefore, I think the FIGC needs help to address the problems regarding racism. Last season, they started an anti-racism campaign. At the kick-off press conference of the campaign, they displayed a painting of three monkeys and announced that the paintings would be the pieces of art representing their battle against racism: 'We are all human'.
"It shows that the Italian Federation is ignorant and needs help from others – specialists or foreigners – to address the problem properly. This is something Uefa have not done yet, so I believe they could do more as well to help racism in Italian football."
Samira Rafaela – Member of European Parliament. Wrote a letter to Uefa last year asking for 'urgent action against racism and discrimination in football'
"Uefa's approach is very much limited to the matches that are governed by Uefa itself, and awareness campaigns. It is sad to see such a stark contrast between a continental European Football Federation and for instance the American NFL. The main difference seems to be in terms of political will and an acute understanding that the game itself is at stake if it remains tainted by racism. Uefa needs to understand it can set the example. Don't be defensive. But be proactive and take responsibility.
"Uefa is a federation of member organisations. Its actions are limited by what it feels these MOs will allow, and Uefa is not really pushing to confront them, as far as I can tell. I understand that it would mean taking a risk, but that is what leadership is about. Taking risks for what is right. This is about fundamental rights of people.
"I think that the vulnerability of the economic model of professional football is coming to light now. Most of it has to do with weak leadership, going for quick gains and short-termism. All of these ailments are also the root cause of racism rearing its head in some football stadiums in all European competitions. So I think this is a moment to reflect and make changes."
Shireen Ahmed – Writer, public speaker and activist who focuses on Muslim women in sports, and the intersections of racism and misogyny in sport
"I think that despite the efforts of many, and a few rogue stadium bans for overtly racism supporters, and some matches being played in front of empty stadiums, not much has changed at all. A lot of it is performative particularly because the infractions have been caught on cell phone or witnessed.
"Social media has actually changed the way that clubs and the FA or Uefa have been forced to reckon with racism. Otherwise, there would be a committee and a sub-committee and a report of some kind. Players such as Raheem Sterling have been gracious but there are also players who refuse to tolerate this abuse. I will also go back to Kevin-Prince Boateng's statement in 2018 that 'nothing has changed'.
"We don't see the shift and the regulation being implemented the way it ought to be. And only now do we even see a possibility of officials being permitted to stop the game. Otherwise this type of abuse would have to be carried by the players and the ones receiving the abuse. Perhaps we don't see it as aggressively on the women's side, but it has always been there. The women's game faces mass sexism and homophobia, but racism exists too. The entire handling of Eni Aluko's case was terrible. Mark Sampson and the entire FA were negligent and so offensive.
"Ideally this period of time should be used to reflect and look at what can be done better. But what is really happening is that there is excessive discussion of financial bailouts and helping the men's game. There is no fruitful discussion or plan being hatched. FARE Network and Kick It Out have been toiling for ages and making recommendations. But it doesn't seem to have the impact. Football continues despite many advocating for racial justice and better policy.
"And I don't think it should only be Uefa. I think individual teams and clubs have a responsibility to change a toxic culture from within. Sure, Uefa can stamp down hefty fines and bans, but the unlearning of such behaviour must begin at a grassroots level.
"I also don't like the idea of racialised players having to carry the burden. Why should Raheem Sterling, Mo Salah and Sadio Mane be out there advocating for betterment of society when they aren't racist. Those with racial privilege should be working on campaigns.
"I believe that this is where the difference lies: between true allies, and those who do not wish to be bothered because prejudice doesn't affect them."
Join our new commenting forum
Join thought-provoking conversations, follow other Independent readers and see their replies