Gareth Southgate knows Euro 2024 must go 'very, very well' to keep England job
Next summer's tournament in Germany could prove Southgate's last finals in charge.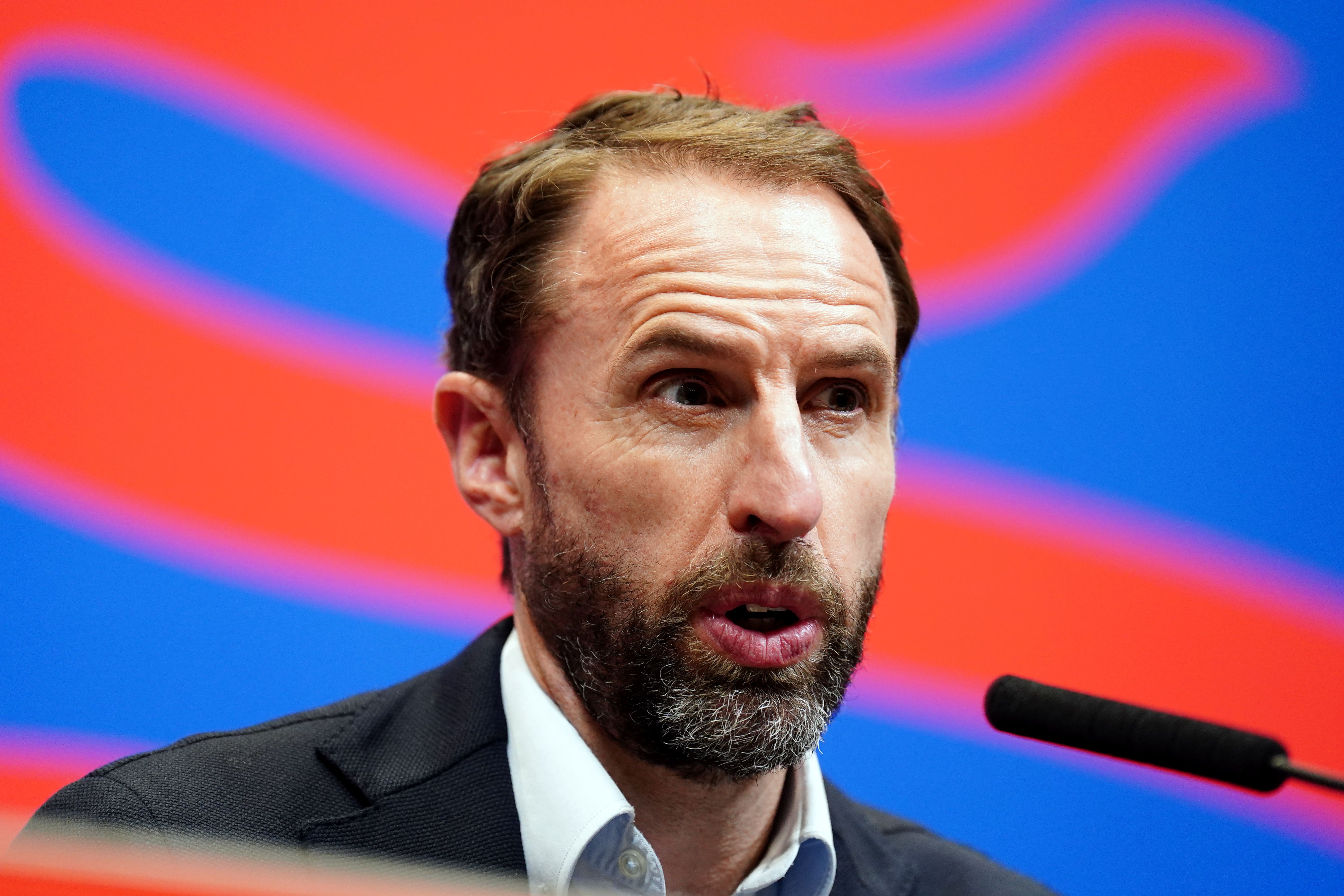 Gareth Southgate knows next year's Euros will have to go extremely well for it to be a "possibility in anybody's eyes" for him to stay on as England manager.
The 52-year-old was parachuted into the hotseat following Sam Allardyce's ignominious exit in 2016 and has gone on to oversee the national team's best spell since winning the World Cup.
England reached the 2018 semi-finals before losing the delayed Euro 2020 final in an agonising penalty shoot-out defeat to Italy at Wembley.
There were more signs of progress as the team were edged out by France at last year's World Cup, but a challenging year meant Southgate had to weigh up whether to see out his contract until 2024.
The England boss decided to stay on after a week of contemplation following Qatar, but next summer's European Championship could prove his last finals in charge.
"My contract is until the December," Southgate said. "That was always put in place because it would allow everybody reflection time, really."
Asked if the Euros would be his last tournament, Southgate said: "Who knows?
"I think we'll have to go very, very well for that to be a possibility in anybody's eyes and that's fair enough. I'm more than comfortable with that.
"My aim is to try and win the tournament and everything I do is geared around that and every conversation I have with the players now is geared around that.
"So, what will happen in the future at the moment it isn't at the forefront of my mind, but trying to win this European Championship is."
England are third favourites with the bookmakers to triumph in Germany next year, and that is all the manager is focused on right now.
'Succession' is a buzzword thanks to the popular US TV series, but Southgate has not seen the show and was unwilling to talk about potential candidates for a job he cares deeply about.
"Whatever (input) John (McDermott, Football Association technical director) and everybody else at the FA would like, really," he said.
"I'm not precious about it. If I could help in any way, at whatever point. I try to do that now with involvement in the pro licence, with reaching out to English coaches.
"We've had people in to have the odd day here and there with us at training.
"That's not my decision but I'd always help English football as much as I can.
"At whatever point I leave here, hopefully we've won something, but if I'm the second most successful I'll be more than happy to become third very quickly.
"I joined here to help English football and that will never change for me."
England's immediate focus is taking a giant stride towards Germany by beating Malta and North Macedonia in June, but for a number of players their future is up in the air.
Harry Kane, Declan Rice and Jude Bellingham are subject of widespread speculation, while a lack of game-time is an issue for Southgate's favourites Harry Maguire and Kalvin Phillips.
"There's potentially a lot of movement with that squad we've picked across the summer, but I think it will be later in the summer," the England boss said.
"It doesn't worry me how it plays out. I think as a player you always back yourself. You've got to.
"You've got to have the mentality that 'wherever I go I'm going to force my way into the team' until such point as which it becomes apparent where 'maybe I've got to go'.
"And maybe we've got a couple in the squad who've got that decision to go through in their own minds this summer."
That self-confidence has paid dividends for Jack Grealish, who struggled to make the desired impact in his first season at Manchester City.
But the 27-year-old has come on leaps and bounds this term under Pep Guardiola, who Southgate considers the best coach in the world.
"I'm a huge admirer," the England boss said. "He knows that, I've told him.
"Of course it's been brilliant for our players to work with him and they have learned individually, tactically and, probably as much as anything, that mentality.
"You mention Jack, he's played properly, I would say, in this period. You know, against Real Madrid with and without the ball.
"That wasn't the case two-and-a-half years ago, if I'm honest, so there's been a lot of progress."