Guts and resilience only go so far, England need a creative heartbeat to build their World Cup hopes around
While England have always had a surfeit of nimble runners and tenacious blockers, the world-class creator is arguably something they have needed ever since Paul Scholes retired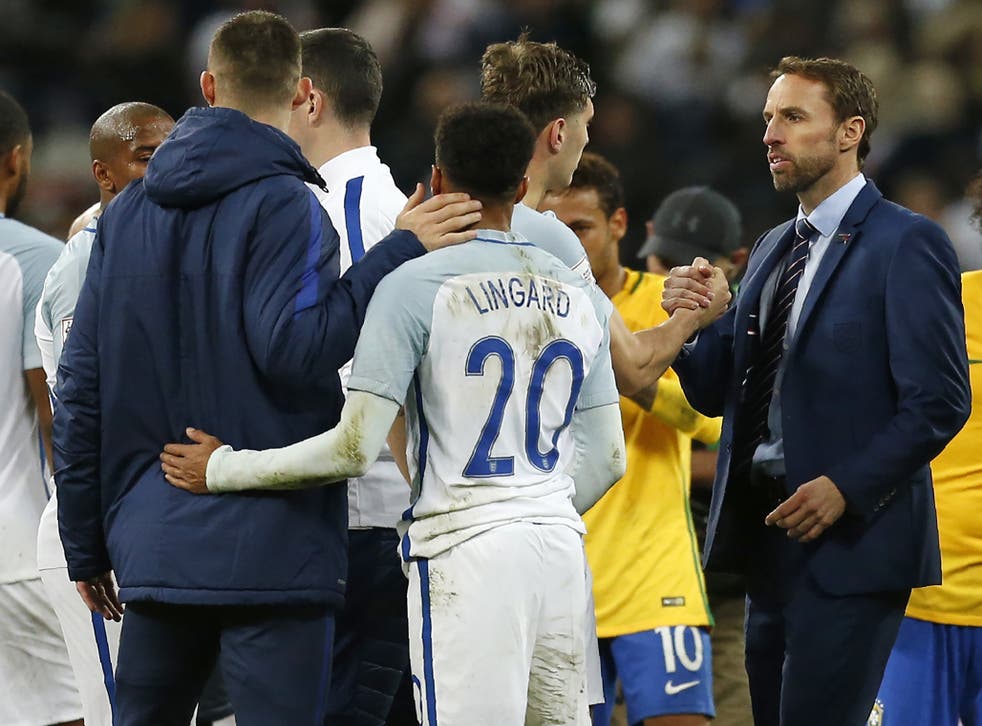 It is often forgotten that in the aftermath of England's disastrous 2010 World Cup campaign, Fabio Capello had a sudden brainwave. Perplexed by England's lack of natural creativity in midfield, he realised that perhaps the solution was staring us all in the face. So he turned up at Goodison Park and put in a call to their seasoned - and Spanish - midfield maestro, Mikel Arteta.
Arteta was interested, too. "I was really thinking about it," he later admitted. As it turned out, Fifa's little-known Article 18.1(a) had the final word, stipulating that he was ineligible unless he possessed a British passport, and Arteta had still not quite given up hope of making it as a Spain international one day. The matter was quietly dropped.
Arteta is now 35 years of age and spends his weekends on the Manchester City bench as their assistant coach. And yet, there are times when you watch this England team and idly wonder whether he might still fancy that new passport. England's goalless draw against Brazil on Tuesday night was just one such occasion: a performance of guts and resilience and all those other highly desirable traits. They successfully nullified one of the greatest attacking teams in the world. Joe Gomez was excellent. It was a start. Now, England are looking for a middle.
England 23-man Nations League squad

Show all 23
It is English football's Achilles heel, one that dates back at least to the Capello era and possibly further: the absence of a creative attacking player comfortable receiving the ball in a tight spot, robust enough to hold off a challenge, intelligent enough to see a pass, bold enough to attempt it, and gifted enough to nail it.
This last quality is by far the most important. In international football, with its deep-set defences and safety-first approaches, the margin for error when trying to pick a pass in the attacking third is minimal, as Brazil often found themselves at Wembley. Yet while England have always had a surfeit of nimble runners, and more recently a surfeit of tenacious blockers, the world-class creator is arguably something they have lacked since the retirement of Paul Scholes.
Of course, there are almost as many different types of playmaker as there are playmakers themselves, from the itinerant drifter (Christian Eriksen, Paul Pogba) to the high-tempo roamer (Kevin de Bruyne, Isco) to the deep sitter (Toni Kroos, Cesc Fabregas) to the withdrawn forward (Lionel Messi, Neymar). What is undeniable is that virtually all the top teams have one. Spain have about a dozen. England, meanwhile, feel like a team without a fulcrum, a language without adjectives, a side with the pretensions to sophistication but not the basic ingredients: like a Nando's tasting menu.
Who, then, might Gareth Southgate build this side around? Adam Lallana, Jordan Henderson and Harry Winks all offer their own technical qualities, but are probably not equipped to unlock a world-class defence on their own. Ross Barkley and Alex Oxlade-Chamberlain have the technique but lack the composure. Jack Cork and Danny Drinkwater are fine players, but perhaps just short of the very top level. At which point we are into the realm of the outsiders, the wildcards, the surprise bolters: a Jonjo Shelvey or Leon Britton or James Ward-Prowse or Lewis Cook, who all might be three or four outstanding months away from a ticket to Russia.
Time is dwindling away. The urgency is acute. According to the stats blogger Michael Caley, England attempted more through balls during qualifying - 43 - than any other country, and by a distance. Yet their completion rate - 30 per cent - was significantly below average. We have all lost count of the number of times we have seen an England forward boldly galloping into the channel, checking back, switching the ball inside, and within seconds, the ball has somehow managed to find its way back to the feet of Joe Hart.
The World Cup failures XI

Show all 12
Which speaks to a wider issue within the English game: the ambition is there, but often the quality is not. You don't necessarily need that quality to make a dent in a major tournament, but you almost certainly do to threaten the later stages. And whether Southgate can unearth, polish or even naturalise that creative force will go a long way to determining what we can realistically expect next summer.
Register for free to continue reading
Registration is a free and easy way to support our truly independent journalism
By registering, you will also enjoy limited access to Premium articles, exclusive newsletters, commenting, and virtual events with our leading journalists
Already have an account? sign in
Register for free to continue reading
Registration is a free and easy way to support our truly independent journalism
By registering, you will also enjoy limited access to Premium articles, exclusive newsletters, commenting, and virtual events with our leading journalists
Already have an account? sign in
Join our new commenting forum
Join thought-provoking conversations, follow other Independent readers and see their replies