A World Cup in England? Not while Sepp Blatter is in power, says Greg Dyke
FA chairman calls for root-and-branch reform of Fifa, but also explained why that would be impossible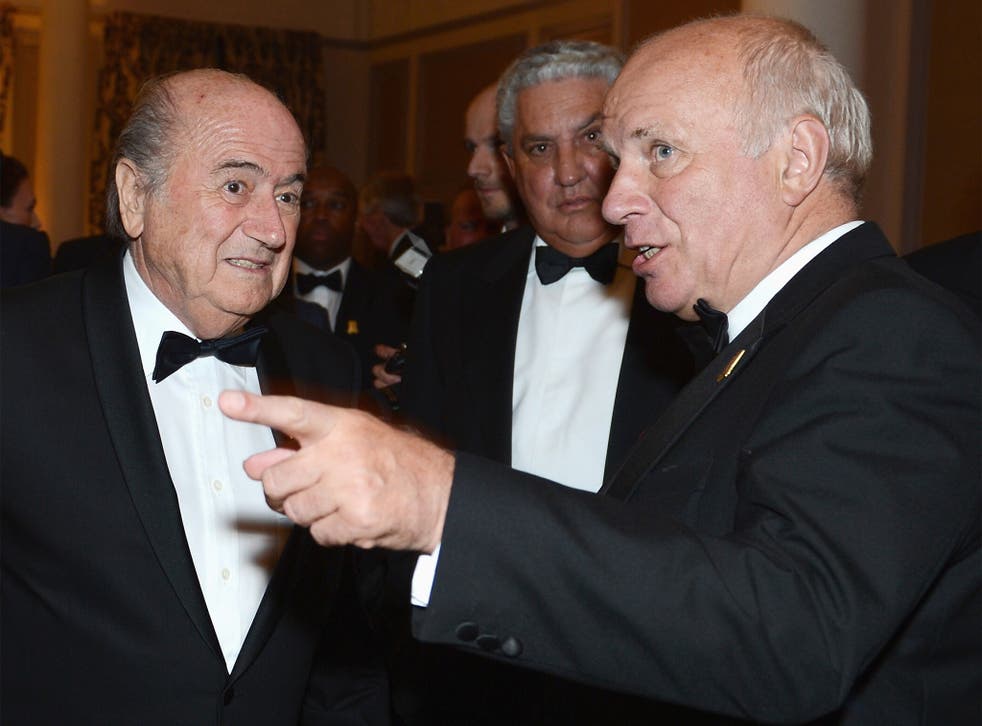 For as long as Sepp Blatter remains the head of football's world governing body, Fifa, England will not bid to host the World Cup finals, the FA chairman, Greg Dyke, has told MPs.
Appearing before the Culture, Media and Sport Select Committee to answer questions on the bidding process for the controversial 2022 World Cup, Dyke by turn called for the root-and-branch reform of Fifa, and explained why such reform would be all but impossible.
"We've already taken the decision that we will not bid for Fifa tournaments – our decision is we will concentrate in the years ahead on bidding for Uefa tournaments," Dyke said. England are currently in competition to host the final and semi-finals of Euro 2020, a tournament that, in a one-off, has no host country and will be spread all over the continent. Such a statement also means England would not bid for Fifa's Women's World Cup or youth tournaments.
A number of reforming proposals were last month put before Fifa's congress in Sao Paulo, which Dyke said was "a bit like North Korea: 'All hail the dear leader'", but for the most part they failed.
"We think there's a limited amount of time people should sit on the Fifa executive," Dyke said. "We voted in favour of that but most voted against it. It's that sort of reform that is needed to make sure we get proper turnover.
"Hopefully, a new president coming in would take a look at the whole structure. A lot of the European FAs made it clear they didn't support Blatter but I'm afraid from the rest of the world he has overwhelming support. If he runs again he will win but I think it's unlikely we at the FA would vote for him."
Blatter signalled his intent to run again last month.
A report commissioned by Fifa into the 2022 bidding process, which was won by Qatar, by Michael Garcia, an American lawyer, is due to be delivered to Fifa's ethics committee within weeks, but the findings will not be made public.
"We would like to see the whole thing published, even if some things would have to be redacted," Dyke said, and admitted that, even as the head of the FA, he did not expect to see the report.
Though question marks have long hovered over the Qatar tournament, the shooting down of passenger plane MH17 over Ukraine has led many to call into question Russia's suitability to host the tournament in four years' time.
"I think that has to be looked at on a much longer-term scale than the next week or two," Dyke said. "We [the FA] wouldn't have a view yet."
All World Cup bids are subject to a technical report, which includes humanitarian questions and political stability, which Dyke said "must be considered more closely," and in reference to Qatar's successful bid to hold a World Cup, "including how hot it is".
Dyke also made it clear he has not given up on his "B team" proposal, which would mean second teams of Premier League clubs playing in the lower leagues with a quota of young English players.
"If you look at the Germany team that has just won the World Cup, all but two of that squad have played in B teams," he said. "In England, there is a blockage. Seventy per cent of the Premier League is foreign, 50 per cent of the Championship, and that number goes up every year."
England's chance of ever winning a World Cup again, he said, was possible, "but I think it's going to get tougher".
Register for free to continue reading
Registration is a free and easy way to support our truly independent journalism
By registering, you will also enjoy limited access to Premium articles, exclusive newsletters, commenting, and virtual events with our leading journalists
Already have an account? sign in
Register for free to continue reading
Registration is a free and easy way to support our truly independent journalism
By registering, you will also enjoy limited access to Premium articles, exclusive newsletters, commenting, and virtual events with our leading journalists
Already have an account? sign in
Join our new commenting forum
Join thought-provoking conversations, follow other Independent readers and see their replies