Misplaced kits, delayed planes and a 100mph rush to kick-off - of course, it's the Copa Libertadores
Atletico Tucuman had already waited 115 years to play in South America's biggest competition. They were happy to wait a little longer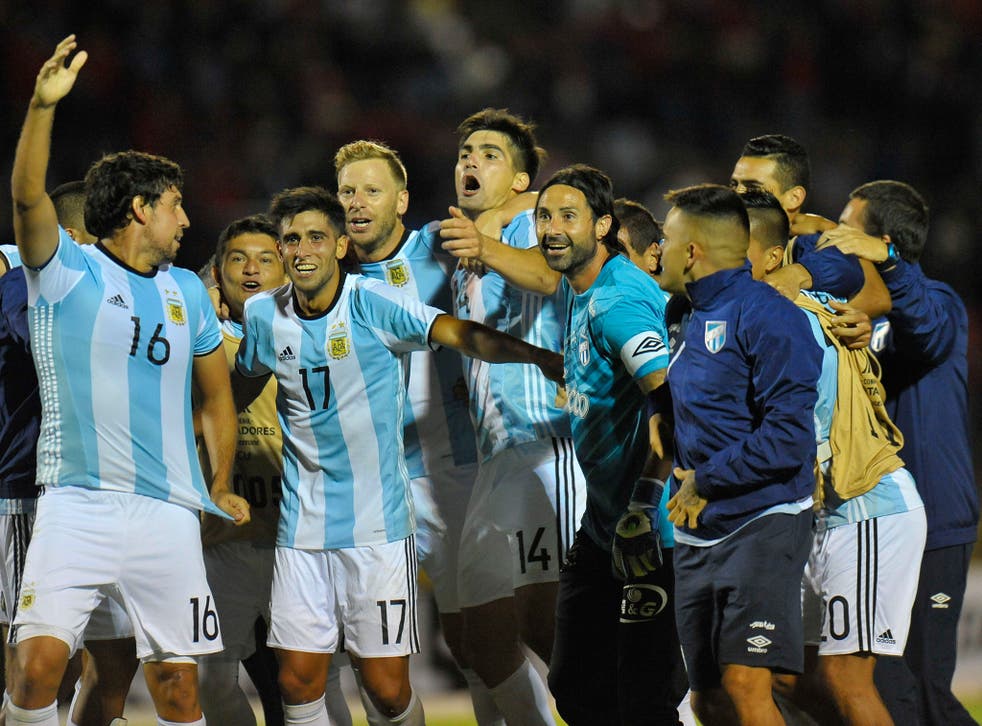 Argentina's famous stripes, sky blue and white, are no strangers to victory on foreign soil.
The Albiceleste have been continental heavyweights for their entire existence, at club and international level, but these players draped in the familiar adidas shirts were no ordinary superstars. In fact, they weren't superstars at all.
And as the players celebrated an unlikely win in Quito, Ecuador, the gravity of what they had just achieved began to dawn on them. Snatching historic victory not from the jaws of defeat, rather from the gnashing teeth of near forfeit.
This was a tale so wild and so Sunday League that it could only be the Copa Libertadores, South America's equivalent of the Champions League. Only here, you're more likely to have a team be victims of a gas attack - as River Plate were a couple of season ago when Boca Juniors fans piped mustard gas into the players' tunnel - than Gazprom.
Atletico Tucuman are the stars of this week's saga, a small club from Argentina's humid north. El Decano had only been promoted to Argentina's Primera once prior to 2015, when a (frankly ludicrous and politically-motivated) league restructuring saw Argentina turn to a 30-team top flight. They took their opportunity and ran, jetting up the table and becoming the first club from the north of Argentina to qualify for the Libertadores.
Atletico debuted at home last week against Ecuador's El Nacional but a 2-2 draw left them with much to do in the altitude of Ecuador. Oxygen is harder to come by and sea-level teams often struggle to survive the 90. The Tucuman side's tactic was to fly to Ecuador prior to the match - Guayaquil, to be precise - and then fly to the capital on gameday but, this being South America, there was a snag.
A paperwork issue meant that the flight didn't receive the necessary authorisation to depart and Atletico Tucuman, eagerly anticipating their first away game in the Libertadores, were stranded on the runway watching the clock tick away.
Kick-off was at 7.15pm, a time that came and went. Tucuman had 45 more minutes to arrive and begin the game but 8.00pm rolled past and the ball was in Conmebol's court. But as Libertadores as it was for a team to be racing to make kick-off, it was similarly Libertadores for the competition's governing body to simply flout the regulations in hope of getting the game done.
Eventually Atletico got airborne and flew to Quito, landing and being sped through Ecuador's streets with a police (and media) escort capturing every move as they maxed out north of 100mph.
The comedy of errors, however, was not over.
Atletico Tucuman realised, in true Sunday League fashion, that they had forgotten their kit, but in a twist of fate - and significant fortune - South America's Under-20s championship had taken place at the very same stadium days before. Argentina's kits were still there. It was the natural choice.
So decked out in the famous colours of their international counterparts but arriving in a fashion more fitting for a team playing on Hackney Marshes, Tucuman lined up for the biggest 90 minutes of their lives.
Kick-off was an hour-and-a-half late and just 34 minutes after arriving at the ground, but when you've been waiting 115 years for your shot at the continent's biggest stage it doesn't matter so much.
The game was as you might have expected from two of the competition's poorer sides and more unexpected entrants. So the winning goal; a scrappy, looping header, sent Atletico Tucuman through in fitting fashion.
An hour in and ahead, Tucuman had 30 minutes to survive at 9,000 feet above sea level, seeing it out to trigger incredible celebrations from those in unfamiliar shirts and surroundings.
They call South America the land of superlatives for its ability to produce such extremes.
For Atletico Tucuman, a night of history came in the most extreme - and bizarre - circumstances.
Register for free to continue reading
Registration is a free and easy way to support our truly independent journalism
By registering, you will also enjoy limited access to Premium articles, exclusive newsletters, commenting, and virtual events with our leading journalists
Already have an account? sign in
Register for free to continue reading
Registration is a free and easy way to support our truly independent journalism
By registering, you will also enjoy limited access to Premium articles, exclusive newsletters, commenting, and virtual events with our leading journalists
Already have an account? sign in
Join our new commenting forum
Join thought-provoking conversations, follow other Independent readers and see their replies