Brazil vs Germany World Cup 2014: In defence of Mesut Ozil - the Arsenal midfielder works magic in the shadows
Criticism of the £42.m signing from Real Madrid has continued into this World Cup - but it's not justified, writes Kit Holden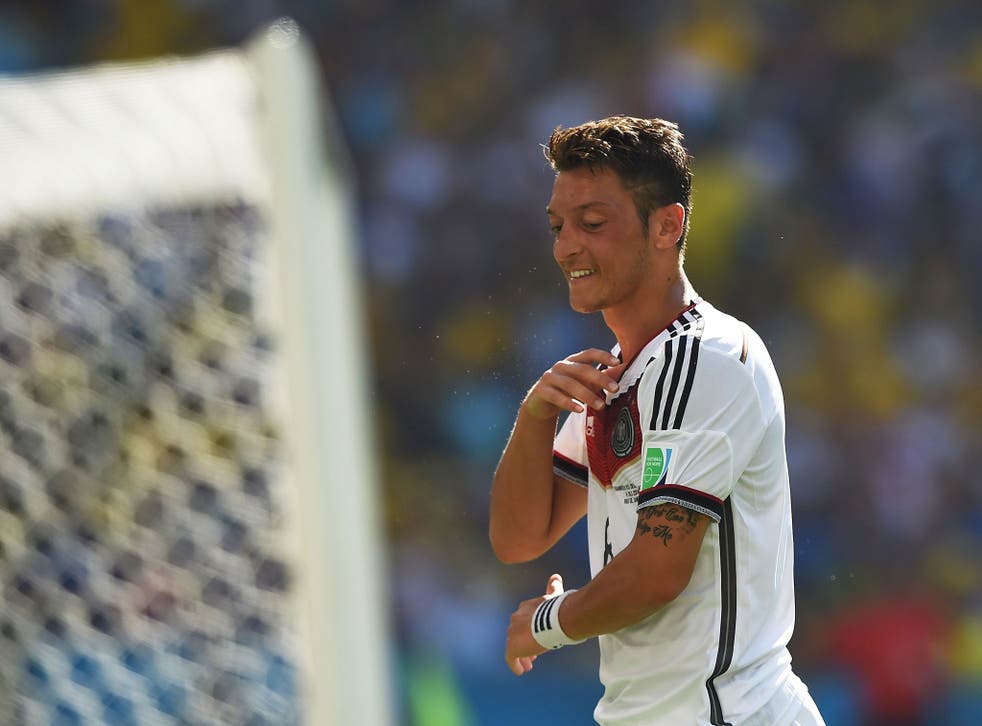 Mesut Ozil was born into the wrong generation of footballers. It's plain to see when he comes across the media. He lives and works in an era which demands his every move be observed, and yet Ozil prefers to slink off into the shadows. Time and again, he darts past reporters, casting only a grateful glance at whichever team-mate is diverting the hounds away.
His behaviour is no different on the football pitch. Players like Ozil should, we believe, sparkle at every moment. They should make us gasp. We should marvel at their sub-human capacities to move a football. They should, as Nike tells us without a trace of self-awareness, risk everything.
Ozil, petulant as he is, bluntly refuses to meet those requirements. He makes no mazy runs. He attempts no 40 yard bicycle kicks. Instead, he moves imperceptibly around the football pitch, often barely touching the ball, slinking into the shadows.
It drives the football world crazy. Arsenal fans are at a loss to why they spent such astronomical sums on such a player. Paul Breitner believes that Ozil should be dropped from Germany's starting line-up. The nation's skiing sensation Felix Neureuther insists that Ozil "drives me crazy with his lack of bite".
The Worst Tattoos in football

Show all 14
Bite. Energy. Pace. Those are the virtues we idolise in the modern day. Ozil utilises few of them. His game is, and has always been, about selflessness. He creates space, often drawing several defenders out of position. He finds the most astonishing through balls. He enables the great superstars.
The greatest superstar of all, Cristiano Ronaldo, knew this. He adored working with Ozil at Real Madrid and affectionately named him "The Sorcerer's Apprentice". It was a strikingly poetic moment from the Portuguese, and a rather accurate one at that. Ozil is a magician, insofar as he makes things happen without the spectator noticing he has done so. He is the apprentice, in that he hands the limelight to his more extravagant contemporaries.
He is not always magical, of course. Much of the time, he is as ineffectual as Neureuther claims. In his first season at Arsenal, he has shown only the occasional glimpse of his genius, and at the World Cup he has only been slightly better.
But then for the last few years, Ozil has, by chance as well as by misjudged design, been leading a life unsuited to him. His price tag at Arsenal pushed him into the role of Sorcerer, rather than apprentice. That didn't suit him. The cult of his identity in advertising and social media was something that his advisors – not least his father – appear to have cultivated far beyond the levels which suit a man like Mesut Ozil. He has, both on the pitch and off it, been dragged forcefully out of the shadows and paraded stark naked through the marble streets of modern football.
That is not good for a man like Mesut Özil, and his psychology and consistency have suffered as a result. But his genius remains. In this World Cup, he has played far better than his verbal execution by mob rule would indicate. His passing has been statistically better than that of all his team mates, while his quiet ability to create space from the lack of it has enabled Germany to break through almost entirely defensive opposition.
Mesut Ozil may not be in the form of his life. Let your eye drift over him as you watch a game, and you will certainly reach the same conclusion as Paul Breitner: that he merely wanders around ineffectually.
But, if you have nothing better to do this evening, watch Ozil closely. For ninety minutes. I bet you his 50 million Euro price tag that you will see him doing things you never thought he did. Affecting the game in a way you otherwise would have missed. Quietly. In the shadows.
Join our new commenting forum
Join thought-provoking conversations, follow other Independent readers and see their replies