Chapecoense plane crash: Brazil's defence minister says pilot guilty of 'murder'
Authorities from three countries are investigating the circumstances of the tragedy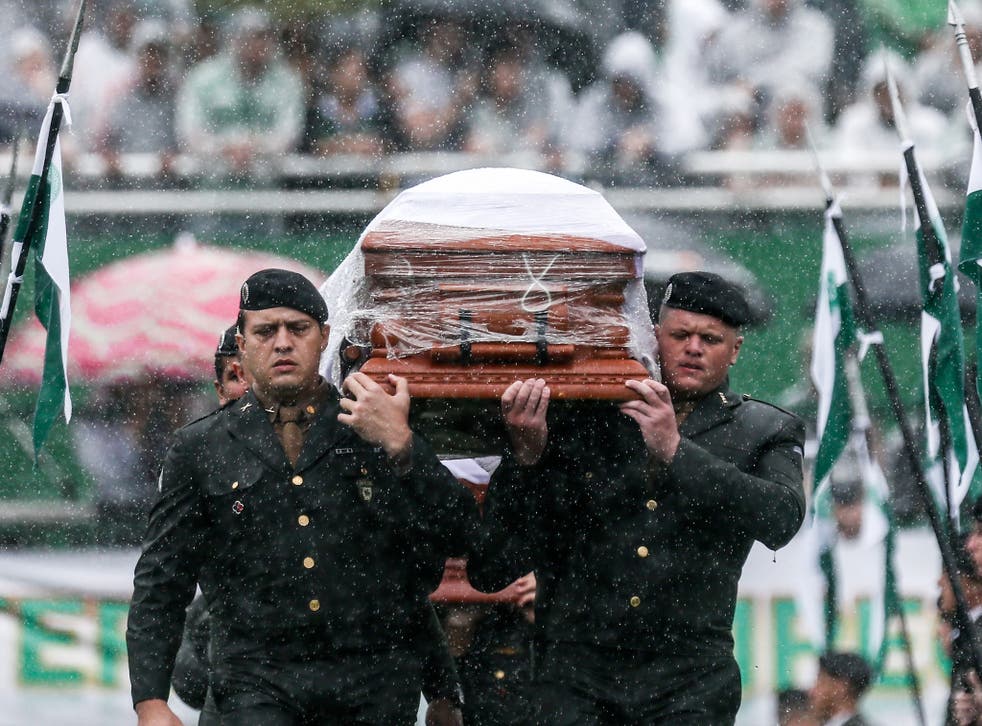 Brazil's defence minister has said the plane crash which killed 71 people – including members of the country's Chapecoense Real football team in Colombia – was murder.
"This was definitely no accident," defence minister Reymi Ferreira told reporters. "This was a homicide. What happened in Medellin was murder."
The charter flight was heading to the Colombian city of Medellin when it crashed in a mountainous area just outside it – the pilot had radioed to report that the plane had suffered an electrical failure and was out of fuel. Only six people survived.
With officials still investigating the circumstances in which the LaMia flight went down, Colombia's civil aviation safety chief said the plane was in violation of international regulations on fuel reserves.
Mr Ferreira cited those regulations in accusing the pilot, Miguel Quiroga, who was killed in the crash.
"Obviously, if the pilot had complied with the regulation, which is to land in Cobija [in Bolivia] or Bogota [in Colombia], or had at least declared an emergency from the beginning, before he was about to have an accident," Mr Ferreira added, "it's possible this tragedy would not have happened."
Chapecoense Real Tribute

Show all 11
Prosecutors in Brazil, Colombia, and Bolivia are conducting their investigation to hold the airline and those who oversaw the flight accountable.
Earlier in the week, a Bolivian aviation official claimed she was pressured by her bosses to cover up findings that the plane had dangerously low fuel levels.
Celia Castedo detailed her allegations in an open letter to Bolivian media.
Plane crash: Brazil President receives coffins of Chapecoense players
"I was subjected to harassment and pressure from my superiors … who ordered me to change the content of the report, which hours [before the flight] I had presented," she wrote. "Based on a careful examination, I had made five observations, one of the most important of which referred to the fuel economy of the flight."
Bolivia's public works minister, Milton Claros, said Ms Castedo was trying to cover up her own errors.
"There were no observations made to the flight plan," he told the Associated Press. He accused her of fabricating the documents after the crash.
Ms Castedo is in Brazil seeking asylum, but officials have urged Brazilian authorities to return her to Bolivia to face justice.
The letter comes after the arrest of Gustavo Vargas, the general manager of airline LaMia.
Investigators want to establish whether Mr Vargas is guilty of criminal failure to follow safety procedures, but Bolivian attorney general Ramiro Guerrero said those charges could escalate.
"It could easily turn into a manslaughter case," he said.
Register for free to continue reading
Registration is a free and easy way to support our truly independent journalism
By registering, you will also enjoy limited access to Premium articles, exclusive newsletters, commenting, and virtual events with our leading journalists
Already have an account? sign in
Register for free to continue reading
Registration is a free and easy way to support our truly independent journalism
By registering, you will also enjoy limited access to Premium articles, exclusive newsletters, commenting, and virtual events with our leading journalists
Already have an account? sign in