Denmark's World Cup hopes hang in the balance - but does Christian Eriksen hold all the answers?
The 25-year-old has emerged as one of the best playmakers in the world but his and Denmark's place at next summer's World Cup is in question. Will he be the man to take them to Russia?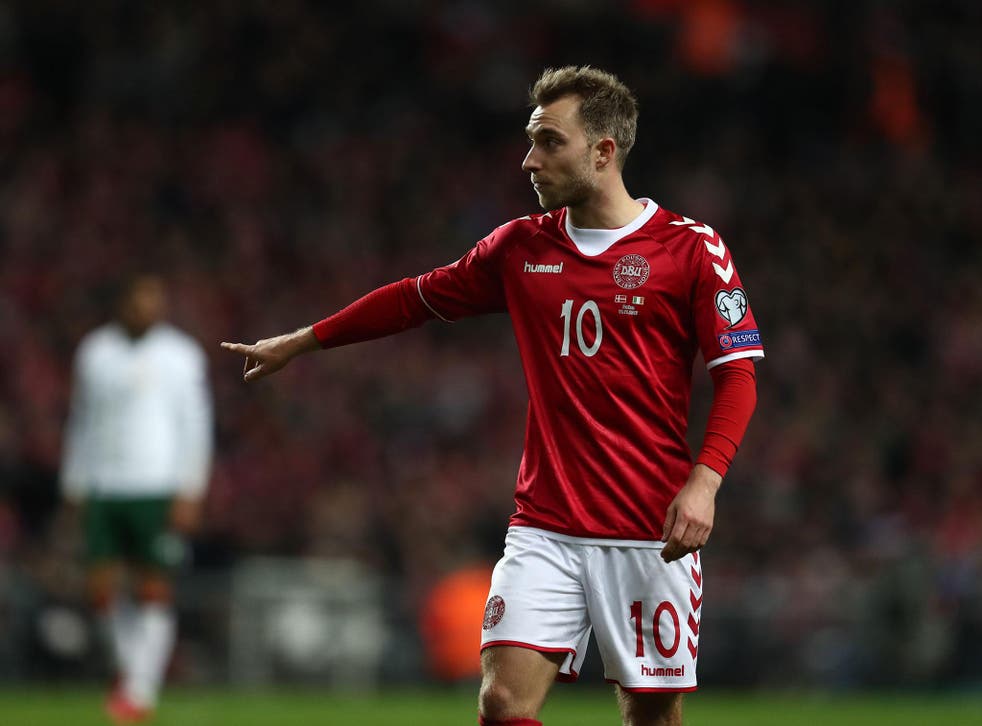 Back in the middle of August, when Barcelona were pushing for the signing of Philippe Coutinho from Liverpool - and beginning to get a little agitated about the prolonged process - there were other highly influential figures at Camp Nou beginning to suggest they should go in another direction.
Specifically, a No 10 who better suited the direction of their play: Christian Eriksen. Overtures were even made to his representatives, although it was quickly realised Tottenham Hotspur would be even tougher to deal with than Liverpool. The feeling among some Barca coaches and directors was that Eriksen's fluidly brilliant link-up play was a better fit for their famed philosophy, and thereby worth pursuing in future.
Right now, that ability - as well as his greatly increased productivity for Spurs - has made the 25-year-old one of the best playmakers in the world. This has also made him someone at the right age and stage of his career ready to take command at a World Cup.
One big factor threatening his very appearance in Russia, however, is that it is this very ability and skill that Denmark really failed to take advantage of in the play-off first-leg 0-0 draw against Ireland on Saturday. It was actually rather striking, and went some way to explaining why Eriksen only had one proper attempt on goal. He was regularly bypassed, Denmark so often looking to play the ball over him so it would come back to him, rather than actually getting him on it to drive play.
It was as if manager Aage Hareide wanted Eriksen to merely top off any move with his talent, rather than actually building attacks through him. It also seemed something of a waste of what is undeniably their best weapon, especially given the way Eriksen has thrived and evolved in the Mauricio Pochettino system that makes him so central.
There was only one moment when the 25-year-old actually got on the ball in the type of position that has seen him purr for Spurs in recent seasons. It was no coincidence that was the one moment Denmark looked sharp, looked cutting. Substitute Nicklas Bendtner however failed to make the most of Eriksen's 74th-minute through ball in the way - say - Harry Kane would and the move went nowhere.
This is in many ways the somewhat counter-intuitive problem of having someone of Eriksen's level in a squad of Denmark's limitations.
They should obviously build the team around him, in theory, but would the squad's very limitations mean that would really take him into that best level in practice? It wasn't really working for previous manager Morten Olsen, whose possession game put Eriksen on the ball a lot, but also an unfair amount of pressure on him, since he had nowhere to really play that ball. He would end up looking for outlets that never presented themselves, and were thereby wasteful. Really, it was just a waste of his talents.
For his part, Eriksen himself is said to feel the responsibility similar big stars in similar mid-ranking teams have - the responsibility Gareth Bale has carried with Wales, Zlatan Ibrahimovic with Sweden, Roy Keane with Ireland, and even Brian Laudrup with Denmark before him. He knows that his exceptional talent puts that expectation on him - and wants to live up to it.
It was why he had absolutely no hesitation in genuinely admitting that getting to the World Cup with his country would be on a level far above what might have been one of the greatest nights in his club's history: beating defending European champions Real Madrid 3-1 two weeks ago.
2018 World Cup group-by-group guide

Show all 33
"I think it would be," Eriksen said. "It would mean a lot for me personally and for the country overall. Getting your country to a World Cup is one of the biggest things you can do for your country.Every player wants to send their country to a World Cup. It is the biggest thing you can achieve."
Those at Spurs say he is deeply driven by that right now, that he feels it on a deeper level, even for someone usually so composed who takes things in his stride. He really doesn't want to be one of those frustrated stars named in one of those line-ups of the best players not to be at a World Cup.
It also says much about that cool attitude that Eriksen wasn't too critical of Ireland's approach in the first leg. He didn't really blame any overly-focused man-marking negativity for his struggles to get on the ball, or think it's that much of a worry.
"They were the away team, they wanted to stop us from scoring," Eriksen said. "I can't blame them… I feel we will have our chance in Dublin, I'm really confident."
So are the Irish, all the more so because they managed to stifle Eriksen in the first leg.
"They can't score against us in their home tie, I'm quite confident they won't score [in Dublin]," Shane Duffy said. "We know their threats even more now."
They know that Eriksen doesn't get on the ball that much, that Denmark only use their big Spurs weapon sparingly.
That, though, should promote a note of caution for Ireland as much as hope. Other figures around the Denmark squad have pointed in another direction, to another stat. In their recent qualifier against Poland, Hareide's approach meant that Eriksen was only on the ball for a mere one minute and four seconds of the 90.
He used it - and the particular structure of the side - to score once and create another two goals in a devastating 4-0 win.
This is what Denmark are banking on in Dublin, this is why Barcelona would still break the bank for him in future.
This could be the difference between getting to the stage that really shows his value.
Register for free to continue reading
Registration is a free and easy way to support our truly independent journalism
By registering, you will also enjoy limited access to Premium articles, exclusive newsletters, commenting, and virtual events with our leading journalists
Already have an account? sign in
Register for free to continue reading
Registration is a free and easy way to support our truly independent journalism
By registering, you will also enjoy limited access to Premium articles, exclusive newsletters, commenting, and virtual events with our leading journalists
Already have an account? sign in
Join our new commenting forum
Join thought-provoking conversations, follow other Independent readers and see their replies