Connections with Italy run deep for well-respected Roy
That Hodgson was appointed coach by a club as powerful as Inter shows he is highly thought of by Sunday's opponents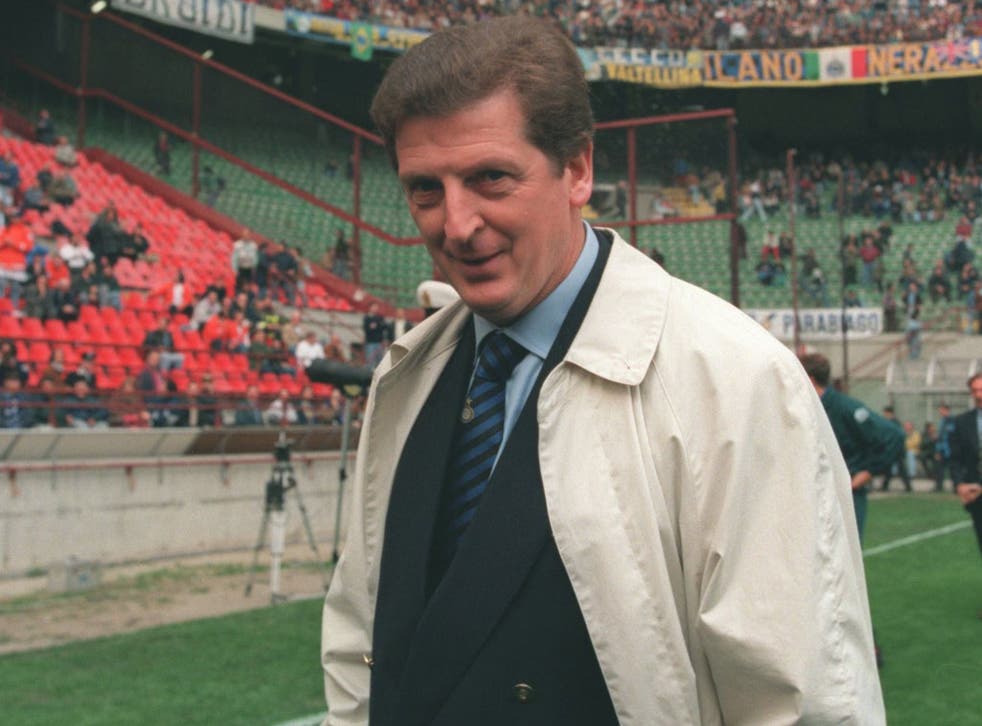 You probably had to be there, and know the politics around Internazionale in the mid-1990s, to find it funny, but footage of a sketch involving Roy Hodgson and an Italian comedian is still available on the internet. Hodgson, then the Inter coach, does not yet have the grey hair he has now but, in a double-breasted suit standing in an office, he has changed little in 15 years.
The man alongside him is a comedy character known as "Mister Flanaghan" dressed in what Italians regard as the archetypal British fashion. He asks Hodgson questions in heavily accented English, egged on by unseen presenters in the studio whose voices can be heard. First he asks Hodgson's name and when he gets his answer, asks, mystified: "Are you from Massachusetts?" Hodgson replies he is from London. "South Massachusetts or north Massachusetts?", comes the reply.
Finally "Mister Flanaghan" asks "What's your job?" Hodgson, as one can only assume he has been told to say, replies: "I don't know." That is the end of the sketch. The voices in the studio react with delight. As previously mentioned, you really had to be there.
The strange thing about the "Mister Flanaghan" skit is that it tends to be what many Inter fans remember first when you ask them about Hodgson's time in charge of the club. That, and selling Roberto Carlos to Real Madrid. He came back to manage them briefly again in 1999 and had a short, difficult stint as Udinese coach in 2001. The other notable aspect of the "comedy" routine is that it proves Hodgson does not take himself too seriously.
"Mister Flanaghan" is clearly sending up Hodgson's Englishness and there may be a few sniggers from the Italian media tomorrow when Hodgson speaks his British-style Italian at his official pre-match press conference ahead of Sunday's Euro 2012 quarter-final against Italy. As for the English press corps, we will be suitably impressed by the polyglot skills of the England manager. Certainly, his Italian cannot be any worse than Fabio Capello's English, which improved at a snail's pace over his four years.
Hodgson's connection with Italy runs deep. He was given the Inter job before he was put in charge of a club of equivalent standing in England. After his first spell at Inter in 1997 he went to Blackburn Rovers, who, with Jack Walker's investment, had been champions two years earlier. But it was not until two years ago, when he was appointed by Liverpool, that he was entrusted with one of the country's establishment clubs. He chuckled this week when asked if Italy had recognised his talents earlier than England.
"I got the job at Inter on the back of qualifying Switzerland for the 1994 World Cup and Euro 96. We drew 2-2 with Italy in Cagliari and beat them in Berne, so I suppose that and also Malmo FF eliminating Inter from the European Cup [in 1988] had a part to play when Inter were looking for a coach, in particular my very dear friend Giacinto Facchetti [then on the board at Inter] who, unfortunately, is no longer with us.
"I think he admired the way I worked and he persuaded Massimo Moratti to take me. It was a wonderful two years with the club and when they were in difficulty I went back at Massimo's request to help out for a few months [in 1999]. I don't know that I have any particular revered status is Italy, it is more Sweden and Switzerland that I can rely upon."
The Inter that Hodgson inherited were expensively rebuilt after he left with the signing of Ronaldo in the summer of 1997. But while he was there they were in transition. Paul Ince was among the biggest names along with Marco Branca, Javier Zanetti, Youri Djorkaeff and Maurizio Ganz. They reached the Uefa Cup final in Hodgson's second season but lost the two-legged tie on penalties, inevitably to Germans – Schalke.
Hodgson sold Roberto Carlos to Real Madrid in 1996, a decision that in retrospect was considered a mistake given how much the Brazilian went on to win in the game. But he has remained close to the club – he often refers to his "friends" in Italy chiefly being those at Inter – so much so that he went back for two months at the end of the 1998-99 season as a caretaker manager before the arrival of Marcello Lippi.
His six months at Udinese from June to December 2001 are more of a mystery, given that he left FC Copenhagen to go there. In Denmark, Hodgson had been an enormous success, transforming a big-city team beset by underachievement and problems with misbehaving players into the club that has since won eight Danish Superligaen titles, including the one their English coach won in his only season.
Hodgson's effect on Copenhagen was so profound that the club's current sporting director, Carsten Jensen, who worked as a coach under him, told me that the basic framework put in place by Hodgson still exists at the club. At Udinese, in north-east Italy, the experience could not have been more different.
"I left there after winning the championship with FC Copenhagen and it was a very different way of working at Udine to the way I had been used to working at Inter," Hodgson said this week. "It was better I thought that we parted company but we weren't unsuccessful. We were seventh in the league when I left and we knocked Inter out of the Italian Cup. It was pretty obvious that the way the club wanted to work and the way I liked to work wasn't terribly compatible."
Hodgson is a well-connected man in European football. On his way into the stadiums on match day he can often be seen shaking hands and hugging various Uefa blazer types. In Italy they must regard him, despite his protestations, with a great deal of respect to give him a job like Inter. They are not exactly falling over themselves to bring in English coaches now.
His predecessor Capello would undoubtedly have understood the Italian mentality and their likely approach on Sunday better than anyone in the current Football Association set-up. Nevertheless, Hodgson is not a bad alternative. When he was asked this week whether he would seek Capello's advice on Italy, his answer was polite but it was a very definite "No".
Roy's roles while in Italy
Internazionale, 1995-97
P86 W38 D25 L23 Win%44.19
Took over with club in relegation zone and finished seventh. Ended third in 1997 and reached Uefa Cup final, losing to Schalke.
Internazionale, 1999
P3 W2 D1 L0 Win%66.6
Returned to San Siro for brief caretaker spell.
Udinese, 2001
P17 W7 D5 L5 Win%41.18
Left by mutual consent after six months, quoted as saying he "regretted joining."
Join our new commenting forum
Join thought-provoking conversations, follow other Independent readers and see their replies