Copa America 2015: Wes Morgan shows off impressive collection of opponents' shirts after facing Lionel Messi and Edinson Cavani
Leicester City captain also shows off Roque Santa Cruz's jersey alongside his own after playing for Jamaica at the Copa America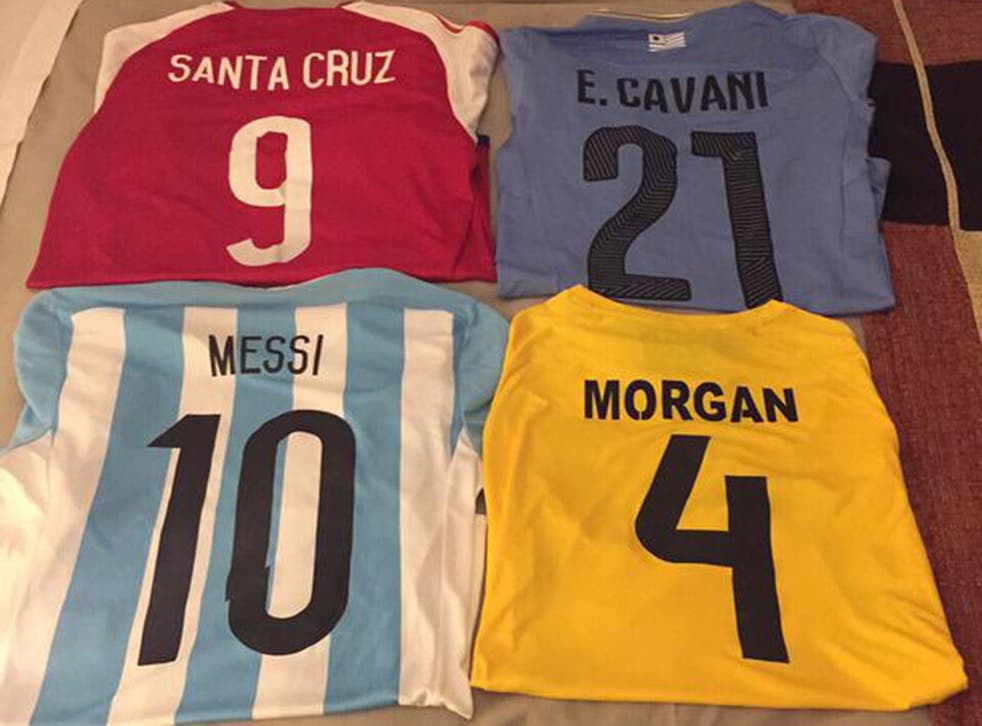 Leicester City captain Wes Morgan has many reasons to be happy this summer. The Foxes turned around their Premier League form to survive relegation and secure their top flight status for at least a second year, he then featured for Jamaica at the Copa America, and now the defender has a pretty impressive collection of shirts to take back to Leicester.
The 31-year-old Nottingham-born centre-back first played for Jamaica in 2013, and has gone on to make 15 appearances for the Reggae Boyz after qualifying through his Jamaican-born grandparents.
He played in all three of their Copa America group games against Uruguay, Paraguay and Argentina – which all ended in 1-0 defeats – and he revealed on Twitter that he is heading for a few weeks rest before turning his attention to the Concacaf Gold Cup next month.
However, the three games in Chile has given him the opportunity to collect an impressive haul of opponents' shirts, and he can look back on the South American tournament fondly when he takes a glance at the shirts of Lionel Messi, Edinson Cavani and Roque Santa Cruz.
Along with the picture of the three shirts, Morgan said: "Great experience playing in the copa America, couple weeks off then on to the gold cup #jamaica."
Register for free to continue reading
Registration is a free and easy way to support our truly independent journalism
By registering, you will also enjoy limited access to Premium articles, exclusive newsletters, commenting, and virtual events with our leading journalists
Already have an account? sign in
Register for free to continue reading
Registration is a free and easy way to support our truly independent journalism
By registering, you will also enjoy limited access to Premium articles, exclusive newsletters, commenting, and virtual events with our leading journalists
Already have an account? sign in
Join our new commenting forum
Join thought-provoking conversations, follow other Independent readers and see their replies