Of course Ireland can win the Euros, insists Trapattoni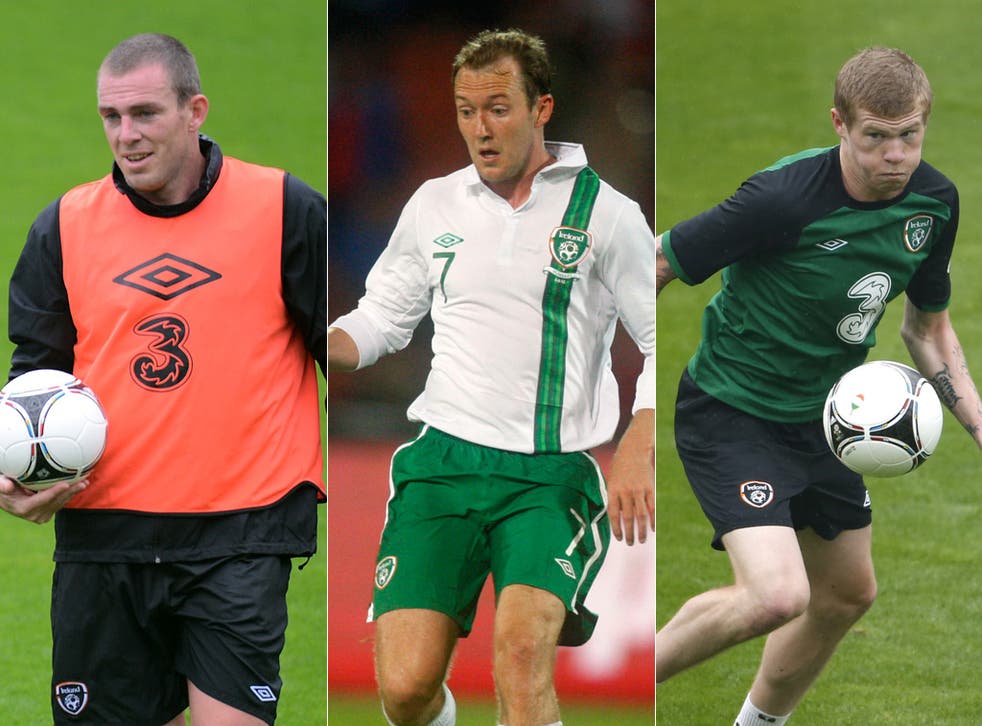 To some, it may seem like utter fantasy. To Ireland, though, it is something that truly fires them. Do not be under any illusions. Giovanni Trapattoni and his team genuinely believe they can win Euro 2012.
"In life, never say never," the manager said at Ireland's training camp here yesterday. "After six games, maybe the dream comes true?"
One of his principal lieutenants – indeed, the player who owes his entire international career to Trapattoni – sounded a similar note. "We want to be here right to the end," Glenn Whelan said.
When asked did he really mean that, the Stoke midfielder was emphatic. "Oh yeah. Why not? Anything can happen. You look at Greece a few years ago. I'm sure if there was a Greece player who said 'let's go to the end', people would be laughing at them. But why not?"
Yes, Greece. The team that set the template for mid-tier sides like Ireland. Even Trapattoni has mentioned their name at pointed occasions during his four years in charge, not least the night that Ireland finally secured qualification. That raises another question: has he outright mentioned their name to the players in order to motivate them?
"No, he has never called us Greece or said, 'we could be like Greece'. It's something that's been thrown around because of the underdog tag. Who would have ever expected them to win a European Championship? So why not us? We know it's going to be a massive task. We are not silly. No one is really giving us a chance and if it comes off it is going to be one of the biggest upsets. But set your targets high and see what you can achieve."
As is so often the case on the pitch, the occasionally criticised midfielder was in perfect step with his manager's mindset. Trapattoni also mixed resolve with a few reservations.
"It is a dream... too many situations must be in our favour: no injuries, no red cards. But it's true what you say. There is no result that ever satisfies me because I am never happy unless I get the ultimate prize."
Before Ireland can think of that, though, there's a more pertinent question: in order to win the tournament, do they need to win against Croatia tomorrow in Poznan?
Because, whatever way you look at it, Slaven Bilic's team are the closest to Ireland in terms of quality, form and status. In short, they're the most beatable of the three opponents in Group C.
"Ourselves and Croatia are probably the two that no-one expects to get out of the group," Whelan admitted. "Being paired with each other for the first game is massive because it can set you up. It's two nations that people don't expect to get out of the group, so it's crucial."
But will that fact be lost amid the caginess of a first game and the general acceptance that it is fine to draw?
If so, that might be dangerous. Despite perceptions, 59 per cent of teams who have drawn their opening match in a 16-team European Championship have gone out in the first round. What's more, to return to the Greece template, the only group match the 2004 champions actually won was their first.
With that in mind, what is the team's attitude to a draw? "I'll tell you after the Italy game," Whelan said. "It depends... a draw is OK if we get a result out of either Spain or Italy. Ask any manager, you don't go into a game to draw." Indeed, Trapattoni was asked. "Obviously, I think we can win. We don't play any games to think of a draw. We watch for chances to score and know how to score."
That last line probably says more than the simplicity of Trapattoni's English allows. Because, while Bilic has spoken of altering his team's counter-attacking game in order to maximise the opportunity of beating Ireland, Trapattoni won't be so bold. His team's approach will still be based on defensive strength and simple opportunism – in other words, those chances the manager talked about. It is, after all, the tactics that have fostered the second-longest unbeaten run of all Euro 2012 sides.
Similarly, the manager has gone back on his comments after the Hungary game on Monday night, when he said he may have to consider altering the midfield to avoid his 4-4-2 being exposed by teams with more bodies there... like Croatia. By yesterday, he all but confirmed he will be starting with Monday's XI – including the recent injury doubt, goalkeeper Shay Given.
In that context, Whelan will probably be charged with directly stopping Tottenham schemer Luka Modric. "It's one player. They've got 10 others that can hurt you. If we just keep doing what we've been doing and not conceding many goals, we'll give ourselves a great chance."
And, if the manager and player are to be believed, not just tomorrow.
Ireland's likely lads: Three to watch
Richard Dunne
Somewhat erratic for Aston Villa, but the epitome of assurance for Ireland. The entire system is built on Dunne's resilience at the back and he is the single absolutely irreplaceable member of the team.
Aiden McGeady
After an underwhelm-ing first four years in Trapattoni's system, there are signs McGeady is finally starting to show his dynamism on the wing. Most of Ireland's attacks will go through him tomorrow.
James McClean
The Sunderland winger won't start, but – given how much Trapattoni works his wide men – will surely come on. And his energy and directness may well open up – and potentially decide – the game.
Join our new commenting forum
Join thought-provoking conversations, follow other Independent readers and see their replies