Daniel Sturridge insists he is not at Euro 2016 for 'a holiday'
However the Liverpool striker promises he will keep his ego in check if overlooked by Roy Hodgson, despite 'working tirelessly to ensure I'm in the team'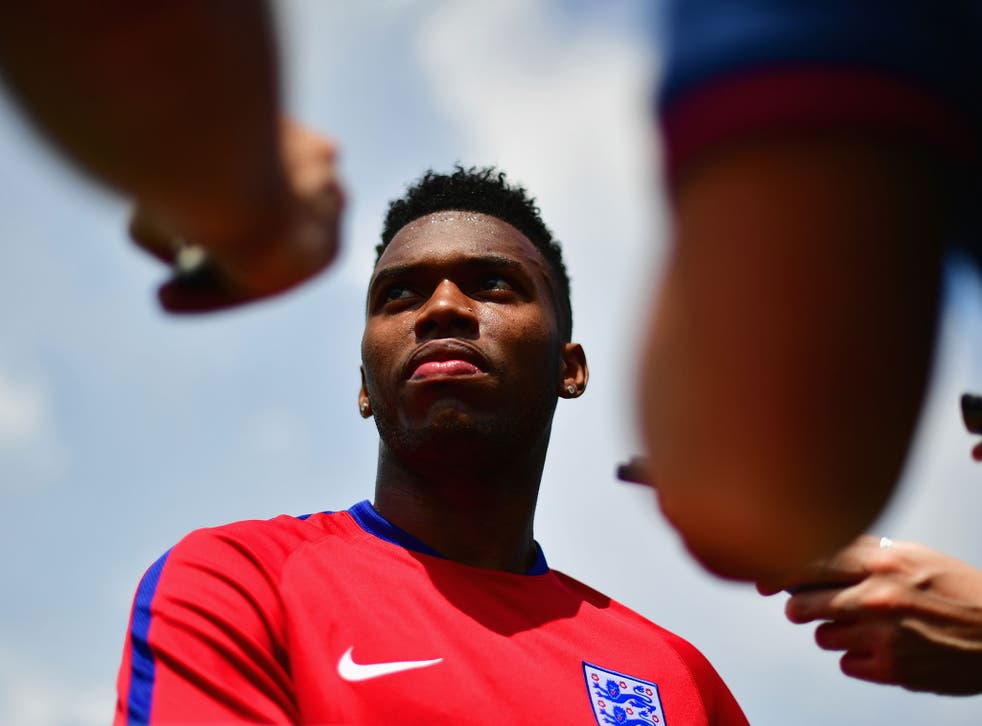 Daniel Sturridge's eyes narrowed into a fixed stare when it was suggested that, to help England achieve success at Euro 2016, he would have to be a 'good tourist' if Roy Hodgson chose to overlook the Liverpool forward for other options in France.
Two years ago in Brazil, Sturridge was the main man, the player whose goalscoring form prompted Hodgson to shift Wayne Rooney into a wide role to allow the 26-year-old to play through the middle, but as England prepare to open their Group B campaign against Russia this weekend, he is fourth-choice, at best, behind Rooney, Harry Kane and Jamie Vardy.
But while that Sturridge stare hints at a moodiness and sense of self-importance, his desire to play in France has not been outweighed by his readiness to survey the bigger picture and he insists that all egos – including his own – have been checked in before departure for the tournament.
"I am not here for a holiday," Sturridge said. "When you go into a tournament like this, of course I want to play. Nobody wants to sit on the bench.
"I want to play, of course, but it's down to the manager to choose his team and I have to understand that.
"If he chooses somebody else, that's his decision. I'm working tirelessly on the training pitch to ensure I'm in the team.
"If he doesn't select me, the next day I will be on the training field to ensure I am for the next game.
"We can't win this thing if there are egos or problems in the camp. It's about us being here as a team."
Sturridge's injury-hit career has restricted the player to just 18 caps, with five goals along the way, and his fitness concerns cast a shadow over his participation in France due to a persistent calf problem.
The emergence of Manchester United youngster Marcus Rashford also threatened to leave Sturridge back home until Hodgson pursued a bold path by selecting five forwards.
Sturridge insists, however, he never doubted his prospects of travelling to France, regardless of Rashford's rapid rise to prominence.
"It was never touch and go from my side or from the manager's side in terms of my fitness," Sturridge said. "They knew my situation before I arrived.
"I played in the Europa League final and I had some tension in my calf. It wasn't necessarily like I had torn any muscles, so that was the positive thing.
"It was going to be gone 5-6 days after I arrived. I trained on the Monday and thought it would have eased off. I didn't ease off, so they said to rest it. The doctors told me to rest it until the Monday and I would be fine. I trained on Monday and I was fine.
"But I am not the type of person to worry about these type of things. It is the manager's decision and if I hadn't made the squad, I would have wished the boys the best of luck. It is the manager's decision to pick his squad and I can't take things personally.
"We have a squad of players here and it is important to have every type of player you can have to allow the team to be successful.
"As for Marcus, he is a good player. He has come on the scene and he has no fear and he is an exciting talent."
Images of Sturridge appearing to focus on his mobile phone while watching Rashford score against Australia did little to dispel the notion of the player being one who puts himself first.
But he insists that incident was misconstrued and that he is more than capable of throwing his weight behind the team if left to watch from the sidelines.
"It was my charity event – The Sturridge Foundation – my first annual charity event in Birmingham that night," Sturridge said "My family had put the event on and they were texting me the whole night.
"But of course I was watching the game. It's important to watch my team-mates play, but if I receive a text message about my charity event, I'm going to reply to it.
"I'm trying to do something positive for my community in Birmingham as well as in Jamaica, but of course I want my team-mates to do well and there was no disrespect at all."
Sturridge added: "I have total belief in myself, but if the manager picks somebody else, that is no problem to me because it is a team game.
"I look at other countries in many competitions and, when they score, everyone is off the bench and they are all involved, all jumping on each other celebrating - and that's how we have to be.
"We have to be a team. It's very important, on and off the pitch. We are getting on so well off the pitch and on the pitch everyone is getting on so well.
"We don't have our mums, dads, kids and all those things here. So we're our family and we have to be together."
For now, Hodgson's England appear a happy camp, with unity the key word as preparations focus on Saturday's clash against the Russians.
Euro 2016 predictions from The Independent
Having endured the misery of a group exit at the last World Cup, Sturridge knows all about the downside of playing England.
But he insists that, in spite of the baggage from previous failures, there is no burden attached to representing his country.
"We understand the weight it is for you when you wear the three lions on your shirt," Sturridge said. "It's not a burden, but there is a lot expected of you so we go out there with the mentality to give the fans something to celebrate."
Join our new commenting forum
Join thought-provoking conversations, follow other Independent readers and see their replies