David De Gea allegations: Manchester United goalkeeper denies 'organising party where women were sexually assaulted'
De Gea has commented on the allegations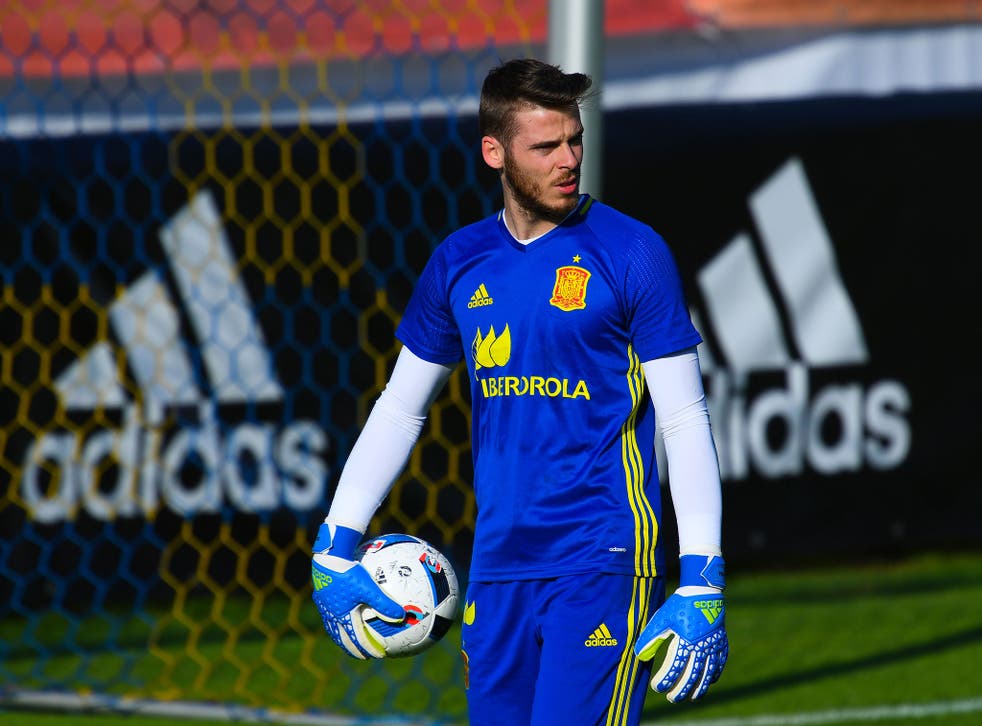 Manchester United goalkeeper David De Gea has denied accusations of organising a meeting between two footballers and two women, one of whom claims they were both sexually assaulted by the men.
Spanish newspaper El Diario reports that the allegations emerged in a statement given by a protected witness in a rape case against pornography producer Ignacio Fernandez Allende – also known as Torbe. Torbe has been in jail since last April on charges related to prostitution, human trafficking for sexual exploitation, sexual assault, child pornography, extortion and money laundering.
The documents, which have been published by El Diario, state that De Gea was not one of those present at the meeting.
De Gea has responded to the allegations after speaking with his lawyers, and said that he has no knowledge of the girls involved or of the case.
Speaking at a press conference on Friday, the same day as the start of Euro 2016 where De Gea is due to represent Spain, De Gea said: "The first person who was surprised by this news story was me. It's a lie."
Asked if he exchanged WhatsApp messages with Torbe, De Gea responded: "This will only make me stronger. It's false
"Those who know me well, know that this is false; my family's mind is at ease. It's now in the hands of my lawyers.
"I don't know where these things come from."
The allegations come on the first day of Euro 2016 in France. Spain are due to play their first game against Czech Republic on Monday.
Spanish police investigating the case claim that the witness' statement was "highly credible".
According to AS, the Spanish police's report on the witness' statement states the following:
"Having brought TP3 (Protected Witness 3) to the room with the other girl, Torbe told her that they had to be with the footballers, and that they had to do whatever they wanted and that they [the girls] would earn significant money. When TP3 refused, Torbe took her roughly by the arm, saying they had to do whatever the footballer wanted, having sex with the new girl and her".
"Both the new girl and TP3 were sexually assaulted by the footballers, given that if they refused they were physically attacked by both, and moreover, having satisfied the sexual desires of both players, the footballers threatened them in order to ensure that what had happened in the room would never be heard about. Neither TP3 or the other girl who was in the room received anything for the physical and sexual assault they suffered, with Torbe taking all the earnings".
Neither De Gea's representatives, Manchester United nor Spain would comment on the reports.De Gea was expected to be Spain's first-choice goalkeeper at Euro 2016 after serving as deputy to Iker Casillas at the 2014 World Cup, having being named United's Player of the Season for the third consecutive year last month.
The former Atletico Madrid stopper joined United in 2011 for a fee in the region of £17.8m, a deal which represented the largest fee a British club has paid for a goalkeeper.
The Spain squad will hold a press conference on Friday evening. It is not thought that De Gea will be in attendance.
The protected witness claims she was taken by two footballers, one being Athletic Bilbao's Iker Muniain, to a hotel room, where they allegedly assaulted her after Torbe head forced her into the encounter against her will. Torbe is also accused to have told the woman that she would be paid well for her time.
The incident is alleged to have happened in 2012.
Muniain's agent has said that the authorities have not made an attempt to contact either him or Muniain and that Spanish police have not asked for any information.
Register for free to continue reading
Registration is a free and easy way to support our truly independent journalism
By registering, you will also enjoy limited access to Premium articles, exclusive newsletters, commenting, and virtual events with our leading journalists
Already have an account? sign in
Register for free to continue reading
Registration is a free and easy way to support our truly independent journalism
By registering, you will also enjoy limited access to Premium articles, exclusive newsletters, commenting, and virtual events with our leading journalists
Already have an account? sign in