David De Gea refuses to applaud Spanish PM after he criticised goalkeeper during sexual assault investigation
Socialist leader Pedro Sanchez criticised de Gea two years ago during an investigation into sexual assault claims made against the Spanish goalkeeper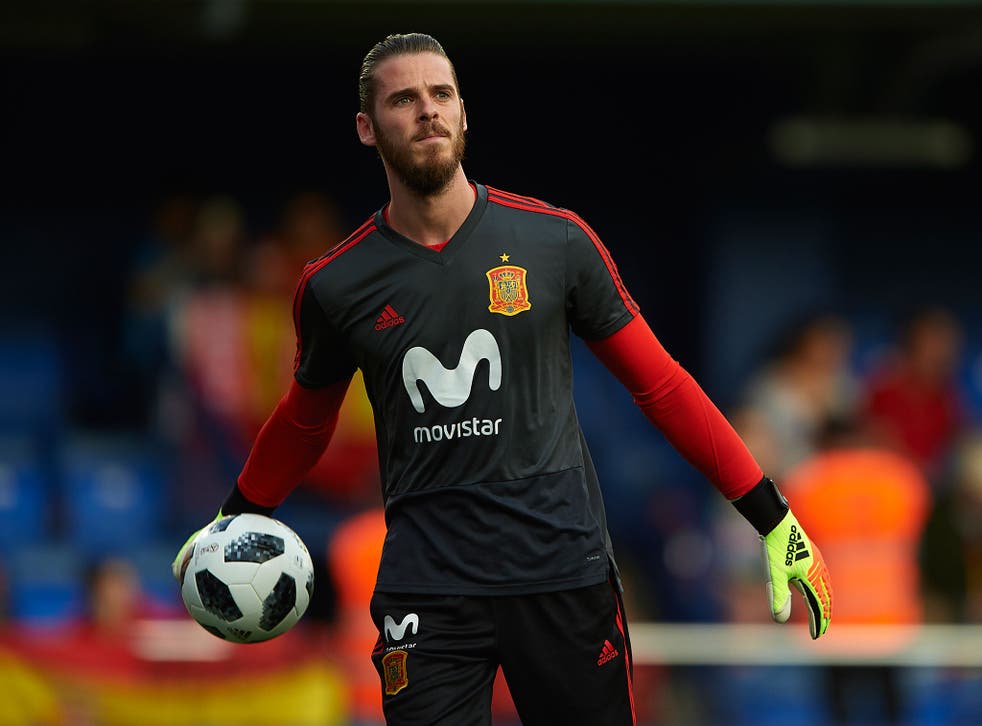 David de Gea has been captured on TV refusing to applaud Spain's newly-elected PM in apparent protest against the politician.
Socialist leader Pedro Sanchez criticised de Gea two years ago during an investigation into sexual assault claims made against the Spanish goalkeeper.
Sanchez said in an interview at the time: "I don't feel comfortable with de Gea as the national team's goalkeeper."
Footage taken of the PM's visit on Tuesday to Las Rozas, Spain's pre-World Cup base in Madrid, showed de Gea's teammates applauding the politician while he stared ahead with a serious look on his face and his hands deep in his pockets.
Sanchez, who recently replaced Mariano Rajoy as Spain's new PM after winning a no-confidence motion he proposed, had just wished the footballers good luck and urged them to return from Russia as winners in a short address.
De Gea appeared to be the only one of the players present who failed to applaud his country's new PM.
He was seen shaking Sanchez's hand before the politician's speech, although with a stern look on his face which contrasted with the smiles of his teammates.
And he kept his hands in his pockets and stayed on the edge of the group as the socialist leader posed for pictures with the squad.
Spanish media were quick to claim de Gea had deliberately snubbed Sanchez.
Online daily El Espanol wrote: "De Gea ignores and doesn't applaud Pedro Sanchez two years after he 'accused' him of child abuse."
Sports daily Marca said: "David de Gea was cold and distant with the Spanish PM."
Another well-read Spanish news website branded the incident: "David de Gea's revenge against Pedro Sanchez."
The Manchester United goalkeeper was linked in 2016 to an under-age prostitution ring allegedly involving a Spanish porn director.
An unnamed prostitute accused him of organising a sex party with the porn director at a five-star Madrid hotel in 2012 where she says two footballers physically and sexually abused her and another woman.
Reports at the time said she also claimed the goalkeeper subsequently tried to set up an orgy with him and four Manchester United teammates.
De Gea took time out of his Euro 2016 preparation to brand the reports as lies.
It later emerged the woman's allegations were false, and de Gea and another well-known Spanish player she tried to implicate were not called to give evidence by an investigating judge.
As well as admitting he did not feel comfortable with de Gea in goal for Spain, Sanchez also said at the time: "I respect the presumption of innocence but above all, you have to put yourself in the shoes of the victim."
De Gea and Sanchez appeared to have put a lid on their difference of yesterday.
The goalkeeper was quoted as admitting after the tense moment: "I think there was a time when I wasn't treated as I should have been.
"Many people criticised me knowing that what had been said wasn't right."
Luis Rubiales, the president of the Spanish Football Federation, told a Spanish radio station: "The mess with de Gea has resolved itself.
"Pedro Sanchez has been friendly and affectionate, he has spoken with him and he has told him he's happy everything turned out okay. He has shown humility."
Join our new commenting forum
Join thought-provoking conversations, follow other Independent readers and see their replies