Edinson Cavani sent-off after Gonzalo Jara 'inserted finger into his anus' during Uruguay's 1-0 Copa America defeat to Chile
Jara provoked the Uruguay striker before diving to the floor and claiming Cavani hit him to get him sent-off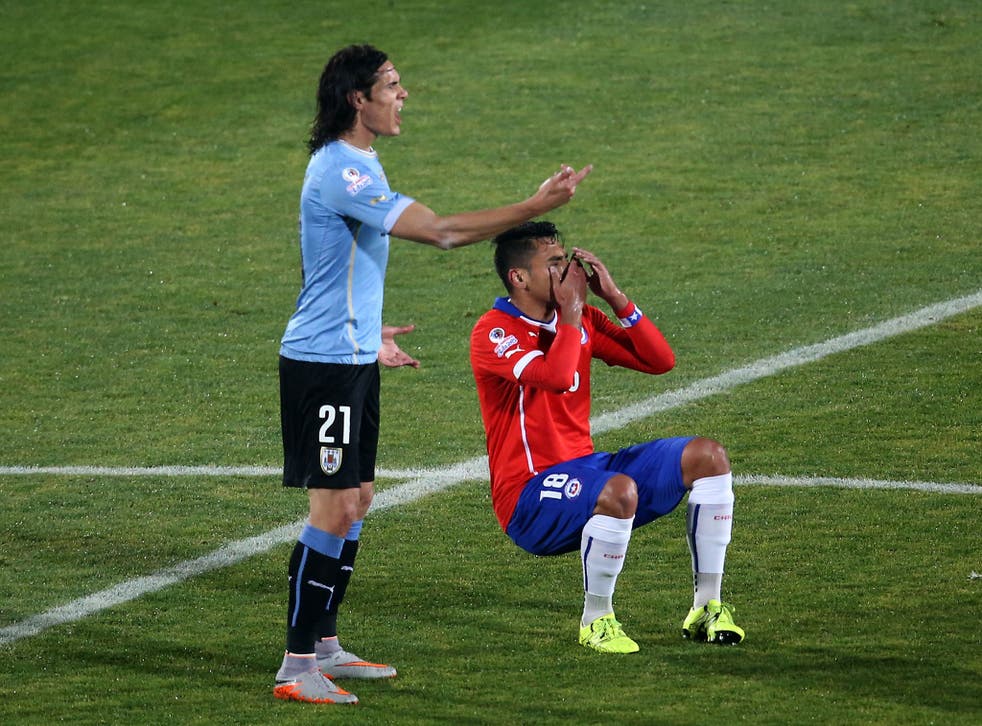 A year to the day since Luis Suarez bit Giorgio Chiellini at the 2014 World Cup, Uruguay were dumped out of the Copa America after seeing two of their players sent-off.
Both Edinson Cavani and Jorge Fucile saw red during the 1-0 defeat to hosts Chile, with Oscar Tabarez's side letting their ill-discipline get the better of them. However, the result – and subsequent elimination of the defending Copa America champions – wasn't the biggest talking point from the match.
That came when Gonzalo Jara, the Chile defender, appeared to poke his finger up the Uruguay striker's backside in the 63rd minute. The bizarre incident got even worse, when Jara then dived on the floor and claimed that Cavani had hit him in the face.
Cavani, incensed at what Jara had just done to him, was then left in a state of fury after the referee showed him a second yellow card having already been booked in the first half for berating the assistant referee after a tackle on Arturo Vidal.
Watch the video below:
For Cavani, it proved to be a tough 48 hours, and questions remained as to whether he should have been playing in the first place. His father, Luis Cavani, had been arrested on Monday night after being involved in a car crash that left a 19-year-old motorcyclist dead after he was "knocked down and killed" in the accident in Salto, Uruguay.
The truck he was driving belonged to his son, and it was uncertain whether the Paris Saint-Germain striker would even play in the match given that Tabarez admitted Cavani was "affected" by the ordeal.
Minutes after Cavani was sent off, former Queens Park Rangers defender Mauricio Isla scored the only goal of the game to book Chile's place in the Copa America semi-finals.
Register for free to continue reading
Registration is a free and easy way to support our truly independent journalism
By registering, you will also enjoy limited access to Premium articles, exclusive newsletters, commenting, and virtual events with our leading journalists
Already have an account? sign in
Register for free to continue reading
Registration is a free and easy way to support our truly independent journalism
By registering, you will also enjoy limited access to Premium articles, exclusive newsletters, commenting, and virtual events with our leading journalists
Already have an account? sign in
Join our new commenting forum
Join thought-provoking conversations, follow other Independent readers and see their replies