The Independent's journalism is supported by our readers. When you purchase through links on our site, we may earn commission.
England fan had Achilles tendons sliced by Russian hooligans during Marseille violence at Euro 2016
Eurostar trains back to St Pancras International were said to resemble 'hospital trains'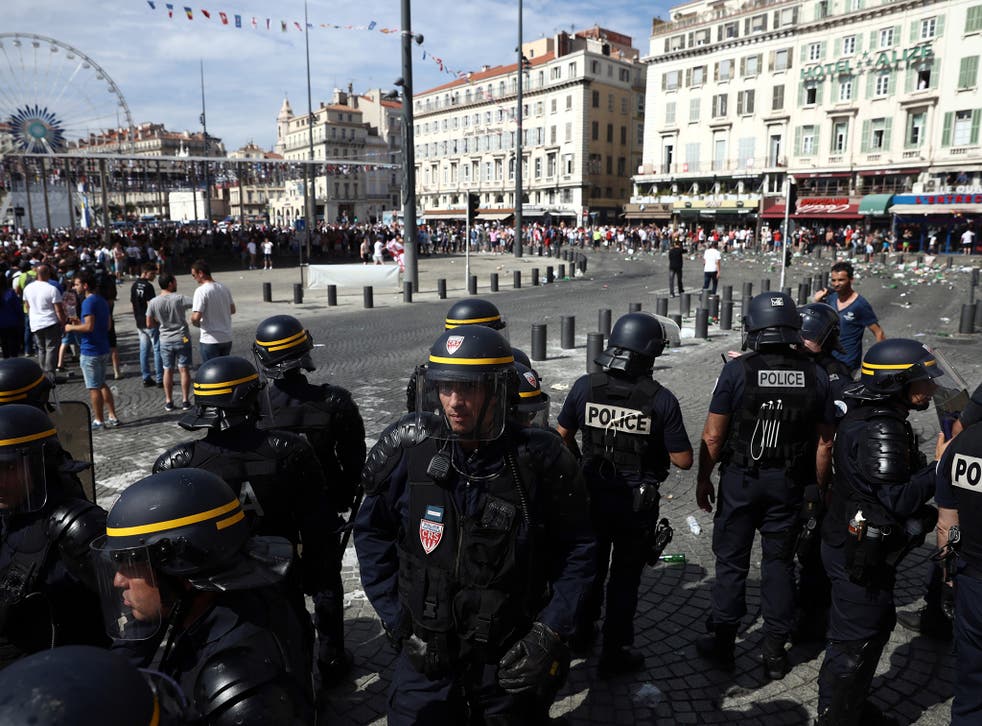 An England supporter had his Achilles tendons cut by Russian hooligans while another returned home via Eurostar with a bottle still lodged in his neck after the violence which marred Euro 2016.
Two fans were left in a coma with life-changing injuries following the "Battle of Marseille" between England and Russia supporters in June as both French and British police struggled to control the clashes which preceded the match between the two rival nations.
Specialist officers were deployed to southern France to help police the escalating situation and, speaking to Sky News, they likened the scenes to that of a "battlefield" with Russian gangs reported to have specifically targeted any England supporters in the vicinity.
Chief Superintendent Steve Neill, of Northumbria Police, said: "We saw football hooliganism on a different level. The Russians came with serious intent to carry out barbaric violence. They were highly organised, very effective and we saw football hooliganism on a different level."
It was reported at the time that Russian fans arrived sober and well-prepared to wreak havoc in Marseille as British police activated their anti-terrorism contingency plan in an attempt to curb the violence and prevent there from being any deaths.
The force are now pursuing banning orders against over 100 England supporters and have already prosecuted 40 known perpetrators. Their accounts include the suggestion that Eurostar trains back to St Pancras International were more like "hospital trains" as injured supporters returned to London.
Russia and England fans clash at Euro 2016 – in pictures

Show all 15
Chief Superintendent Neill added: "I couldn't believe what I was seeing, it was like a herd of wildebeest rampaging through tables and chairs, fights going off, people being kicked on the ground by groups of five or six men. The severity and barbarity of it was quite shocking.
"There was CS smoke drifting everywhere, tables and chairs lying around, people with blood pouring out of their heads. It was like nothing we had seen before.
England fans clash with police
"On the Saturday we had over 100 walking wounded, 30 seriously who had been admitted to hospital, and five who the consultant told my officers were likely to prove fatal that evening. I stood in Marseille as the senior officer believing we were going to get five fatalities that night, we might have five murders on our hands."
Register for free to continue reading
Registration is a free and easy way to support our truly independent journalism
By registering, you will also enjoy limited access to Premium articles, exclusive newsletters, commenting, and virtual events with our leading journalists
Already have an account? sign in
Register for free to continue reading
Registration is a free and easy way to support our truly independent journalism
By registering, you will also enjoy limited access to Premium articles, exclusive newsletters, commenting, and virtual events with our leading journalists
Already have an account? sign in
Join our new commenting forum
Join thought-provoking conversations, follow other Independent readers and see their replies