England manager Roy Hodgson lectures Luke Shaw over fitness issues
United manager Van Gaal had said Shaw was not fit enough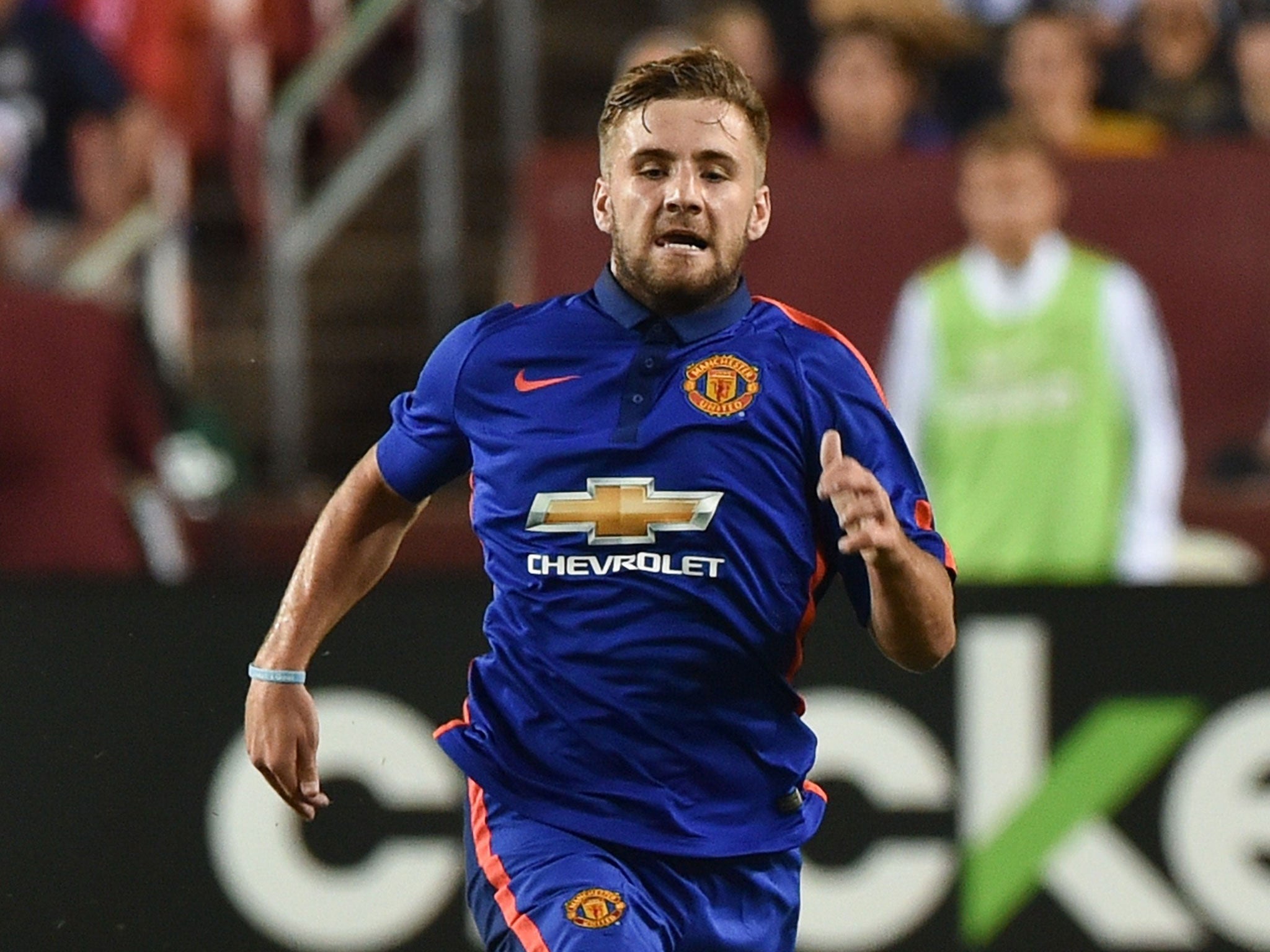 The England manager, Roy Hodgson, said today that he understood Louis van Gaal's concerns over the fitness of Luke Shaw, and had spoken to the player himself during the World Cup finals about staying in shape to play at the highest level.
Van Gaal surprised Manchester United by announcing on their pre-season tour this summer that Shaw, the most expensive teenage footballer in history, was not fit enough to do what was being asked of him. The 19-year-old has since picked up a hamstring injury and is expected to be back in action after the forthcoming international break.
Announcing his squad for the friendly against Norway on Wednesday, and the Euro 2016 qualifier against Switzerland the following Monday, Hodgson said that Shaw had been told he needed to address his physical condition by England coaching staff. Signed by United for £27m in June, the teenager is yet to make his competitive debut for the club.
Asked about Shaw's physical resilience, Hodgson said: "I think a lot of Luke's situation is purely down to the fact that he is still young, his body is changing but I think he's aware that the work rate which is required does mean that he's got to work very, very hard on that aspect of his game.
"I must say, watching him play in the matches for Southampton which caused me to select him, watching him in the game against Costa Rica when he played, he didn't seem to have too many problems coping with the physical side of the game.
"That doesn't mean to say he can't be fitter and if Louis thinks that he can get him fitter then I'm sure he will certainly have our approval. But I think when he [Van Gaal] talks to [Mauricio] Pochettino then Pochettino will say to him: 'What you were saying to Luke Shaw and what you've been saying to him, is what I was actually saying to him'.
"He [Shaw] might have had it mentioned to him a couple of times during the World Cup when we were together by people like myself and [physiotherapist] Gary Lewin. So I think he's been aware of it, Luke, and he will get fitter and stronger, not least of all because he's still a very young man and his body has not yet reached its proper proportions for the level he wants to play at."
Shaw is one of 12 injured players who could potentially have been called up by Hodgson for the two games, the second of which is arguably the hardest game England will face in their Euro 2016 qualifiers, against a nation ranked ninth in the world by Fifa. With Steven Gerrard, Frank Lampard and Ashley Cole all having retired over the summer from international football, Hodgson's options have been limited.
He named Wayne Rooney as his new captain, and the 28-year-old, on 95 caps, has 47 more than the next most experienced player in the squad, James Milner. There were first call-ups for Calum Chambers, Danny Rose, Jack Colback and Fabian Delph, with central midfield an area where there is a particular dearth of players.
Hodgson said that Colback, a free-agent signing by Newcastle United in the summer, had impressed him this season and that he had heard him nicknamed "The Ginger Pirlo". "It would be delightful if that epithet turns out to be the correct one," Hodgson said.
The England manager said he had met Rooney at the offices of his agent, Paul Stretford, on Monday to tell him "eyeball to eyeball". Hodgson said the only other two contenders had been Joe Hart and Gary Cahill but that it was Rooney's "time", adding: "I think it would have been a mistake if I had tried to be clever and pass over him to somebody else."
Rooney said getting the captaincy was "beyond my wildest dreams". He added: "I have said previously that I will not look on my England career as a success unless we win something and that is my attitude to playing football. There is no point turning up unless we believe we can win."
Join our commenting forum
Join thought-provoking conversations, follow other Independent readers and see their replies