England OUT of the 2014 World Cup: FA chairman Greg Dyke confirms Roy Hodgson will remain as England manager until 2016
Hodgson has received full backing and has been asked to stay on
Sam Wallace
Monday 23 June 2014 08:49 Comments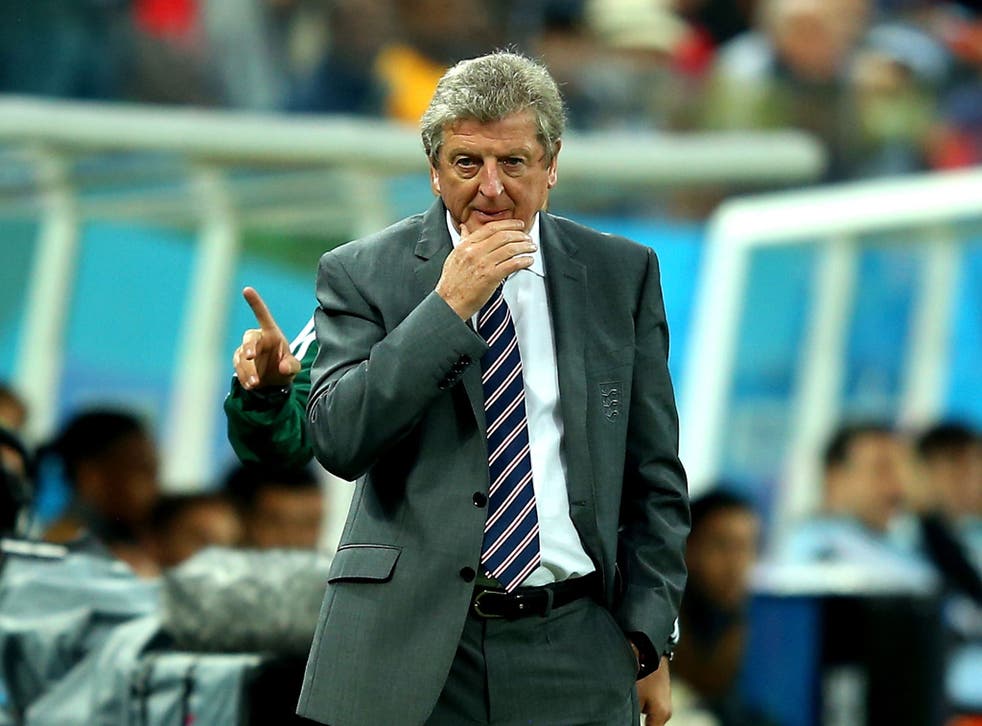 The Football Association chairman Greg Dyke threw his support behind England manager Roy Hodgson yesterday, just hours before the team were eliminated from the World Cup finals at the group stage for the first time since 1958.
England's meaningful participation in the World Cup finals came to an end at around 7pm UK time when Costa Rica beat Italy 1-0 to eliminate Hodgson's side before they play their third game against the Central Americans, already qualified for the second round, on Tuesday in Belo Horizonte. It is the first time England have failed to make it out the group stages in 11 World Cup finals, going back to 1958.
Hodgson, who has a contract that takes him to the end of the European championships in France in 2016, said after the defeat to Uruguay on Thursday night that he would not consider resigning but accepted that his fate was in the hands of others. In an interview with television crews in Rio de Janeiro, Dyke was asked whether Hodgson would continue as manager. He said: "That is the view of myself, of everybody else here [in Brazil] and of others in the FA."
Privately, the FA believes that Hodgson has fostered the best spirit the squad has seen for years. There is no appetite for change at Club England, the part of the FA that administers the national team. Of them, Dyke is the only one who could potentially change his mind having not been on the committee when Hodgson was appointed. In mitigation, the FA feels England have lost games to two counties ranked above them.
Dyke said: "We know that we have a problem, that there are not as many English players playing in the Premier League, or even the Championship, now as there used to be, therefore the choice is left, but that is what we have got to go from and I don't think that is a cause for what has happened here.
"Everybody thought we played really well in the first game [against Italy] and narrowly lost. In the second game it could have gone either way. We were not humiliated or anything like that. They were narrow defeats, but it is for the football people, not for me to identify why we did not win.
"We do not see any value in changing Roy. We think Roy has done job and it is an approach over four years and we hope to do better in the European Championships."
Uruguay 2 England 1 player ratings

Show all 22
Having set a target of England winning the 2022 World Cup finals, still due to be played in Qatar, Dyke said: "Yes I do, actually, but I think it means lots of changes in English football, but I think there is a real chance that we can develop and win in 2022 - that is the aim."
In the aftermath of the defeat to Uruguay, Hodgson said that he still believed the team could progress. He said: "I believe the team going forward will be a very good team. I think there are good young players. Even against Uruguay we saw some good individual performances and the young ones that came on, even, they did quite well.
"But results colour everything. We played against a very tough-tackling and strong defensive Uruguayan team. I don't think there's any need to have any doubts this England group of players will go on to do good things in the time ahead."
He added: "We've failed. We obviously had really big hopes we were going to make the nation proud by going far in the tournament and we haven't done that. So any words on the other subjects are pretty empty at the moment.
"I think the team is evolving. I think it will evolve, of course … I'm proud of the way they've approached this tournament and everything they put into it. At the moment I'm just devastated they got nothing out of it."
One of the few players to speak after the game on Thursday, Joe Hart said that he backed Hodgson and considered that the verdict of his team-mates. "Me personally and I think I speak for all the players, we are proud to play for Roy Hodgson. He's a great manager, he's a very passionate man and someone that I have got an awful lot of respect for and I hope to continue playing for."
Asked whether the team had made progress, Hart said: "Hard to say, saying yes sounds like a stupid thing to say, but I do."
Register for free to continue reading
Registration is a free and easy way to support our truly independent journalism
By registering, you will also enjoy limited access to Premium articles, exclusive newsletters, commenting, and virtual events with our leading journalists
Already have an account? sign in
Join our new commenting forum
Join thought-provoking conversations, follow other Independent readers and see their replies