England vs Poland: Five things we learned as Three Lions leave it late to win World Cup qualifier
England 2-1 Poland: Kane's penalty and Maguire's fierce half-volley make it three wins from three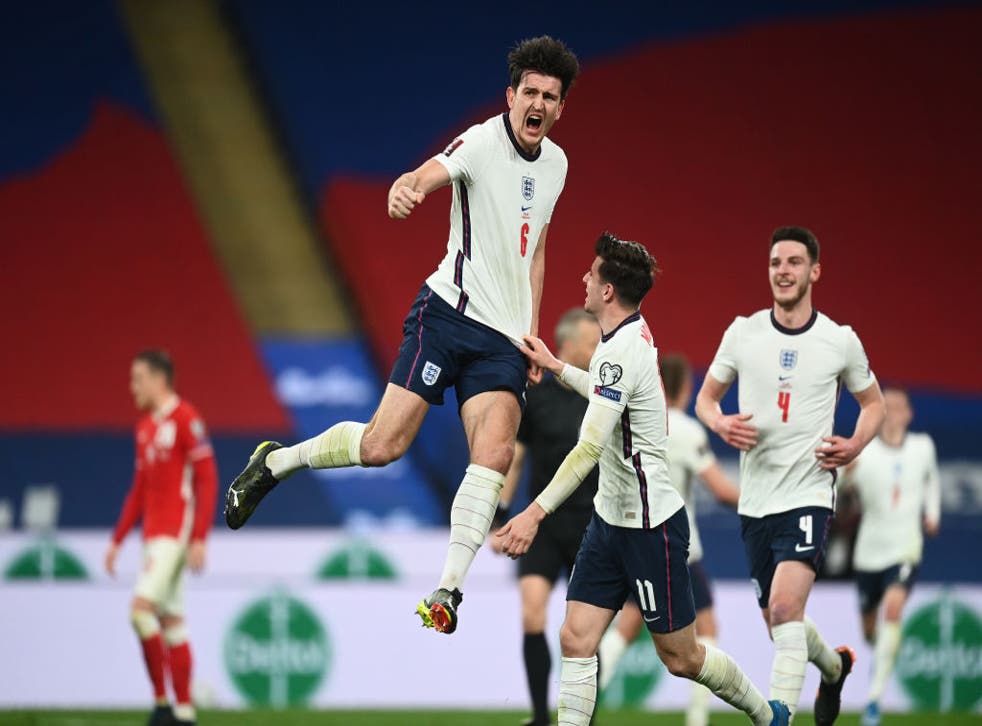 England won 2-1 against Poland in their 2022 World Cup qualifier on Wednesday night.
The opener came after Raheem Sterling burst into the box, took on two and was chopped down by a clumsy tackle from Michal Helik, with Harry Kane burying the resulting penalty straight down the middle.
The Man City wide forward caused havoc for much of the first half, dribbling into dangerous positions twice more before the break to almost force another spot kick, while a driven shot from Kane was beaten away to safety by Wojciech Szczesny as the Three Lions dominated the first 45 minutes.
After the break it was more of the same in terms of the home side having possession, but clear chances failed to emerge - then a John Stones error at the back resulted in Jakub Moder crashing in an equaliser just before the hour mark. However, Stones showed his prowess at the other end with five minutes left, sending a header back into the middle of the penalty area where Harry Maguire was waiting to smash in the winner.
Here are five things we learned as the Three Lions made it three wins from three across the international break.
READ MORE:
Seizing chances
Let's be clear: whether or not England will eventually prevail with any real issues in this group, this was the last competitive fixture before Euro 2020 starts. Thus, it mattered, to those who wished to show they should be involved at the finals.
With some players out injured currently, particularly in attacking areas, it was notable that both Phil Foden and Raheem Sterling were the big danger men.
Playing either side, but with licence to rove, drop deep and then spring counter-attacks, the wide duo were England's best performers both on and off the ball.
Sancho, Grealish, Rashford, Hudson-Odoi, Barnes...there are plenty of considerations, but this pairing have surely put themselves on the plane at least, and quite possibly in the starting 11.
Less than assured
At the other end of the scale, there were two or three who were rather less impressive on the night.
Nick Pope looked fine with his handling, but three times was found wanting with the ball at his feet. One overly-firm pass saw him get away with it somewhat, but a poorly directed ball out to his right in the second half ultimately resulted in a goal. He won't take the blame for it precisely, but neither did he help out John Stones, who had to readjust position, take a touch and look up.
Then, of course, he was under pressure - and Stones' woeful role in the goal will undo some of the goodwill he has earned this season in a redemption campaign. Rightly or wrongly, the first error he made whenever it came would still have some people saying 'same old, same old'.
Perhaps instead it should be more noted that he roused himself to create the equaliser, a fine header back into the danger area after a corner.
Ben Chilwell looked rusty and lacking any kind of real rhythm after a tough spell with Chelsea of late, and Kyle Walker was serviceable, but certainly didn't do much to suggest leaving Trent Alexander-Arnold out of the squad was remotely the right call to make.
Qualification questions
Barring any crazy collapse, England will likely top the group at a bit of a canter.
The last time the Three Lions lost at home in a European Championships or World Cup qualifier remains that infamous 3-2 defeat to Croatia - Steve McClaren, Scott Carson and all that - back in 2007.
It's simply improbable that too many points are dropped overall, while even a draw against the main threat to top spot is rarely going to be devastating if the other sides are beaten in such routine fashion.
There's something of an inevitability about Uefa zone qualifiers at times, but that shouldn't necessarily be a criticism of England. There are worse things in football than consistently putting together nondescript victories...as the aforementioned McClaren would no doubt attest to.
Poland point of view
While England took the points at Wembley, Hungary were busy hammering Andorra.
They might not exactly be the Mighty Magyars, but the current side contains plenty of exciting talent - and more pertinently, have already drawn with Poland and are now three points above them.
As a reminder, top spot qualifies automatically, then only second place gets a play-off spot for the World Cup finals.
Poland cannot just rely on Robert Lewandowski - absent here - and one or two other leading names taking them to glory, just as manager Paulo Sousa cannot assume he'll still be in the job after the end of his contract this summer.
Sousa will lead the nation at the Euros, but how they perform there will dictate if he stays on, and being third in World Cup qualifying - even at this early stage - will hardly boost his case.
Southgate on the clock
With fewer than 10 minutes to go and the scores all square, Gareth Southgate hadn't yet turned to his bench.
Perhaps, with those such as Sancho, Rashford and Saka all out, he felt there were not enough legitimate game-changers.
Ultimately, his starting 11 got the win, so all is well for another day - but the lack of pace and clear chances created in the second half was rather at-odds with the boss stating in the lead-up to the game that the emphasis would be on freshness and energy being the prevailing traits of the team.
Now he's on a different sort of clock: the games and weeks will quickly drain away before he has to name his 23 for the finals.
England are two points clear with a 100 per cent record in World Cup qualifying, but the focus now immediately switches to which group of players have the best shot at attempting to win the Euros.
Register for free to continue reading
Registration is a free and easy way to support our truly independent journalism
By registering, you will also enjoy limited access to Premium articles, exclusive newsletters, commenting, and virtual events with our leading journalists
Already have an account? sign in
Register for free to continue reading
Registration is a free and easy way to support our truly independent journalism
By registering, you will also enjoy limited access to Premium articles, exclusive newsletters, commenting, and virtual events with our leading journalists
Already have an account? sign in
Join our new commenting forum
Join thought-provoking conversations, follow other Independent readers and see their replies