England women vs Germany women: Never mind the result, it was being at Wembley that counted
Watershed moment as team is allowed to play at national stadium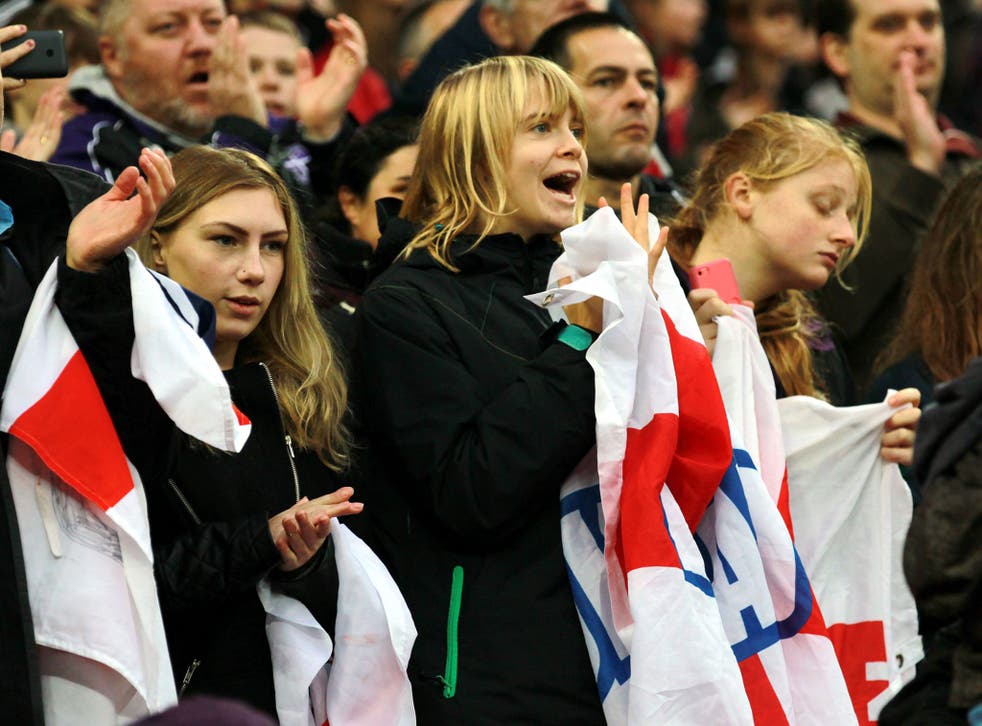 Whitchurch Ladies Football Club got up at 5am in Shropshire today to see the England women's team make history at Wembley. Their faces painted with St George's crosses, pints in hand and shoulders draped with England flags, they showed the kind of excitement that comes with waiting a lifetime for a match.
Centre-back Kelly Harrison, 22, started playing football when she was six. "People used to say, 'You can't play football; you're a girl'. It means so much that this match is happening today. It's the biggest place to play in the UK."
This was the first time England's Lionesses have played at the new Wembley, For the thousands of female players in the crowd the friendly against Germany marked an emotional watershed.
Although the team lost 3-0, there were countless other victories: playing to a record crowd of 46,000 at the home of football; live television coverage on the BBC; and a generation of girls seeing the women's team treated the same as the men for the first time.
Despite the grim weather, the crowd still outnumbered the 40,000 who turned up to see England men play in a friendly against Norway in September.
Some of the most uplifting moments come in the minor details: an advert in the programme for tyres showing a girl in football kit in the back seat of the car; a group of young men singing the Barmy Army song just as lustily for the women as they would for the men; and little girls with purple knees proudly wearing their full club kits.
Mark Armstrong, 46, from Woking was accompanying his daughter Lucy, 10, and her 12 teammates from Goldsworth Park Rangers to the game. "All girls' football in the region was cancelled to encourage them to watch the game," he said. "The club was offered kids' tickets for £1 and chaperoning adults went free. It's great for the girls to get a chance to see the England ladies team."
Lucy has been playing as a defender for the club for two seasons now after her older brother got her into the sport. She loves football, though in a sign that sexism has not quite been kicked out of the nation's playgrounds, she said: "We don't play at school. There's no girls club any more because no-one wanted to do it."
There were thousands of families like the Armstrongs at yesterday's game. Fans of the men's team still struggle to shake a reputation for thuggishness, not helped by the anti-IRA chants heard during last week's friendly against Scotland. But this was a family crowd in a party mood.
Sally Abouali, 39, and her children Mohamed, 5, and Zeina, 2, had never been to Wembley before. They live just up the road in Cricklewood, but the men's matches had always been far beyond their financial means. Dressed in a hijab and with her children next to her, Ms Abouali challenges every stereotype of an average England fan. "My son was interested in seeing Wembley and I like to watch football. I hope my daughter will like football too," she says. "It's the first time I've been in a big stadium in England. I used to go in Egypt but here it's too expensive normally."
From the opening whistle the crowd was noisy and upbeat. Just eight seconds into the game, Jordan Nobbs gave them something to cheer with a header that glanced off the bar. But even as England's performance worsened there was no angry ranting: just lots of women, children and men cheering and parping on vuvuzelas, buoyed along by a four-piece brass band.
England's women had not beaten Germany in 19 games and yesterday was to be no exception. The Germans are widely regarded as the best in the world, though official rankings put them in second pace behind the USA.
Even when the second and third goals clocked up against England, the crowd lost little of its party atmosphere. Giving each goal a brief and good-natured pantomime boo, people quickly took up the England chant again or started a Mexican wave.
Simon Parish, 38, from Battersea, watched the game with his sons Toby, 9, and Ellis, 6. He's been at men's matches at Wembley before but said he preferred the atmosphere at yesterday's game. "The men's games can be quiet but today everyone's buzzing."
When asked about the score he was unbothered. "It's the same with the men's team against Germany, isn't it? It's no different really". And, on a day when women's football needed to show it had come of age, what could be a better compliment than that?
Join our new commenting forum
Join thought-provoking conversations, follow other Independent readers and see their replies