The Independent's journalism is supported by our readers. When you purchase through links on our site, we may earn commission.
England shake-up could leave the wonderful Danny Welbeck watching from the sidelines against Poland
Striker's goals on Friday make him a hard man to omit but Defoe may get nod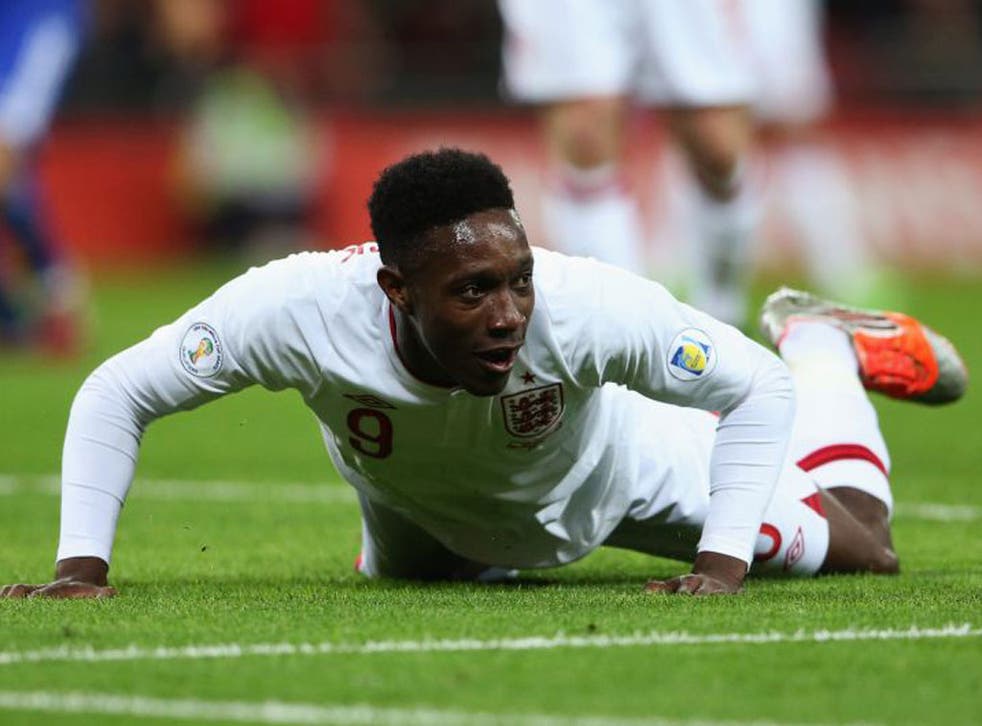 Danny Welbeck or Jermain Defoe? One of either Tom Cleverley or Michael Carrick to make way for Steven Gerrard. Two from Gary Cahill, Joleon Lescott and Phil Jagielka. Not many managers find themselves pulling apart a team that has won 5-0 three days earlier but then not many have to make the leap from beating the worst team in international football to a pivotal game against a decent football nation.
Roy Hodgson has some interesting choices to make come tomorrow evening against Poland at the National Stadium in Warsaw, a venue where the Polish football association is obliged to lay a new pitch for every sequence of games that are played there. It was built for Euro 2012 as a multi-event venue and so for Friday's friendly against South Africa new turf was laid which will be the surface that England play on tomorrow, although the make-up of Hodgson's side could be very different.
When it comes to the nature of the England side they will face, Poland will not have learned much from watching the recording of Hodgson's team gradually erode the resistance of the Sammarinese at Wembley on Friday night. With as many as six changes in prospect, including the return of the suspended Gerrard and Glen Johnson, it will be a different side, although there are also strong arguments for Hodgson to keep certain players in it.
Not least Welbeck, who scored two more England goals on Friday, taking his total to four in 12 caps. He has found himself slightly marginalised by the arrival of Robin Van Persie at Manchester United, although they both started the last Premier League game at Newcastle, but for England he is now a difficult man to leave out. The confidence with which he flicked in his first goal against San Marino suggested a striker on form.
Defoe, with 17 goals in 51 caps, is the more experienced of the two and made his name as an international striker in Poland eight years ago with a goal in Katowice in qualifying for the 2006 World Cup. It would be another two years before he would score again for the national team. More recently, he scored a spectacular winner against Italy in the August friendly and started both qualifiers previous to Friday against Moldova and Ukraine.
Defoe has always struggled for consistency in an England shirt. His hat-trick against Bulgaria two years ago was the high-point and, until the qualifier against Ukraine last month, he had never played the full 90 minutes of an international. For him, three consecutive starts represent a significant run in the team and Hodgson might be tempted to show some faith in the Spurs man.
As for Welbeck, he has the benefit of the experience of operating with Wayne Rooney just behind him in the No 10 role, the job that it seems Hodgson wants the latter to fulfil. Cleverley, who came through the United ranks one year above Welbeck, said yesterday that the club believed the 21-year-old could have a great future. "He's top class," he said. "His movement, which he's always working on, his touch, his finishing, pace, power. He's got everything to be a top-class striker."
Welbeck started every one of England's four games at Euro 2012, marking him out as one of Hodgson's chosen ones. He looks the marginal favourite to get the starting place again but he is by no means guaranteed and there are plenty of other spots up for grabs.
With John Terry's absence from England now permanent, the assumption is that Phil Jagielka and Joleon Lescott are the first-choice partnership in central defence. It was those two who started against Ukraine at Wembley last month. On Friday, however, Gary Cahill played alongside Jagielka, raising the possibility that, after years of the Terry-Rio Ferdinand hierarchy in central defence, selection will be a lot more fluid under Hodgson.
Jagielka and Lescott played together at Everton before the latter's departure, although it was often with Lescott as a left-back and Jagielka on the left side of the central defence. Their partnership dates back to their time playing as centre-halves in England's junior sides when they were teenagers. At Euro 2012 this summer, with the Lescott-Terry partnership established, Jagielka did not play a minute of the tournament.
For the first time in a long while, opportunities are opening up. "John and Rio played together for England forever didn't they?" Jagielka said yesterday. "They had a great partnership and there were a couple of others behind them waiting for a game. So you go down a long list of players trying to get your chance but time passes and people have good form, bad form and you get your opportunities.
"I've been around the squad for the last couple of years or so, played a game here and there, and I'd like to play on a more consistent basis. But if the boss said 'come here and play every other game', I'd take that as well. I wouldn't say I'd resigned myself but that's the role you get put into; when there are people in front of you who aren't particularly giving you the opportunity to get a game, what else can you do?"
Born and raised in Cheshire, Jagielka is the only player in the squad who can speak some Polish, by dint of his grandparents on his father's side who moved to the town of Weaverham after the Second World War from a region of Poland that is now part of Ukraine. In his 15 caps he has made just four competitive starts, including Friday.
For the likes of Leighton Baines, who will in all probability have to make way for Ashley Cole at left-back, and Kyle Walker, likely to be replaced by Glen Johnson, this is simply what happens at international football. Many of England's players have been afforded the chance to rest ahead of a crucial game but they will also have to hit the newly laid turf running in Warsaw tomorrow night.
As for the make-up of the team, there will be many disappointed to be left out of the game. The line-up itself will give us all a much clearer idea of whom Hodgson regards as his favourites.
Roy's favourites: who he has picked
Roy Hodgson's England record: P10 W7 D3 L0 F20 A5
Appearances under the new manager
10 No one
9 Joleon Lescott (including 2 as substitute); James Milner (1)
8 Steven Gerrard; Joe Hart; Alex Oxlade-Chamberlain (3); Theo Walcott (7); Danny Welbeck (2)
7 Glen Johnson; Ashley Young
6 Andy Carroll (3); Scott Parker; John Terry
5 Leighton Baines; Ashley Cole; Jermain Defoe (3); Phil Jagielka (1)
4 Tom Cleverley; Jordan Henderson; (4) Wayne Rooney (1)
3 Gary Cahill; Michael Carrick (1); Frank Lampard
2 Ryan Bertrand (2); Adam Johnson (1); Kyle Walker
1 Jack Butland; Stewart Downing; Rob Green; Phil Jones; Gareth Barry (1); Martin Kelly (1); Aaron Lennon (1); Jake Livermore (1); John Ruddy (1); Jonjo Shelvey (1); Daniel Sturridge (1)
Total number of players used: 36
Debutants (7): Oxlade-Chamberlain, Kelly, Butland, Cleverley, Ruddy, Livermore, Bertrand.
Unused squad members (7): Steven Caulker, Fraser Forster, Kieran Gibbs, Adam Lallana, Jack Rodwell, Raheem Sterling, Ryan Shawcross.
Register for free to continue reading
Registration is a free and easy way to support our truly independent journalism
By registering, you will also enjoy limited access to Premium articles, exclusive newsletters, commenting, and virtual events with our leading journalists
Already have an account? sign in
Register for free to continue reading
Registration is a free and easy way to support our truly independent journalism
By registering, you will also enjoy limited access to Premium articles, exclusive newsletters, commenting, and virtual events with our leading journalists
Already have an account? sign in
Join our new commenting forum
Join thought-provoking conversations, follow other Independent readers and see their replies