England vs Australia: Roy Hodgson admits the 'world will be watching' Marcus Rashford on Three Lions debut
Manager says Manchester United teenager has become too exciting a prospect to ignore after an impressive first season at Old Trafford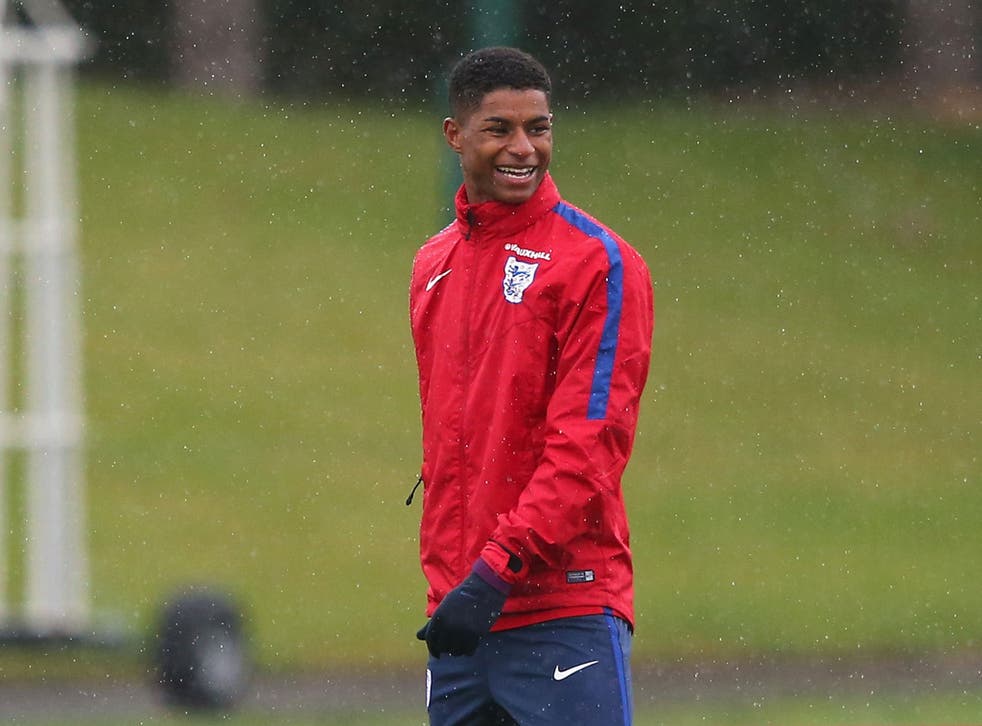 Marcus Rashford will make his England debut against Australia on Friday night, with Roy Hodgson admitting that the "world will be watching" the teenager – just 92 days after making his first appearance for Manchester United.
With Liverpool forward Daniel Sturridge a major doubt due to a calf strain that has prevented him training this week – Sturridge will be assessed on the morning of the game – and Hodgson resting Jamie Vardy, Harry Kane and Wayne Rooney, eighteen-year-old Rashford is set to start against the Australians at the Stadium of Light.
Hodgson has confessed his reluctance to thrust Rashford into the spotlight following his incredible rise to prominence at United, for whom he scored eight goals in 18 games during the final three months of the season.
But with the youngster impressing the England manager during United's FA Cup Final victory against Crystal Palace last Saturday, Hodgson admits Rashford has become too exciting a prospect to ignore.
"I worked hard in the beginning to play down expectations when, after one or two games, people were saying 'a new genius is born, Hodgosn must take him (Rashford) to France'," Hodgson said.
"I wanted to play down the expectations and demands and at least give him the time to see if he could keep it up over two or three months, and that is what he has done.
"He is playing very well, even at the end of what must be quite a tough period for him.
"And he has got very interesting qualities, there is no doubt about that.
"Whether he can produce them at international level at such a young age, we will find out. It is a big game for him on Friday night because I myself, the coaching staff, the rest of thr players, and the whole of the football world is going to be looking and saying, 'right, we all think this lad has something special, can he now show it to us once again.'
"We will be giving him every opportunity to do that."
Rashford emerged from obscurity in February when, after a pre-match injury to Anthony Martial, he scored twice on his United debut in the Europa League victory over FC Midtjylland.
The Mancunian has since scored crucial goals against Arsenal, Manchester City and West Ham, but Hodgson admits he had little knowledge of Rashford prior to his arrival on the scene at Old Trafford.
"We knew of course that he was in our system and we knew he played games for the teams lower down the age groups," Hodgson said. "But I can't take any credit for it.
"It was a surprise for us when his name appeared on the team-sheet and we were surprised at how well he did.
"We wanted to avoid headlines after such a meteoric rise, but I can't do that unless I disguise intentions and I don't want to do that.
"And at the moment, he looks like starting against Australia."
Rashford's emergence has placed pressure on Sturridge to prove his fitness and avoid missing out on England's Euro 2016 squad. And Hodgson admits that the injury-prone forward's chequered fitness record would make it a gamble to take him to France.
"Daniel has a calf strain and has had it basically since he joined up," Hodgson said. "He hasn't been able to train so far since joining us and if he reports fit, he will hopefully play in the game.
"I can't deny that we are talking about a player with a really unfortunate record. But he has worked very hard to come back.
"Unfortunately he picked up this calf strain, but we'll look at it on Friday and assess it and hopefully move on from there.
"Jordan Henderson came in having recovered from serious injury, as has Jack Wilshere, but these games are all about making sure we come through with the players having a certain ability to be a member of the team.
"But I do believe Daniel has mental strength, otherwise I wouldn't have picked him in the first place. When fit and on form, he is a player of the highest calibre."
Meanwhile, Hodgson, who revealed Chelsea defender Gary Cahill will rest a rib problem, confirmed that Manchester City midfielder Fabian Delph has returned home with a groin strain.
"We don't have Delph, unfortunately," Hodgson said. "He strained a groin muscle.
"I have spoken to him, he stayed in Manchester and that means he probably won't be in final 23, unless of course we have other injuries.
"He is on a standby list, which he understands, because it won't be long-term. But I have said that, with the situation with the other 25, it might be unlikely he goes to France."
Probable Stadium of Light teams
England (red shirts; 4-3-3): Forster; Clyne, Smalling, Stones, Bertrand; Henderson, Wilshere, Drinkwater; Townsend, Rashford, Lallana
Australia (yellow shirts; 4-1-2-3): Ryan; Risdon, Wright, Degenek, Smith; Jedinak; Rogic, Mooy; Kruse, Juric, Ikonomidis
Kick-off 7.45pm
Television ITV
Referee D Makkelie (Netherlands)
Join our new commenting forum
Join thought-provoking conversations, follow other Independent readers and see their replies