England vs Belgium result: Five things we learned as Three Lions come from behind to win
England 2-1 Belgium: First-half penalties saw Lukaku and Rashford swap strikes, before Mount's deflected effort settled the match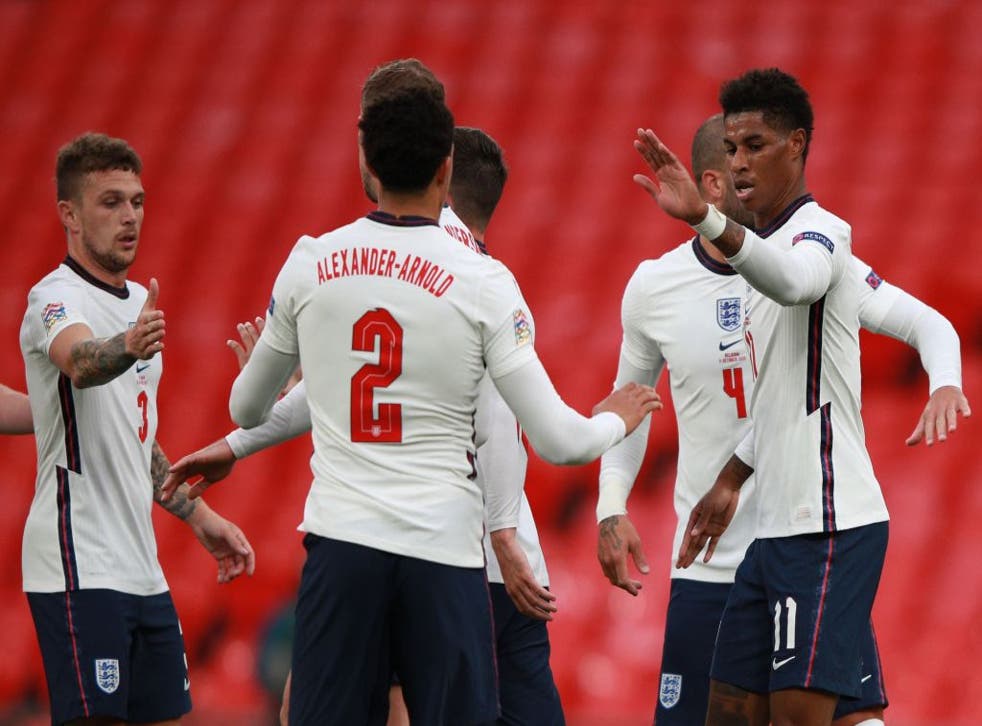 England had to come from behind to beat Belgium 2-1 at Wembley on Sunday.
A positive start for England quickly dissipated and the Red Devils took control, with Yannick Carrasco having a strike ruled out for offside before Romelu Lukaku won, and converted, a penalty.
England were second best for most of the half thereafter, but Jordan Henderson was pulled to ground in the box and Marcus Rashford equalised from the resulting spot-kick.
After the break it was a more even encounter and Mason Mount's deflected shot looped in over Simon Mignolet to put England ahead, with Rashford and Harry Kane missing chances to add gloss to the scoreline.
Here are five things we learned from the game at Wembley.
Same systems, different style
Both teams came into the game lining up in a 3-4-3, with Gareth Southgate recently reverting to his the system he initially implemented with the national team.
There was a very noticeable difference in the method of playing the formation, however, as Belgium dominated long stretches, used the ball more purposely and gave the Three Lions plenty of problems across the middle third.
The midfield was pulled deep and defensive by Belgium's midfield pair and Kevin de Bruyne's roaming, while the difference in sets of wing-backs was stark: one could hardly get involved in build-up play, the other were essentially extra wide forwards.
Southgate's side did get to grips in the middle third eventually, but it wasn't a lack of creativity so much as an inability to take up forward-thinking positions for that quartet which was the problem.
Question marks over regulars
Several of the England starting lineup have had criticism come their way recently, so this was a chance to answer the questions.
Did Harry Maguire achieve it? Not really, but nor did he provide further ammunition. It was probably a step forward in terms of his own form, as he stepped out of defence well, played a few firm, clever passes into the attacking third and mostly defended solidly one-on-one.
Jordan Pickford was similar. He came off his line to good effect to sweep up through passes, but his actual handling was minimal throughout the game: beaten by Carrasco's shot which was ruled out, beaten by the penalty and most of the rest was off target.
The Everton goalkeeper did completely miss a punch at a corner, but it wasn't punished.
Kieran Trippier was solid on the opposite side to usual, and assisted Mount's goal with a neat header down.
Belgium stars shine too briefly
Lukaku absolutely bossed the England defence in the first half, showing good power and hold-up play, a fine first touch and the willingness to dribble past defenders when spaces arose.
He couldn't quite have the same impact after the break, but showed again why he's one of the most consistent goalscorers around Europe.
Kevin de Bruyne produced his usual moments of brilliance, with several passes threading the proverbial needle to set team-mates clear in the final third, though too many ended in wasted opportunities, notably from Yannick Carrasco.
They might be the world's No. 1 ranked team, but they were far from their clinical best at Wembley.
Rashford's day
This was far from his best all-round performance, but Rashford's penalty settled some England nerves at a time they were comfortably second-best.
Given his off-field impact which has led to such praise and a recent MBE being awarded, it's just that the Manchester United man had a leading role to play.
Some of his movement was impressive, he switched sides to good effect in the attacking line - and he should have netted a second with a late run and strike off-target.
Not a classic, but a deserved moment in the spotlight, on and off the pitch.
Midway point
Halfway through the Nations League now, England have moved top with seven points, inflicting a first defeat on Belgium.
It will be a source of pride for Southgate perhaps, particularly with this win against the team who beat England twice in Russia 2018.
But it's still hard to shake the feeling that supporters, on the whole, just don't feel the excitement, the need or the importance of this fractured, invasive and enforced competition.
Another game to come midweek and those who do tune in will hope it's a better affair than the last time England and Denmark met last month.
Register for free to continue reading
Registration is a free and easy way to support our truly independent journalism
By registering, you will also enjoy limited access to Premium articles, exclusive newsletters, commenting, and virtual events with our leading journalists
Already have an account? sign in
Register for free to continue reading
Registration is a free and easy way to support our truly independent journalism
By registering, you will also enjoy limited access to Premium articles, exclusive newsletters, commenting, and virtual events with our leading journalists
Already have an account? sign in
Join our new commenting forum
Join thought-provoking conversations, follow other Independent readers and see their replies