England vs Iceland match report: Roy Hodgson resigns as England crash out of Euro 2016 in embarrassing fashion
England 1 Iceland 2: Minnows stun Roy Hodgson's men to progress to the quarter finals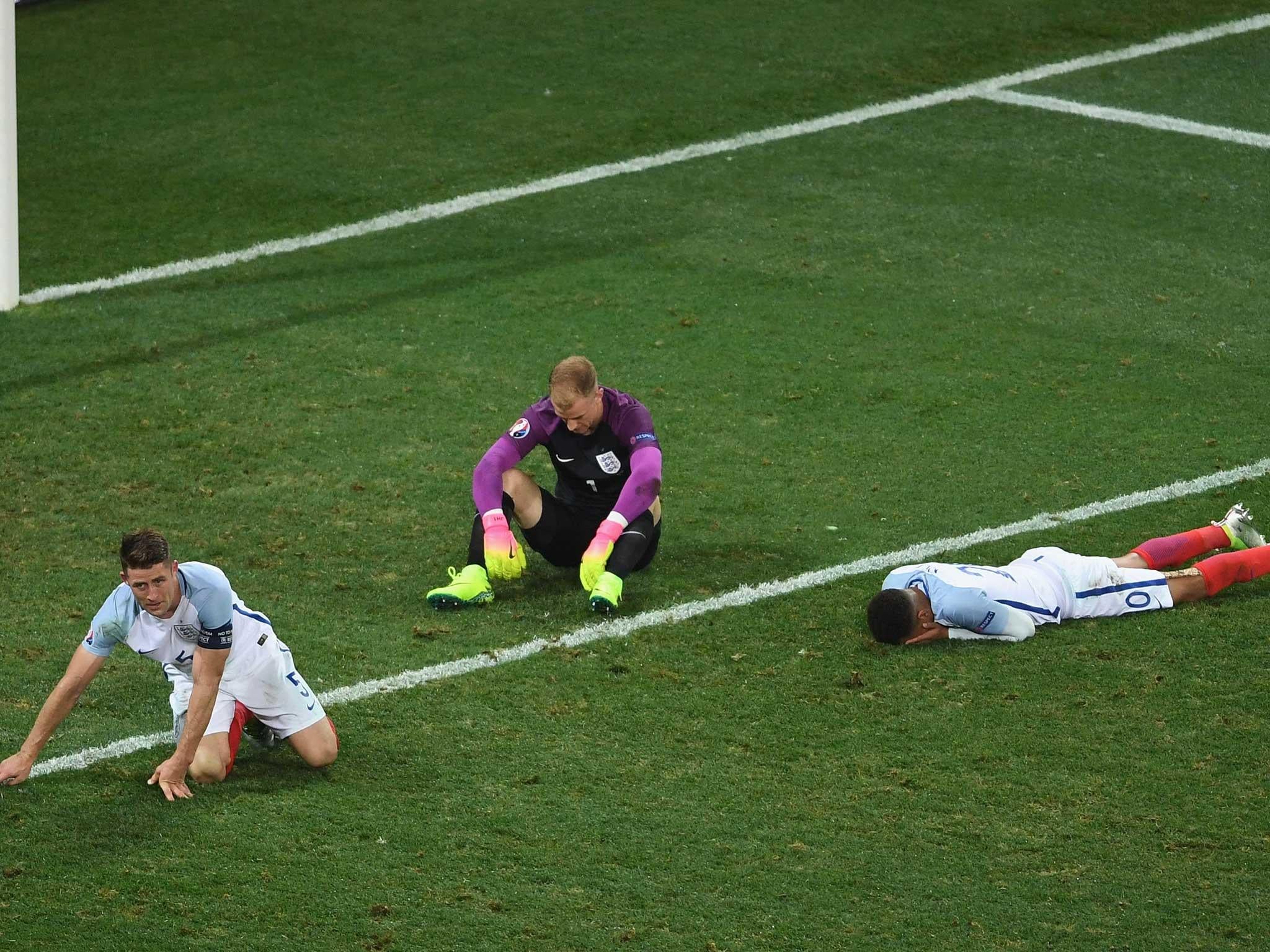 Roy Hodgson knew what was coming. No England manager can lose to Iceland and survive in his post, but it is not just his job that will go in the fall-out from the unprecedented humiliation of this Euro 2016 exit at the hands of a nation with popular smaller than that of Leicester.
Hodgson and his players now face the lifetime stigma of their involvement in the darkest day in the history of English football.
Losing to the United States in 1950 was one thing, but losing to Iceland in the second round of a major championships?
The headlines will be predictable enough – 'In the name of Cod, go,' or 'Cod help us' – but the joke is on England rather than Iceland.
Having taken the lead through Wayne Rooney's third minute penalty, it really should have been England coasting into a quarter-final clash with France on Sunday.
But Iceland had overturned that deficit inside 20 minute, thanks to poor defending and Joe Hart's goalkeeping, and England never looked like coming back.
Possible Roy Hodgson replacements
Show all 8
They ended the game hitting and hoping, with captain Rooney replaced by Marcus Rashford as the seconds ticked away.
Iceland held firm, though, and delivered the biggest sporting shock since Buster Douglas flattened Mike Tyson.
As for Hodgson, England's Europhile manager may now be firmly in the Remain camp – he might as well remain in France to avoid the reception that now awaits him and his team.
For all of the pre-match pleasantries about how Iceland would command England's full respect, the fact remained that this was a nation of 320,000 against one approaching 60 million inhabitants.
It was a mis-match on paper and it should have been a mis-match on the pitch too. Only twelve years ago, England, with a teenage Wayne Rooney scoring twice, hammered Iceland 6-1 in a friendly at the Etihad Stadium with a textbook performance in dispatching a opponent that does not belong in your league.
Having progressed from Group F as runners-up to Hungary, Iceland clearly deserved to share the same stage as England, but there are times when the big teams begin to deliver and the business end of major tournaments is where the cream generally rises to the crop.
For all of the romance that Euro 2016 has generated, the Cinderella stories of Hungary, Northern Ireland and the Republic of Ireland have all been brutally cut short by more fancied nations in the second round and England should have cruised into the quarter-finals at Iceland's expense.
They may not have triumphed in a knock-out tie at a major tournament since squeezing past Ecuador in the 2006 World Cup, but England would never get a better opportunity to end that miserable record.
Hodgson, knowing that a defeat would leave him subjected to ridicule and the sack, was bold in his selection, restoring Raheem Sterling to the team ahead of Adam Lallana.
And the change was justified inside three minutes when the Manchester City winger won a penalty for England after being felled by Iceland goalkeeper Hannes Halldorsson.
It was an awful challenge by Halldorrson, a clumsy feet-first attempt at dispossessing Sterling, and referee Damir Skomina had no option but to point to the point.
When Wayne Rooney converted to put England ahead, it seemed as though Hodgson's team were set for a stress-free procession into the quarter-finals on the Cote d'Azur.
But the reality was anything but. Hopeless defending, a lack of attacking intelligence and the latest example of Hart's accelerated decline as an international-class goalkeeper saw England throw away their golden start to fall 2-1 behind before 20 minutes had elapsed.
Iceland were level within three minutes when England failed to deal with Aron Gunnarsson's long throw into the penalty area.
It was the most basic of tasks for England, but Rooney was outjumped byKari Arnason, whose flick on left Ragnar Sigurdsson to slide in at the far post to equalise.
Danny Rose, supposedly marking Sigurdsson, fell asleep at the key moment and watched in horror as the ball was poked into the net.
That was bad, but it was to get worse.
Dele Alli and Harry Kane both went close to restoring England's lead with long range efforts before Hart's calamitous error gifted Iceland a second on 19 minutes.
Gylfi Sigurdsson, the Swansea City midfielder, found space on the edge of the penalty area and fed the loosely marked Kolbeinn Sigthorsson, whose side-foot shot was weak, but still able to beat Hart, whose weak wrist failed to prevent the ball from ended up in the net.
After being beaten similarly by Gareth Bale during the 2-1 win against Wales – a low shot to his left – Hart is now almost sign-posting his weaknesses with every goal he concedes.
No matter, the England fightback would surely come quickly? But no, the performance deteriorated into an error-ridded display, with long range efforts the only currency. Not once before the interval did England carve open the Iceland defence to create a clear chance.
And as the players trudged off to loud boos at half-time, Hodgson had 45 minutes to save his job and his reputation.
Hodgson's first move to replace Eric Dier with Jack Wilshere in an effort to boost England's attacking threat from midfield and help the team retain possession and perhaps even orchestrate some penetrating possession football.
But nothing changed. Wilshere simply sat alongside Rooney in a deep-lying midfield role and allowed Iceland to sit back comfortably, knowing that there was little threat coming in the final third.
England were so limited in their attacking thinking. Everything went down the flanks, either to the ineffective Sterling or Sturridge, whose finishing talents were being wasted on the right.
Iceland knew that England lacked the punch to hurt them, so they showed ambition, breaking forward whenever the opportunity arose and Hart was thankful for being stood in the right place at the right time to repel Ragner Sigurdsson's 55th minute overhead kick.
England, in contrast, were going nowhere fast and Iceland began to protect their lead more vigorously, dropping eight or nine men behind the ball when England were in possession.
So with half an hour to play, Hodgson replaced Sterling with Jamie Vardy in one more roll of the dice.
England were simply abject as they chased the game, with Kane playing as though drained of all energy.
Hodgson knew the game was up long before the whistle, waiting until it was far too late for Rashford to make a difference.
But England's Euro 2016 is over, their reputation is gone and Hodgson was gone before the night was out.
Join our commenting forum
Join thought-provoking conversations, follow other Independent readers and see their replies