England vs Scotland: Fifa says it has not banned poppies and any claims that it has are a 'distortion of the truth'
Fifa says it has 'reminded' all four British FAs of the rules regarding 'political, religious or personal slogans, statements or images' ahead of Friday's 2018 World Cup qualifier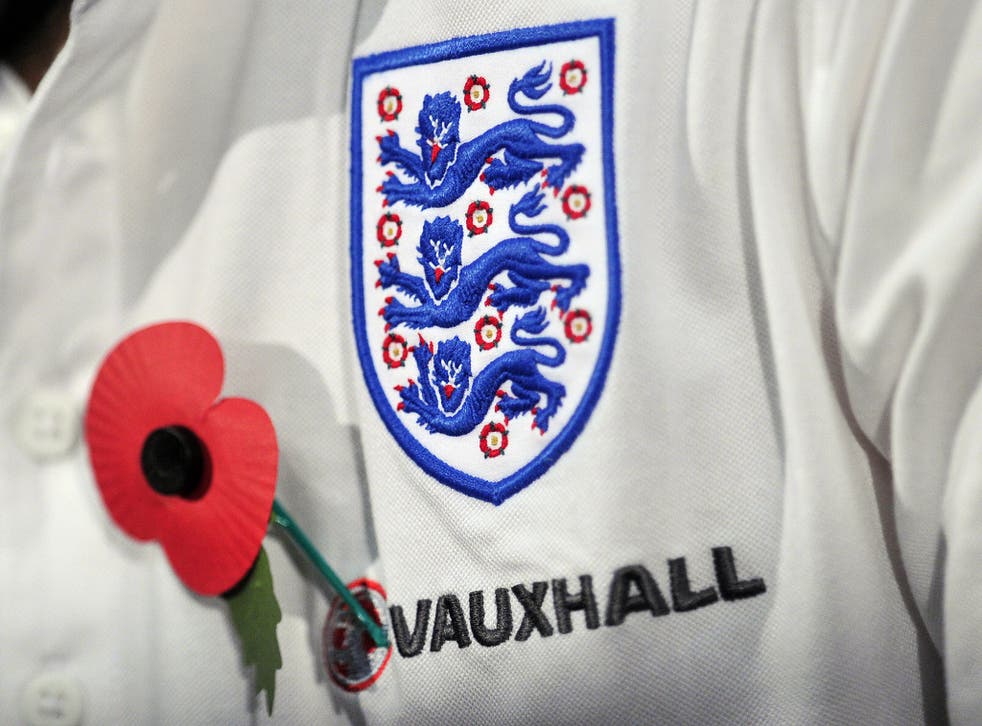 Fifa has claimed that they have not banned England and Scotland from wearing poppies during their Armistice Day clash at Wembley on Friday, with both teams planning to wear armbands with a poppy on to remember those who have lost their lives at war.
Football's governing body says that they never outlawed the wearing of the commemorative tribute, and that and such claim is a "distortion of the truth".
Follow live updates from England vs Scotland at Wembley here
However, Fifa says that they have reminded all four of the Home Nation associations of the rules regarding political and religious statements, with teams risking a fine or a points deduction if they fall foul of Fifa's regulations.
It's added that Fifa do not have the power to sanction acts such as wearing a poppy on shirts, although should nations do so – with England and Scotland both planning to do so tonight – then they will have the potential rule breach passed on to Fifa's disciplinary committee.
Despite claiming that they have not rejected any request to wear poppies, the Football Association of Wales [FAW] contradicted Fifa on Thursday by claiming they had "turned down a request for the Wales national team to wear poppies on their shirts or on armbands"
Theresa May: Fifa ban on poppies outrageous
Both Wales and Northern Ireland will not wear poppies in their 2018 World Cup qualifiers this weekend, and will instead wear plain black armbands. The FAW confirmed that their reasoning was due to the fact that they cannot risk a fine or potential points deduction that would throw their qualification for Russia 2018 in doubt.
When contacted by the English, Northern Irish, Scottish and Welsh FAs, Fifa claims it "reminded them about law four", which makes special reference to "political, religious or personal slogans, statements or images", while reiterating that "only the independent disciplinary committee can decide" if a rule breach has taken place and what the appropriate sanctions should be. Fifa confirmed that the disciplinary committee is an independent body to the governing body.
Both England and Scotlan remain adamant that they will wear poppies in their Wembley encounter, with FA chief excecutive Martin Glenn also confirming that they will appeal any fine imposed on them.
"Fifa have much bigger problems they should be concentrating on," Glenn said.
"I'm confident our legal position is right and our moral position is right. Our case is absolutely rock solid."
With the players on both teams set to wear poppies, it remains to be seen if the Fifa match commissioner includes the armbands in their official report. If so, then the case would be taken to the Fifa disciplinary committee, with a fine the more likely sanction. A points deduction is the most serious sanction that the disciplinary committee can impose.
The FA and Scottish FA would then have the chance to contest the ruling via the Fifa appeals committee, and also have the opportunity to take their case to the Court of Arbitration for Sport [Cas], although this would probably end up costing more than the original fine imposed.
Join our new commenting forum
Join thought-provoking conversations, follow other Independent readers and see their replies