England vs South Africa: Eddie Jones sets sights on being the world's best after ending unwanted Springboks run
Jones wasted little time in taking delight from England's 37-21 win over the Springboks as he admits there's work to be done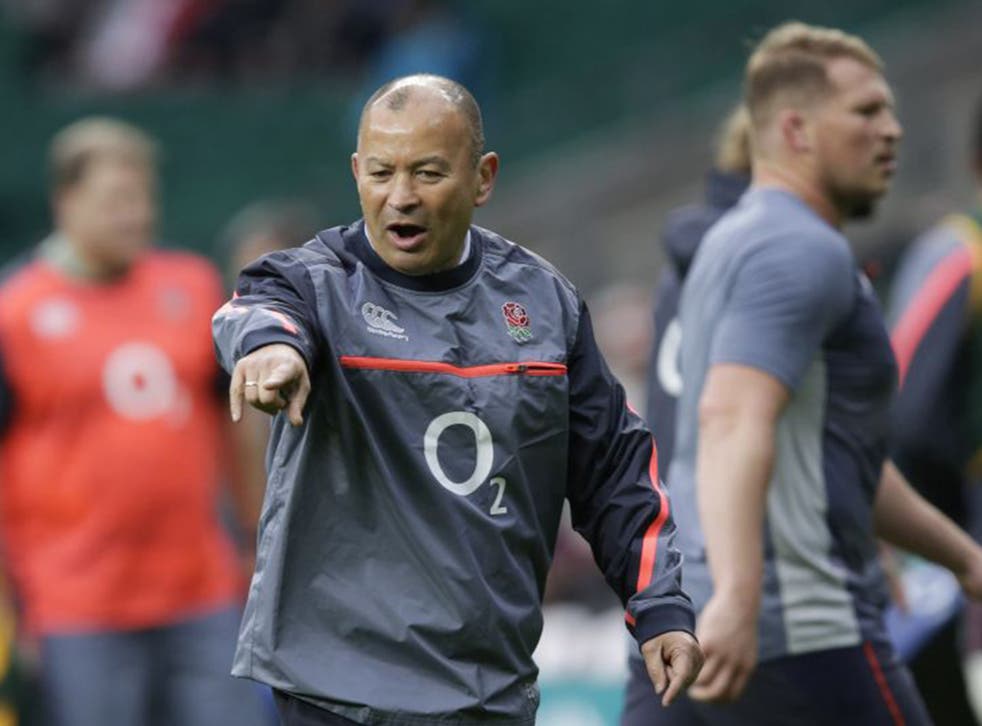 The message was clear. England have their sights set on the All Blacks, and after beating South Africa 37-21 to maintain their winning streak under Eddie Jones in the opening Autumn international at Twickenham and record a first win over the Springboks in 13 attempts, Jones was keen to stress that this remains a work in progress job.
Jones is the first head coach to win his first 10 matches with England, and nearly a year after he replaced Stuart Lancaster following the World Cup debacle, he urged his side to continue building towards the top of the World Rugby tree.
"We're pleased with the result," Jones said afterwards. "Having not beaten South Africa for 10 years, to win by that scoreline today is fantastic.
"We're certainly not satisfied with our performance [and] areas of our game that really need tidying up.
"But it was our first game. We've got 10 of the squad that went to Australia not here, so we've had to put together a new team, get people to understand how we want to play."
Part of Jones's delight came in seeing Joe Launchbury and Tom Wood come in from the international wilderness and impress in the absence of established names like George Kruis, Maro Itoje and James Haskell. More of those names are up for the World Rugby Player of the Year, but Jones was keen to stress that while having Owen Farrell, Billy Vunipola and Itoje recognised with shortlist inclusion, they should not expect to win it after the year New Zealand have had.
England vs South Africa player ratings

Show all 30
That also represents Jones's opinion on where his team is currently, and he wants more from them even though they have not lost under his tenure.
"There's always been depth in England rugby," Jones added. "I think it's about the players having more ambition and I think we're starting to see players with more ambition to be top-class international players.
"One of the most pleasing things for us is to have three of the six nominations for world player of the year now. I don't think we're going to win it; certainly the bookies don't think we're going to win it, so I wouldn't back any of our players.
"It's nice we've got players who want to be top-class international players."
But Jones is not one to dish out praise regularly, and he quickly turned to the areas where his team can – and in his eyes, need – to improve.
"We were just put off our game the first 20. They came at us hard. We don't have a discipline problem," he said of England's six penalties conceded inside the first quarter.
"We gave away some silly penalties and we can fix that easily.
Jones added: "We gave away some silly penalties defensively which we didn't need to do. We should never give away an offside penalty. We should trust our defence. We gave one away, Marlon gave one away in the air which we shouldn't do again. It's just those little bits and pieces we need to tidy up. It's a difference between playing club rugby and international rugby. Club rugby you get away with that. International rugby you don't.
England captain Dylan Hartley echoed his coach's thoughts, and while the fans around him went home happy, Hartley immediately scrutinised his side's indiscipline in the opening exchanges that saw them go behind early on.
"We conceded six penalties in opening 20 minutes and that isn't good enough," Hartley told Sky Sports after the match
"But we're very happy to get that monkey off our back and I'm very proud of our guys."
Join our new commenting forum
Join thought-provoking conversations, follow other Independent readers and see their replies