As it happened
ended
1466197060
Euro 2016: Day eight as it happened - Italy and Spain win as Croatian fans throw flares
Review day eight at Euro 2016 as Italy and Spain qualify and Czech Republic draw 2-2 with Croatia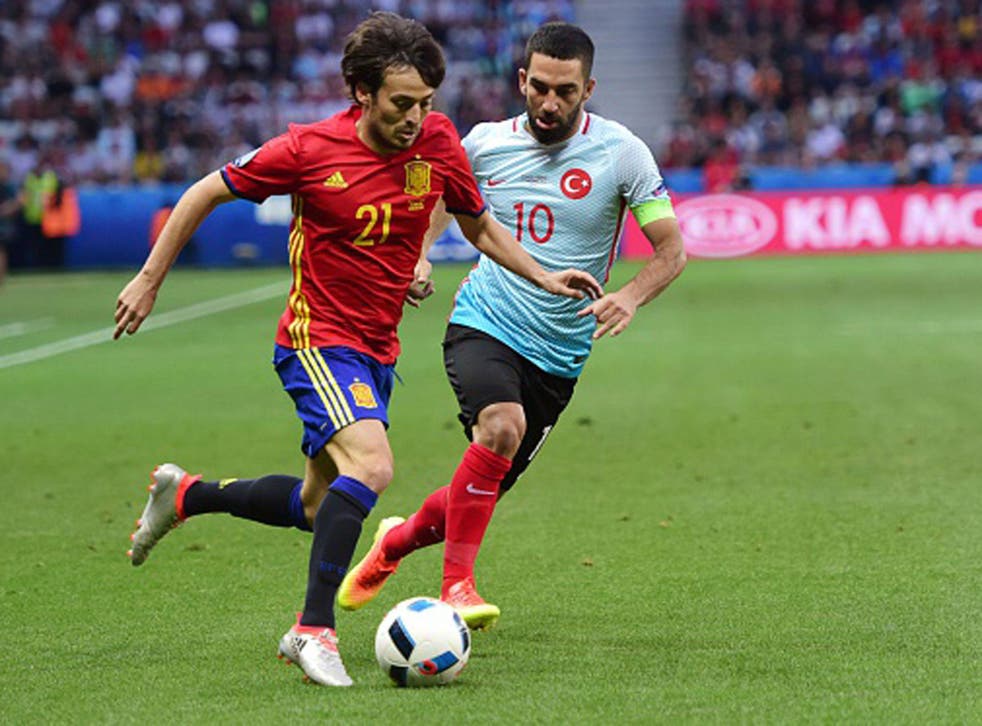 Welcome to the Independent's coverage of today's action from Euro 2016 which features three matches.
FULL TIME: Italy 1 Sweden 0
Eder with late goal as Italy confirm place in knock-out stage 
FULL TIME: Czech Republic 2 Croatia 2
Ivan Perisic and Ivan Rakitic put Croatia ahead
Milan Skoda and Tomas Necid rescue a point
Game marred by crowd disturbances
FULL-TIME: Spain 3 Turkey 0
Alvaro Morata scores twice with Nolito also finding the net
Follow the latest news below...
Read more...
Daniel Sturridge and Jamie Vardy changed England approach, explains Danny Higginbotham
England vs Wales match report: Daniel Sturridge and Jamie Vardy score in England comeback win
Gareth Bale bangs drum for Wales but he cannot make music alone
England 2 Wales 1: Roy Hodgson has no sympathy for Wales after Daniel Sturridge sucker punch
England 2 Wales 1: Chris Coleman says Euro 2016 defeat is 'gut-wrenching'
England 2 Wales 1: Five things we learned as Roy Hodgson's second-half adrenaline rush reaps its due rewards
Germany vs Poland match report: Flaws come to the fore for world champions in first stalemate of Euro 2016
Ukraine vs Northern Ireland match report: Gareth McAuley and Niall McGinn secure historic victory
1466179264
1 min: And that's the whistle - game on!
Samuel Lovett
17 June 2016 17:01
1466179394
2 min: First corner of the match for Croatia as Cech receives a poor back pass and subsequently ends up fluffing his attempted clearance. The ball is whipped in and finds a Croatian head before looping dangerous close to the top-left corner. Out of caution, Cech opts to tip it over the bar and Croatia ready themselves for another corner. The second corner isn't as strong as the first one and Czech Republic managed to scramble the ball away.
Samuel Lovett
17 June 2016 17:03
1466179629
5 min: Vida receives the ball inside his own final third but struggles to control it allowing Lafata to nip at his ankles. Czech Republic fight to regain possession but eventually draw the foul on the left-flank. It's pumped but Croatia can't deal with it first-time round. Corluka is eventually forced to nod it back towards Subasic.
Samuel Lovett
17 June 2016 17:07
1466179730
7 min: Croatia free-kick from the right. Rakitic delivers a dangerous ball towards the penalty spot and Vida is inches away from getting a body part to it. He's forced off balance by the Czech defence though and the ball pops out the other side of the box.
Samuel Lovett
17 June 2016 17:08
1466179972
11 min: Croatia are in full control at the moment as they stroke the ball across the back four with minimal pressure from the Czechs. It's worked forward through Badelj to Modric who anticipates Perisic's run ahead of him down the left. He dinks the ball through into the box but it's over hit and Perisic lacks the pace to make the pass. Czech Republic goal kick.
Samuel Lovett
17 June 2016 17:12
1466180089
14 min: Brozovic gives chase to a ball down the right but Kaderabek is there to shield the ball. The Croatian man is too enthusiastic with his pressure though and concedes a foul.
Samuel Lovett
17 June 2016 17:14
1466183450
52 min: The Czech find themselves on an encouraging counter-attack with five players charging forward as Darida takes it down the right. It's worked across to the left side and the Czech eventually find themselves in behind the Croatian defence within the penalty area. Krejci plays it back across the goal but Lafata doesn't have the strength to beat his man in the air and the danger is cleared.
Samuel Lovett
17 June 2016 18:10
1466183641
55 min: The Czechs are certainly getting back into the game especially down that right flank as a clever ball from Darida inside himself sets up Krejci within the Croatian box. He drives towards the goal and attempts to whip the ball cross the face of the goal but it's blocked and shoots away for a throw-in. Good pressure though.
Samuel Lovett
17 June 2016 18:14
1466183782
GOAL! Czech Republic 0-2 Croatia (Rakitic, 59 min)
Samuel Lovett
17 June 2016 18:16
1466183948
GOAL! Czech Republic 0-2 Croatia: Another impressive goal from Croatia as Hubnik is caught in possession yards from his own box by Brozovic. The Croatian releases Rakitic inside him who's confronted by Cech but is able to lift the ball over the keeper and into the back of the net. Great finish and Rakitic's first international goal.
Samuel Lovett
17 June 2016 18:19
Join our new commenting forum
Join thought-provoking conversations, follow other Independent readers and see their replies