Euro 2016 draw: Wounds too raw for France to be looking forward for summer
The Stade de France hosts its first international friendly when Russia arrive in March and beyond that lie other ghosts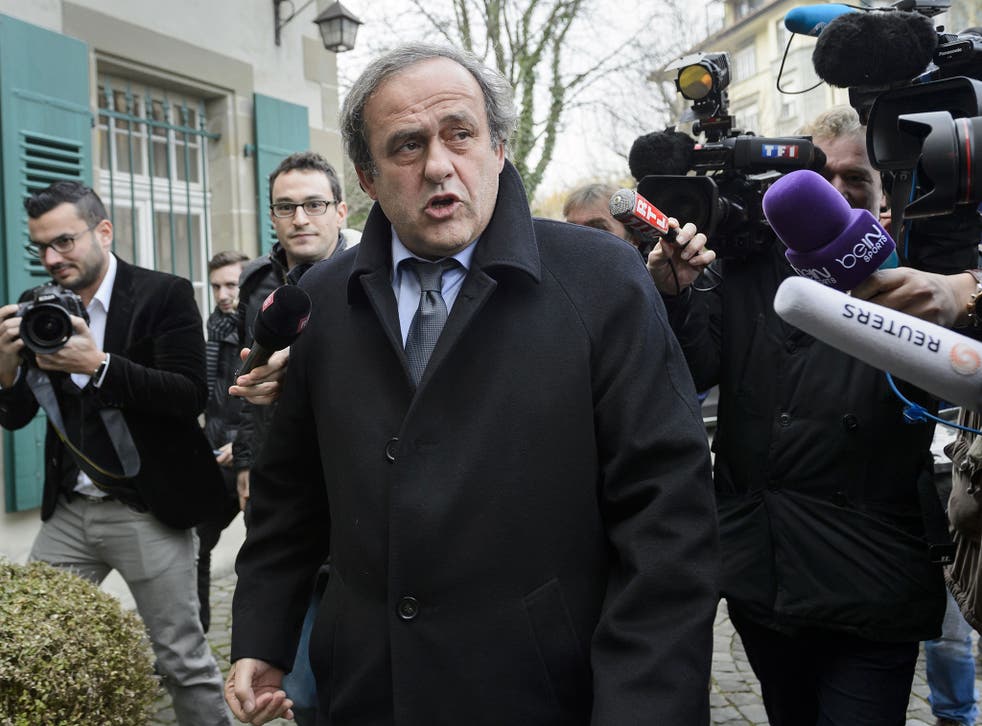 It is testament to the depths football governance has plumbed that there was no recognised French figurehead to provide the self-assurance so badly needed as the country stepped towards next summer's European Championship. A country full of doubts and fears, though emphatic in its message that envisager un report, c'est capituler – "to consider postponing is to capitulate" – as the head of the tournament's organising committee has put it.
Michel Platini did not occupy a Uefa press conference stage because the Court for Arbitration in Sport saw no reason why his ban over a £1.3m payment he claims was for services rendered to Sepp Blatter's Fifa should be lifted for him to enjoy today's draw. So we were treated to the spectacle of Mrs Christelle Platini collecting her accreditation badge an hour so before her husband was declared persona non grata.
That would have been comical were not the French nation taking a deep breath and attempting to put last month's terrorist attacks in the past. Shadows still lurk everywhere. Like the Metro 8 platform of the Franklin D Roosevelt station a few days back, where the red armbands revealed a group of inquisitors to be police. They argued with three youths and a man as the carriage of an east-bound train was searched. Such is the world of Paris, only four weeks on from that terrifying Friday night.
Uefa is in a state of such turmoil – leaderless, rudderless – that many of those on the inside talk of administrative stasis, with minimal capacity to make any decision. Some wise voices from Turkey have been attempting to elicit an investigation by the governing body into little-reported case of a match referee, Cagatay Sahan, being locked in a dressing room by the Trabzonspor president for neglecting to give a penalty last month, with the country's president Recep Tayyip Erdogan intervening. "The Turkish game generally is bringing football into disrepute," says one source. "But Uefa is too paralysed to act."
A decision on probable goal-line technology for the tournament will be taken next month, it was announced yesterday. Prize money has also increased to a minimum €8m (£5.7m) per team up to a maximum €27m (£19.5m) for the winner.
The challenging decisions are left to men like Frédéric Gil, director general for the mayor of Bordeaux, who expects to receive 60,000 supporters around the Matmut Atlantique Stadium for each of five Euro 2016 games, with potentially more than three million people at the city's Place des Quinconces next summer. "Can a country that declares war look ahead as before?" he asked. "I do not think so. We cannot take the risk of putting people in danger by saying that everything should continue as before."
He articulates the concerns about the safety issues created by fan zones and, arguably more difficult in their own way, the areas around giant screens where supporters assemble. At least there is "control and security" within fan zones, Gil said. "Giant screens will be open to the four winds and will represent even greater risks."
The security budget in Bordeaux, where one Group B, D, E and F game and one quarter-final will take place, is thought to be around €700,000 (£506,000) and the caution expressed by Gil is reflected at other outlying venues well beyond Paris, which will all stage at least four fixtures. St Etienne, Toulouse, Nice and Lens all hold three group games and one round-of-16 fixture. The two Parisian stadiums – Parc des Princes and Stade de France, where two terrorists tried to gain access at doors D and J and a third blew himself up near a McDonalds on 13 November – will host 12 games between them, including the opening match and final. Marseille will also be very busy, with four group games, a quarter-final and semi-final.
In truth, the horrors of the Bataclan and elsewhere are simply too raw for the conversation of France to turn to a football tournament and its safety implications. There are bigger concerns when Marine Le Pen's Front Nationale has just secured 28 per cent of the vote and come first in six out of 13 areas in regional elections, her insidious brand of Islamophobia, wrapped up in pseudo-patriotism and drawing on the fear generated by 13 November. The intensification of aerial raids on Syria fills the Parisian consciousness, too.
"We are in a strange state in my old country; so caught up with our own problems that next summer has not yet been put at the front of the agenda," said France Football's Philippe Auclair. "Other countries are talking about it far more. The fanzones, with 100,000 people turning up in those places, will be more difficult to police, though there will be a time and a place to examine that."
Euro 2016 kits - confirmed and rumoured

Show all 25
The streets of Paris – flowers still being laid at Place de la Republique – bear out what Auclair said. Many of the injured are still recovering in hospital.
The new year will bring a dawn of cold realities. The Stade de France hosts its first international friendly when Russia arrive in March and beyond that lie other ghosts.
It is a deeply entrenched article of faith, though that Euro 2016 will not be cowed by those who would bring terror. To do anything less than embrace the event, is "to admit that barbarism prevails over freedom," Jacques Lambert, the head of the Euro 2016 organising committee, said a few weeks ago. "And that is inconceivable."
Can a country that declares war look ahead as it did before? I do not think so...
Join our new commenting forum
Join thought-provoking conversations, follow other Independent readers and see their replies