Euro 2016: Roy Hodgson rubbishes rift between Wayne Rooney and Jamie Vardy over striker's wife Rebekah
Reports midweek suggested that the England captain had spoken to Vardy about his wife's media profile during the tournament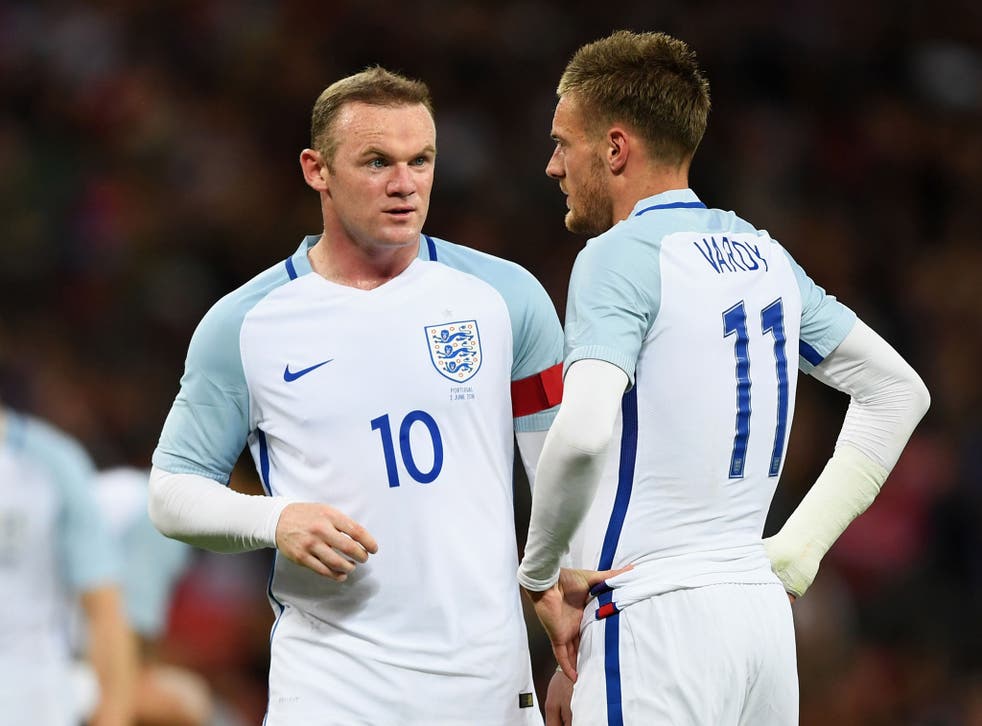 Roy Hodgson interrupted England's pre-match press conference to prevent what he called "salacious" questions about a rift between Wayne Rooney and Jamie Vardy.
There had been reports the England captain was irritated by the profile Vardy's wife, Rebekah, had been taking during a European Championship in which she has been writing a newspaper column and tweeting continuously.
When Rooney was asked about this the day before he leads England out against Iceland, Hodgson sprang to his defence. "I will answer for Wayne. There are no problems between Wayne Rooney and Jamie Vardy. They are good friends and this is a salacious story that has been spun."
Hodgson was, however, happier to give his opinion on Brexit. "It is a huge issue for the nation," he said. "We voted, we had our say and our nation has had its say. We will live with that but it has not affected our concentration for this game. We have had to accept that, back home, a major decision was taken and we will deal with it when we return."
Rooney was, however, prepared to talk about Raheem Sterling's state of mind. Pep Guardiola, his new manager at Manchester City, phoned Sterling after he learned the forward had been hurt by the savagery of the criticism of his performances against Russia and Wales.
"From what I have seen, his state of mind is fine," said Rooney. "He has been normal around the camp and on the training pitch, he has been fantastic, sharp, taking players on and scoring in training.
Slovakia vs England ratings

Show all 14
"There is no issue with Raheem at all. His attitude has not been questioned by us. He has been staying behind after training doing what he does normally. He is a huge asset to the team, a player who can turn a game in a split second. If anyone is questioning his attitude or his state of mind, they would be mistaken in having that judgement."
Although both sides know they will be playing for a place against France in the quarter-finals in Paris, Hodgson admitted he had not seen the hosts' narrow 2-1 win over Ireland. "I am sorry to disappoint but we were in the air at the time. We left our hotel at 2.30pm and got to Le Bourget at 3pm, followed the first five minutes in the lounge and when we got off the plane the final whistle had just blown. It would be an honour to play France but Iceland have the same ambition as us.
"We desperately want to stay in the tournament. We think we're good enough to do so, but to do that we need results. There can be no more draws, it is win or go home."
Register for free to continue reading
Registration is a free and easy way to support our truly independent journalism
By registering, you will also enjoy limited access to Premium articles, exclusive newsletters, commenting, and virtual events with our leading journalists
Already have an account? sign in
Register for free to continue reading
Registration is a free and easy way to support our truly independent journalism
By registering, you will also enjoy limited access to Premium articles, exclusive newsletters, commenting, and virtual events with our leading journalists
Already have an account? sign in
Join our new commenting forum
Join thought-provoking conversations, follow other Independent readers and see their replies