Euro 2016: No Russians arrested for fan violence as Theresa May blames French with England fans told not to go to Lens
A Russian gang responsible for the violent scenes in Marseille are believed to be planning more attacks on English and Wales fans in the cities of Lens and Lille
Jack de Menezes
Tuesday 14 June 2016 08:03 Comments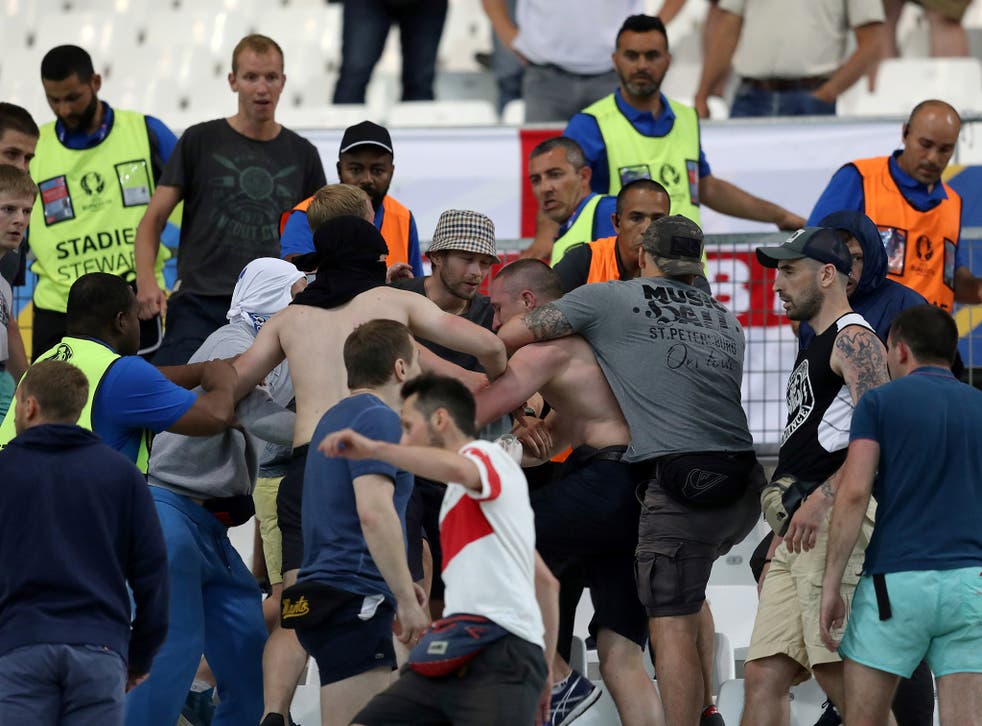 No Russian fans involved in the violent clashes in Marseille last week have been arrested by French authorities, with six England supporters being handed jail sentences and given two-year bans from travelling to France.
England fans have been warned no to travel to Lens for this Thursday's Euro 2016 Group C clash with Wales due to the threat of further violence, as well as in nearby Lille where supporters were originally advised to go to enjoy the atmosphere before moving on to Lens.
Given that 35 people have been injured since the clashes started last Thursday, the Foreign Office have warned fans not to travel to the two cities unless they have matchday tickets, while Home Secretary Theresa May has blamed the French government for the stadium clash that marred the start of the European Championship.
As reported by The Independent, a group of 300 Russian hooligans attacked England fans on Saturday ahead of the 1-1 draw between the two nations in Marseille, with 19 British people admitted to hospital as a result. The gang members arrived in the southern French city equipped with mixed martial arts gloves and gum shields, with the intention solely on causing trouble rather than to enjoy the football.
It has since been confirmed by French authorities that only two Russians have been arrested, both of which were for pitch invasions during the match in the Stade Velodrome. Both men face expulsion from France.
Russia and England fans clash at Euro 2016 – in pictures

Show all 15
On Monday, six British men appeared in court and were given jail sentences ranging from one to three months after being involved in the violent scenes witnessed across Thursday, Friday and Saturday, with French police needing to use tear gas to try and disperse large groups of fans.
However, Home Secretary May has criticised the inadequate segregation inside the Stade Velodrome, with Russian fans breaking through the flimsy blue barrier to charge at England supporters, who were seen jumping over a guardrail in an attempt to flee to safety.
Violence mars England-Russia Euro 2016 opener
"The French and Uefa will rightly be asking themselves searching questions about how the segregation of fans within the Vélodrome stadium broke down," May said, adding that the sight of England fans being attacked inside the Marseille stadium was "deeply disturbing".
The group of Russians that attacked English fans are believed to be planning further assaults on them in Lille as well as Wales supporters who visit the city ahead of Thursday's match. Russia face Slovakia in Lille on Wednesday, with the group responsible for the Marseille attacks described by the chief prosecutor of Marseille as "hyper-violent" and "hyper-fast".
"I don't want to go as far as to suggest these are professionals but they are extreme and well-trained," Brice Robin told the media.
A press conference on Monday confirmed that along with the six British men who were arrested, a 16-year-old boy had also been prosecuted for throwing a bottle at police. He has had his ticket confiscated by authorities.
Both England manager Roy Hodgson and captain Wayne Rooney issued video statements on Monday pleading with fans to behave after Uefa threatened them with disqualification from Euro 2016 along with Russia if the violence continues. Rooney urged fans without matchday tickets for the game in Lens not to travel to the city, given the threat posed and the lack of things to do in the northern French city.
Wayne Rooney and Roy Hodgson ask England fans to stay out of trouble
"I'd like to thank the England fans for the great support inside the stadium against Russia, and now we have a big game coming up against Wales," Rooney said.
"I'd like to ask the fans please if you don't have a ticket, don't travel, and for the fans with tickets be safe, be sensible, and continue with your great support for the players."
Hodgson added: "As England manager I am obviously very concerned about the threat that is now hanging over us and the sanctions that could possibly be imposed upon the England team.
"We worked very hard to get here and we really desperately want to stay in the competition, and I'm appealing therefore to all of our fans and we appreciate all of your support at the matches of course, but I'm appealing to you to stay out of trouble and to try and make certain that these threats that are being issued are never carried out and we will be able to attempt to do the best we can to stay in this competition by football means."
Register for free to continue reading
Registration is a free and easy way to support our truly independent journalism
By registering, you will also enjoy limited access to Premium articles, exclusive newsletters, commenting, and virtual events with our leading journalists
Already have an account? sign in
Join our new commenting forum
Join thought-provoking conversations, follow other Independent readers and see their replies