Euro 2020: FA chief Martin Glenn sets England target of winning final as he expects to challenge 'as contenders'
The ambitious target comes after new FA chief executive Glenn claimed the St George's Park clock counting down to the 2022 World Cup is 'daft'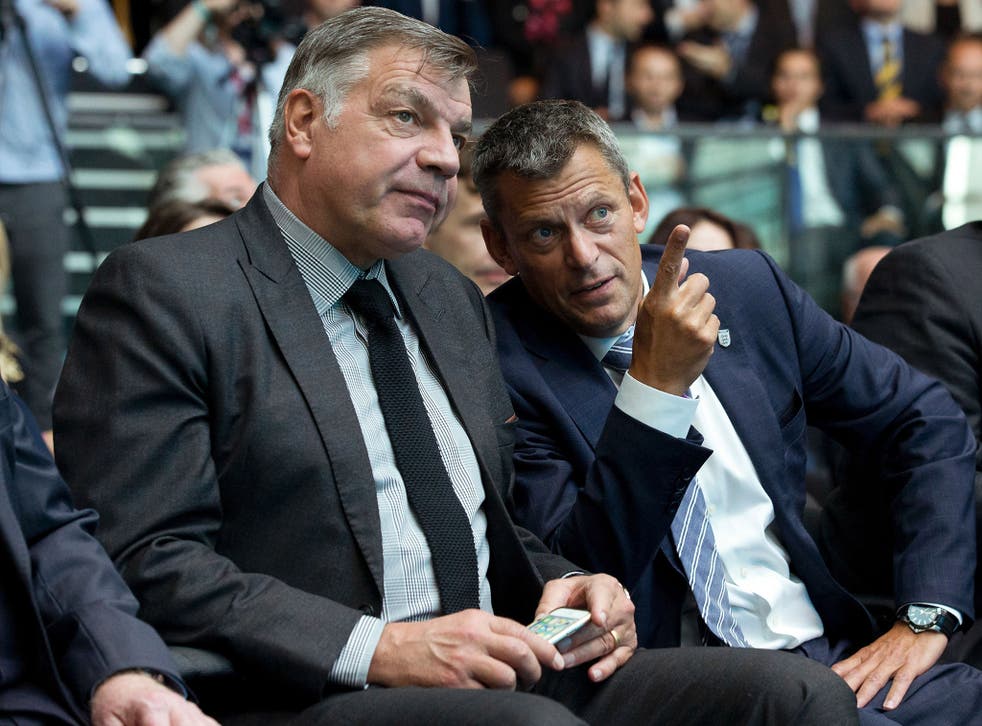 Football Association chief executive Martin Glenn has told England to make the most of home comforts in 2020 by aiming to win at Wembley when London hosts the final of the next European Championship.
Glenn was speaking at London's City Hall, where the branding for Euro 2020 was unveiled - an event hosted by London mayor Sadiq Khan and attended by England manager Sam Allardyce and guests from the 12 other European cities staging games in this one-off version of the competition.
With Wembley hosting the two semi-finals and final of the event, new FA chairman Greg Clarke said during his welcome speech that England should try to "at least replicate" what was achieved the last time the country hosted the Euros in 1996, when they reached the semi-finals.
But when asked if that was ambitious enough, Glenn said: "We'll turn up to every tournament as contenders. That has to be our expectation.
"You can never say you're going to win it because everybody else wants to win it too.
"But that is our ambition: to turn up to every tournament as a reasonable favourite and take it from there."
While some will applaud Glenn's willingness to set a bold target, others will scoff, particularly after England's dire defeat by Iceland at Euro 2016. And earlier this month Clarke described the clock at England's Burton training base that counts down to victory at the 2022 World Cup as "daft".
Euro 2016 Team of the Tournament

Show all 11
Predictions of success in four years' time also imply the team will reach Euro 2020, which is not guaranteed as all 24 places are up for grabs in qualifying.
Glenn admitted England should take "nothing for granted" but said qualifying "doesn't appear to be the issue for us", as experience suggests England's troubles start once the competition gets stiffer.
It was former Uefa president Michel Platini's idea to share the main tournament's 51 games between 13 cities as a way of marking its 60th anniversary.
His successor, the little-known Slovenian Aleksander Ceferin, has suggested this will not be repeated as it represents "a risk" to Uefa in terms of costs and security, not to mention the difficulties fans will face if they want to follow their teams.
But Ceferin, who was making his first public appearance since his landslide election last week, was more positive about the competition here, as he highlighted its potential for bringing the four corners of Europe together and spreading the chance to host a major event.
The 48-year-old lawyer also made all the right noises about England's status as the "birthplace of the game" and said fans "will flock to this remarkable city" for a "momentous climax".
Platini's legacy was felt in another way on Wednesday, as Ceferin was forced to answer questions about an alleged pay-off for his banned predecessor.
The new president said he would be talking to Uefa's legal team about this next week but promised that the organisation would do nothing that was "illegal or unethical".
As well as London, the host cities in 2020 are Amsterdam, Baku, Bilbao, Brussels, Bucharest, Budapest, Copenhagen, Dublin, Glasgow, Munich, Rome and St Petersburg.
Dublin's Aviva Stadium gets three group-stage games and a match in the round of 16, as will Glasgow's Hampden Park. Neither city, nor country, has staged a European Championship match before.
Fittingly, given the far-flung nature of the tournament, the logo for each host city is based on a bridge, "as bridges connect, like football".
Khan used his speech to remind the audience of London's unrivalled record of hosting major events and reassure Uefa's guests that London was "open" despite Brexit.
And this theme was repeated by both Clarke and Glenn, who said the UK's vote to leave the European Union presented no threat to Euro 2020 or the FA's ambition of hosting the 2028 competition.
PA
Join our new commenting forum
Join thought-provoking conversations, follow other Independent readers and see their replies