Fifa executive committee: Where are the 22 men who voted for Russia and Qatar to host the World Cup now?
Five years after the controversial awarding of the 2018 and 2022 World Cups, we take a look at where those who voted for it are now
Martyn Ziegler
Wednesday 02 December 2015 08:24 Comments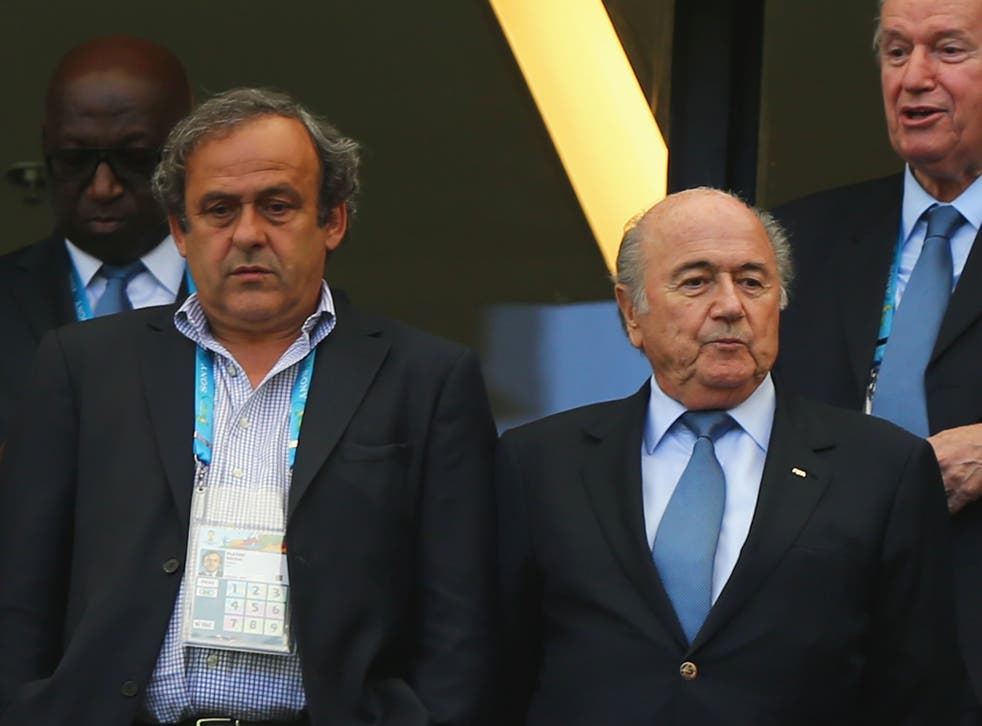 Five years ago today, Fifa's executive committee voted for Russia to host the 2018 World Cup and Qatar to host the 2022 tournament. Here, Martyn Ziegler looks what has happened to the 22 men who made the decisions...
Sepp Blatter (provisionally suspended)
The 79-year-old has been provisionally suspended pending an ethics committee hearing into a £1.3million payment made to Michel Platini, and a possible lifetime ban. Swiss legal authorities have opened criminal proceedings over the payment and the sale of World Cup TV rights to Jack Warner.
Michel Platini (provisionally suspended)
UEFA's president and a FIFA senior vice-president, he too is facing a possible lifetime ban from FIFA's ethics committee. The 60-year-old is insistent he will clear his name and stand in the election to succeed Blatter.
Jack Warner (banned for life)
Warner quit FIFA in 2011 after being accused of bribery during the presidential election that year. The former CONCACAF president was finally banned for life by FIFA in September 2015 some months after being indicted by US authorities on corruption charges. He is fighting extradition to the USA.
Julio Grondona (died)
FIFA's senior vice-president and finance committee chairman, he died in 2014 aged 82. Since his death, FIFA said he authorised a 10million US dollar payment through a FIFA account on behalf of South Africa to Jack Warner - US justice authorities say the payment was a bribe to secure the 2010 World Cup. Has also been implicated in match-fixing in his home country Argentina.
Chung Mong-Joon (banned for six years)
The Korean billionaire, a long-time critic of Blatter's, lost his FIFA place soon after the 2010 vote. He announced he would stand for the FIFA presidency in 2016 but in October he was banned for six years by FIFA's ethics committee for his role in Korea's 2022 World Cup bid. He has claimed the ban is a move to stop him running for president.
Issa Hayatou (acting FIFA president)
The head of African football took over as acting president after Blatter was provisionally suspended. The 69-year-old, who has kidney disease, unsuccessfully challenged Blatter in 2002. His record is not blemish-free - he was reprimanded by the International Olympic Committee over payments he received from FIFA's former marketing partners ISL during the 1990s.
Angel Maria Villar Llona (fined)
The head of Spanish football was fined 25,000 Swiss francs by FIFA's ethics committee in November and given a warning for his initial lack of co-operation with the investigation into the 2018 and 2022 bidding process.
Geoff Thompson (retired)
England's former FIFA vice-president led the unsuccessful bid for the 2018 World Cup which only secured one vote other than his. He stepped down in 2011 and became head of FIFA's disputes resolution chamber.
Michel D'Hooghe (still there)
The 69-year-old was cleared by FIFA's ethics committee of any wrongdoing during the 2018 and 2022 bids, during which he led Holland and Belgium's unsuccessful bid. He has been an executive member since 1988 and heads FIFA's medical committee.
Ricardo Terra Teixeira (under FBI investigation)
The Brazilian, former son-in-law of ex-FIFA president Joao Havelange, is being investigated by the FBI for corruption. He resigned from FIFA's executive committee in 2012 shortly before being named in a Swiss prosecutors' report as having taken millions of dollars in bribes from collapsed marketing company ISL.
Mohamed bin Hammam (banned for life)
Helped secure the 2022 World Cup for Qatar and then tried to run against Blatter for the FIFA presidency in 2011 only to be accused of bribing Caribbean officials. He was banned for life by FIFA's ethics committee in 2012 after an investigation into his running of the Asian football confederation.
Senes Erzik (still there)
The 73-year-old from Turkey retired as a UEFA vice-president but is still on the FIFA executive committee for another two years.
Chuck Blazer (banned for life)
The 70-year-old, who is seriously ill with cancer, turned supergrass and gave evidence to the FBI about football-related corruption and World Cup vote bribes. The American, who had served under Jack Warner as CONCACAF's general secretary, was banned for life by FIFA in July 2015.
Worawi Makudi (provisionally suspended)
The head of the Thailand FA was provisionally suspended by FIFA's ethics committee for 90 days in October. He was named in Parliament for seeking bribes from England's 2018 World Cup bid and in July was found guilty of forgery in his 2013 re-election to lead the Thai federation. He lost his FIFA seat in May.
Nicolas Leoz (indicted)
The 87-year-old from Paraguay, former head of South American football, has been indicted by the US justice department for football-related corruption and is under house arrest pending extradition to the USA. He resigned from FIFA in 2013 shortly before being named in the ISL bribery scandal.
Junji Ogara (retired)
Japan's FIFA member retired from the world governing body in 2011. He had led Japan's unsuccessful bid for the 2022 World Cup.
Marios Lefkaritis (still there)
The Cypriot, a close ally of Platini's, was the subject of an investigation by the Sunday Times that his family was paid £27million for a strip of land by the Qatar Investment Authority. Lefkaritis strongly denied his vote was influenced and that the transaction was properly documented at the Cyprus land and company registries.
Jacques Anouma (lost seat)
The 63-year-old from the Ivory Coast has denied allegations made public by a Parliamentary committee that he received 1.5million US dollars to vote for Qatar. He lost his FIFA seat in April.
Franz Beckenbauer (under investigation)
The former Germany international is facing separate investigations - one by FIFA's ethics committee over the 2018/2022 bids and another in Germany over his role in the 2006 World Cup bid over allegations there was a slush fund set up to buy votes. Beckenbauer, 70, who has denied wrongdoing, stepped down from FIFA in 2011.
Rafael Salguero (retired)
The head of Guatemala's football association managed to avoid any of the allegations which has surrounded the other leading figures from CONCACAF. He stepped down from from FIFA's executive committee in May.
Hany Abo Rida (still there)
An Egyptian who was a close ally of Bin Hammam - and accompanied him on the infamous visit to Trinidad which saw the Qatari accused of bribery. Has not been the subject of any allegations and is still on the ExCo.
Vitaly Mutko (still there)
Russia's sports minister, and head of the 2018 World Cup organising committee, has run into trouble with the World Anti-Doping Agency after being described by its independent commission as being "complicit" in the doping scandal in his country.
Also:
Reynald Temarii and Amos Adamu
The ExCo members from Tahiti and Nigeria respectively did not take part in the 2018/2022 vote because they had already been suspended after being caught on camera by the Sunday Times asking for cash in return for their votes.
Register for free to continue reading
Registration is a free and easy way to support our truly independent journalism
By registering, you will also enjoy limited access to Premium articles, exclusive newsletters, commenting, and virtual events with our leading journalists
Already have an account? sign in
Join our new commenting forum
Join thought-provoking conversations, follow other Independent readers and see their replies