Football Association doles out lifetime bans for England fans spotted performing Nazi-related gestures
One individual was punished for performing a Nazi salute, with the other signalling an Adolf Hitler moustache while making a cut-throat motion at German fans
Miguel Delaney
Chief Football Writer
Tuesday 06 June 2017 22:57 Comments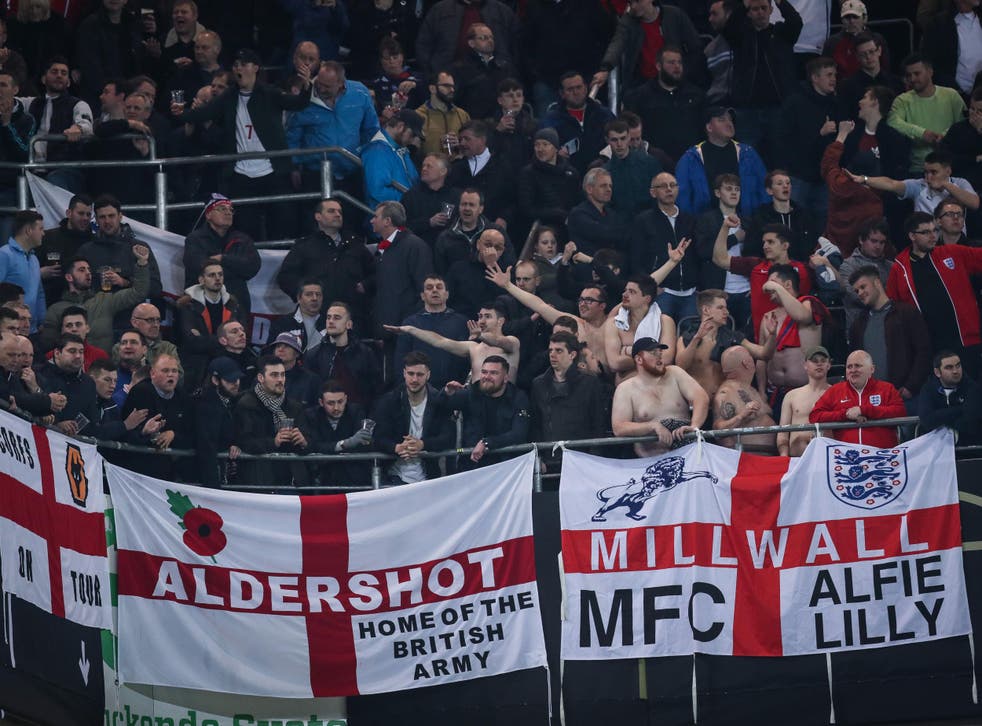 The Football Association handed out lifetime bans to supporters for the first time ever after the controversial 1-0 defeat away to Germany in March, with two England fans having been given permanent sanctions for Nazi-related gestures in Dortmund.
One individual was punished for performing a Nazi salute, with the other signalling an Adolf Hitler moustache while making a cut-throat motion at German fans.
The unprecedented bans come at a time when there is growing concern and embarrassment within the FA about a particularly boorish alcohol-fuelled travelling group who are generally males aged between 18 and 25, and see England away trips as almost like "stag weekends", with no inhibitions about anti-social behaviour.
It has again been highlighted as an issue ahead of a historically sensitive fixture against Scotland in Glasgow this Saturday for the 2018 World Cup qualifiers.
The Germany match in Dortmund had already resulted in FA chairman Greg Clarke condemning the "inappropriate, disrespectful and disappointing" behaviour of England fans, who could be heard singing chants like '10 German bombers', and ultimately saw a total of 27 members of the England Supporters' Club suspended with six warned and another case still being considered.
Not all of the issues came within the stadium, and many complaints related to anti-social behaviour in the town centre. A total of 59 people were actually notified to the FA by police, of which 20 of those were members of the England Supporters' Club.
With the governing body only able to sanction members, 16 of those particular 20 were suspended, and four given written warnings. Others were dealt with by security - but not by police - for problems like rudeness to staff or ticket scams.
More positively, a request to fans for information led to around 100 positive emails within an hour, and just two or three saying there were no problems.
There are currently 8,000 people signed up to the two-year memberships of the supporters' club, with that the lowest it has been for a long time due to factors like performance and location of games, and at a point when the FA look into ways to tackle fan behaviour that is seen as among the worst at tournaments.
A core issue and repeated pattern has been a group of young male adults who commonly have well-paid jobs but are almost seen as "losing their identity" on away trips, and even behave differently and with fewer "rules" to the old Category C hooligans who used to follow England.
Gareth Southgate: It is 'impossible to say' whether Rooney will play for England again
New measures are being introduced - with stewards coming to help in both the stadiums and urban areas in a way that has worked well with club sides - ahead of 4,761 fans allocated tickets travelling for the Scotland game on Saturday and then 2,321 for the friendly with France in Paris on Tuesday. All of those have been vetted by the England Supporters' Club.
The body did receive a lot of new applications ahead of the Germany and Scotland matches, but all applications are checked, and those with police records assessed by independent panels made up of lawyers to judge any misdemeanours.
A total of 22,000 have been checked since 2014, with 142 having been banned for varying periods, and a further 239 given warnings.
For the 5pm kick-off in Glasgow, Scottish police have already warned they will impose a drinking ban in open spaces. The FA will also put up a message on their website warning about anti-social behaviour and urging fans to support the team in the right way.
Register for free to continue reading
Registration is a free and easy way to support our truly independent journalism
By registering, you will also enjoy limited access to Premium articles, exclusive newsletters, commenting, and virtual events with our leading journalists
Already have an account? sign in
Join our new commenting forum
Join thought-provoking conversations, follow other Independent readers and see their replies