France v Germany World Cup 2014: Antoine Griezmann's rapid rise can outpace German rivals
France's 'half-Spanish' forward could prove the difference against Germany on Friday, capping his return from a year ban for Under-21 misdemeanours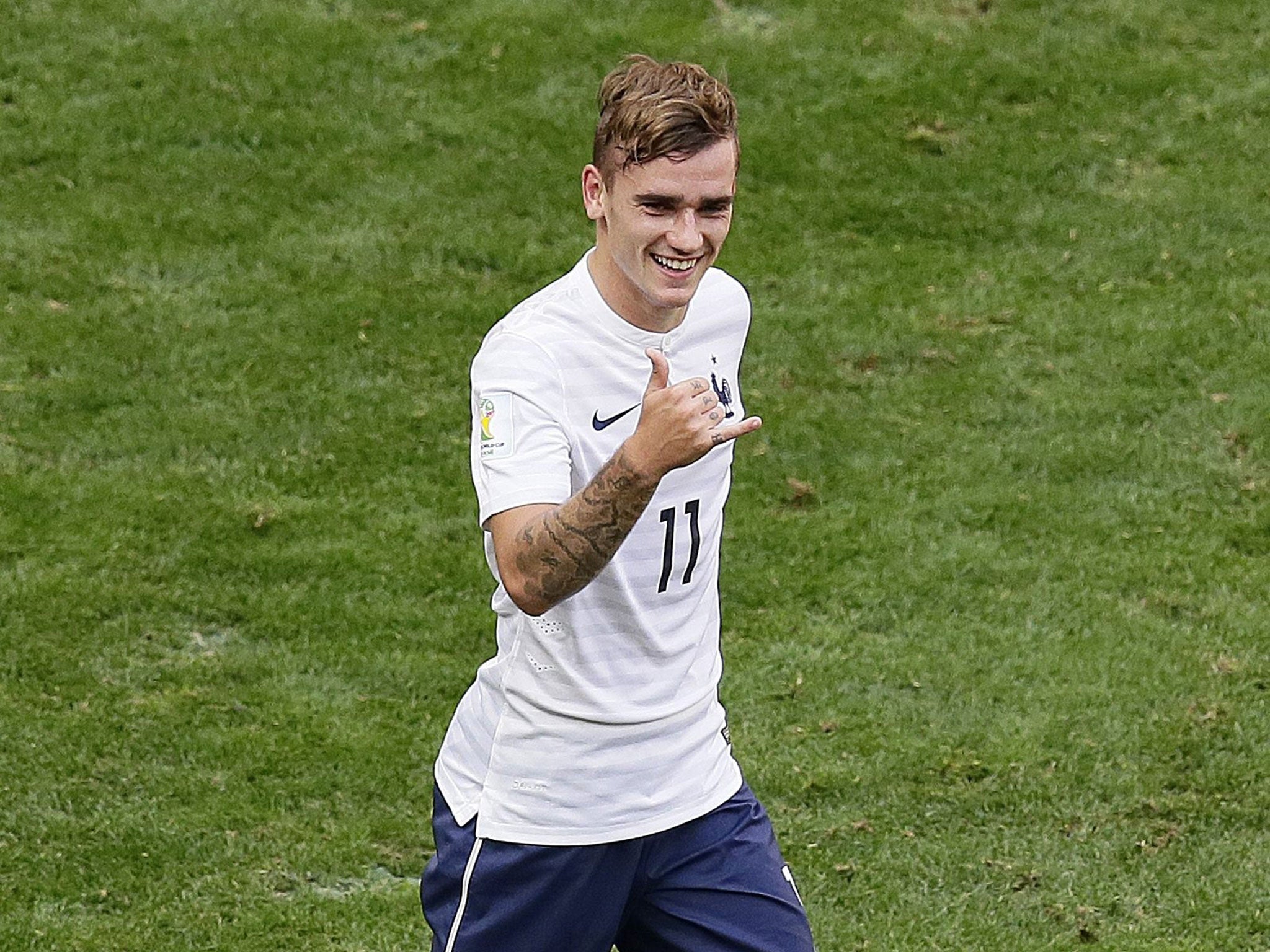 In France he is regarded as the last Spanish footballer left in the World Cup finals, even if Antoine Griezmann looks unmistakably French. The moustache and side-parting he sported at the start of the World Cup finals gave the Frenchman developed by Real Sociedad a little hint of the resistance fighter.
Griezmann, 23, is a contender to start the World Cup quarter-final against Germany today at the Maracana, quite some progress for a man with just eight caps who was only eligible for a call-up since the start of the year, having served a 12-month ban from France's national teams. Thus far he has started two of Les Bleus' four games, with Olivier Giroud preferred as the foil to Karim Benzema against Switzerland and Nigeria, but there is a groundswell of feeling back home that Griezmann might be a better bet for the quarter-final.
It was Griezmann who was integral to the second goal for France against the Nigerians in the last-16 game on Monday, although it was not him who got the final touch. He can play anywhere across the attacking line, and is the kind of player whom the French are unaccustomed to producing, or so they say. The theory goes he is Spanish in style and instinct, having spent his formative years there.
He was 14 when he left France for the academy at Real Sociedad. Griezmann is a native of Macon, north of Lyon, home to one of the many clubs that rejected him as a teenager for being too small and too slight. He was also turned down by Sochaux, Auxerre and St-Etienne before eventually being scouted by Real Sociedad playing in a trial game against Montpellier.
This France World Cup squad draws its 23 players from five leagues – Ligue 1, La Liga, the Premier League, Serie A, Portugal's Primeira Liga – and Griezmann is one of only two, along with Benzema, to play in Spain. The difference is that in France he is regarded as more Spanish than French, never having played professional football in his home country. He has been in Spain for so long that the French press have noticed in press conferences he occasionally finds himself searching for the right word in his mother tongue.
France 2 Nigeria 0 player ratings
Show all 23
When Griezmann moved to Spain he lived at the house of Sociedad's French scout, Eric Olhats, in order to acclimatise gently to the new country. His development at the club was rapid. He made his debut at the start of the 2009-2010 season and became a regular in the second tier in a Real Soceidad side that won the league and promotion back to the top flight.
In the new year, at the age of 18, he was given his first call-up for one of France's national teams, having been overlooked until then. He was part of the France Under-19s team that won the European Championships in that age group in the summer of 2010 in a team that included Chelsea's Gaël Kakuta, then arguably the best young player in Europe, as well as Lyons' Clément Grenier and Alexandre Lacazette, both now attracting the interest of Premier League sides.
He also played a part in a notorious incident with the French Under-21s, proving that it is not just their English counterparts who have a tendency to go off the rails when away with that particular junior side. Two days before the second leg of a European Championship qualifying play-off against Norway, Griezmann, Chris Mavinga, Yann M'Vila, M'Baye Niang and Wissam Ben Yedder left the training base in Le Harve for an unsanctioned night out in Paris.
They returned over night the worse for wear and came up against the full might of the French Football federation. The players were banned and only in December was Griezmann eligible to play for his country again. By then, his season in the Champions League with Real Sociedad had made him an obvious contender for Didier Deschamps' squad, even though he had played no part in the qualification campaign.
When he spoke at the Maracana ahead of the game yesterday, Deschamps gave a simple answer when it came to the key moment in transforming his side: "19 November". That was the day France won the second leg of their play-off with Ukraine 3-0 and the tie 3-2 on aggregate. It is a measure of how much he must rate Griezmann who, still banned at that time, only made his debut in the friendly against the Netherlands on 5 March this year.
"To be in the France team means they have a number of duties and responsibilities," Deschamps said. "Spirits have been high since the beginning of our preparation for this world Cup and that is important."
It seems inevitable that Griezmann, France's Spanish-style forward, will play some role against Germany - even if it is not from the start. He is regarded as a good impact substitute and has featured in both the games, against Switzerland and Nigeria, that he has not started. Like Santi Cazorla, he is comfortable on the wing or behind the main striker, Benzema.
His pace will be invaluable against the dangerously high line which Germany's defence played against Algeria in their last match that made Per Mertesacker look so vulnerable on occasions. Griezmann may yet end up playing alongside the German with Arsenal one day. Arsène Wenger is an admirer of the forward although in that respect he will have to join the queue of Premier League clubs also interested, as well as Paris Saint-Germain.
There is some Germanic about the double 'n' at the end of Griezmann's surname, a nod to the Alsace roots that he shares with Wenger. He is yet another good French footballer, albeit one produced more by accident than design. Nevertheless, his readiness to try his luck abroad shows a certain adventurousness sadly lacking in English contemporaries.
He is "very clinical, scores a lot of goals and creates a lot of goals," Deschamps said when he named the player in his squad in March. In the absence of the injured Franck Ribéry, Griezmann could be the man to give France the pace in behind Germany. His development has been rapid over the last 12 months but as ever, one game at a World Cup can make the reputation of a footballer.
Join our commenting forum
Join thought-provoking conversations, follow other Independent readers and see their replies