Germany's football team: Everything you need to know about the World Cup champions
They're going to rule football for a generation, so we'd better get to know the world champions, says Will Dean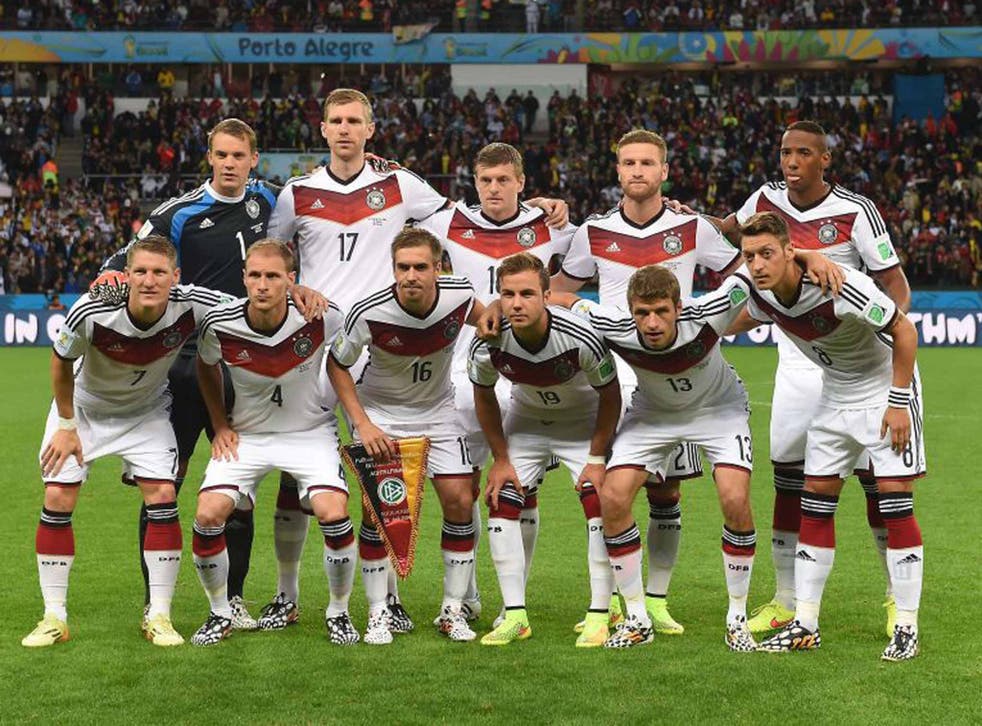 If your interest in football begins and ends with biannual international tournaments, you'll be in need of a handy cut-out-and-Google-later guide to the new world champions. Here's all/some of what you need to know. Rule 1, if in doubt, they probably play for Bayern Munich...
Coach: Joachim 'Jogi' Löw
Low first became known to the world as Jürgen Klinsmann's assistant in 2006, when the pair nearly took Deutschland to the title on home soil, wearing matching shirts and trousers. Very neu man. Euro 2008 aside, Jogi has proved himself a semi-final specialist of almost Henman-esque skill. His hairstyle sits somewhere between a dialogue-free assassin in a Dolph Lundgren movie and Chrissie Hynde's.
Manuel Neuer, Bayern Munich
Neuer was both the best stopper in the tournament and the man responsible for Guy Mowbray and Mark Lawrenson overusing the phrase "sweeper-keeper" like a new pair of jeans. As well as being a brilliant keeper, Neuer paid homage to old Germany with his tribute to Harald Schumacher's 1982 hip-in-face assault on Patrick Battiston when he floored Gonzalo Higuain. More scary than that was "Frightening" Frank McCay, the character Neuer voiced in the German version of Pixar's Monsters University. Your move, Joe Hart.
Philipp Lahm, Bayern Munich
Germany's densely eye-browed Kapitän may have the look of someone you went to school with who was good at racquet sports, but he has proved himself pretty useful at football, too, having won absolutely everything. However, Lahm had the lifting of the World Cup slightly ruined for him by Sepp Blatter and Dilma Rousseff, who cowered behind the Deutsche players lest they were further booed by the Rio crowd. This meant that Lahm had to shuffle to the middle of his team with the trophy in his hand before raising it. Another reason, if required, to dislike Sepp.
Jérôme Boateng, Bayern Munich
Boateng found himself in the unusual position of playing against his brother when Kevin-Prince Boateng lined up for Ghana in the group stages. The latter was sent home in disgrace for insulting his coach, while Jérôme turned in a man of the match-worthy performance in the final. Which will no doubt make the "what did you do in the summer?" chats at Boateng family dinners somewhat tense. His one season at Manchester City in 2010/11 was so disappointing than even the wonderful nickname Das Boat failed to catch on. There's still time.
Thomas Müller, 24, Bayern Munich
Arguably Germany's best player in Brazil, Muller once described himself as a "ramdeuter", a "space interpreter". Which is his clever way of saying that he puts himself about a bit. Not quite a striker, not quite a midfielder, unfathomably effective. Müller's boy-next-door good looks allied with a propensity for rolling down his socks – a look evocative of previous World Cup heroes Paul Breitner, Mario Kempes and Laurent Blanc – provide a combination that can make otherwise heteronormative male fans go weak at the shinpads.
Bastian Schweinsteiger, Bayern Munich
Despite taking the brunt of more Argentinian hacks on Sunday than the editorial staff of La Nación, Schweinsteiger is perhaps the most traditionally German player in the World Cup winners' squad. And although his exterior is harder than a frozen wurst, Schweinsteiger was pictured offering his commiserations – à la Andrew Flintoff at Edgbaston – to his vanquished opponents. What a guy. And like Löw's (pronounced "love"), his name is a treat to British tabloid headline writers. It not only translates, roughly, as "pigclimber" – but allows for linguistic tour de forces like, "you schwein" and "you dirty schwein". Those two gems earned The Mirror and The Sun bans from Bayern Munich press conferences in April.
Per Mertesacker, Arsenal
Worthy of a place in any squad on the basis of the nickname given to him by Arsenal: BFG, or "Big Fucking German". A moniker made infamous by German broadcaster Chris Lymberopoulos, who glibly mentioned it on air on Sky Sports News in March.
Mesut Özil, Arsenal
Along with Sami Khedira, İlkay Gündoğan and Jérôme Boateng, Özil has been part of a generation of German players with diverse backgrounds who have helped the country thrive. Yet, as Özil was born in Germany, grew up in Germany to German-born parents (his grandparents were Turkish immigrants) and has played for Germany at three different levels, he must have been thrilled in 2010 to receive a Bambi Award (a sort of German public Oscars) for successful "integration" into German society.
Miroslav Klose, Lazio
The veteran striker, 103, became the World Cup Finals' leading all-time scorer, with two goals in 2014, overtaking compatriot Gerd Müller and Brazil's Ronaldo. Klose's achievement was all the more impressive given that his 16 tournament goals came from a Lineker-esque combined distance of 1.3 metres. He celebrated his record-equalling 15th goal with the worst piece of gymnastics (a failed frontflip) since McKayla Maroney stacked it at London 2012.
Mario Götze, Bayern Munich
Despite looking like an exchange student who can't find his favourite baseball cap, Götze sealed his role as German football's wunderkind with his exceptional winning extra-time volley, which ought to ensure he need never buy a stein of Hofbräu ever again. Götze was still living with his parents when he made the controversial move from Borussia Dortmund to Bayern (announced just before the two played each other in the Champions' League final). He now goes out with lingerie model Ann-Kathrin Brommel, so you hope for his folks' sake that he's since moved out.
Join our new commenting forum
Join thought-provoking conversations, follow other Independent readers and see their replies