Germany vs Argentina World Cup 2014: Lionel Messi? Javier Mascherano is key for Argentina...
No 10 is always centre of attention but Barça team-mate is just as crucial to finalists' hopes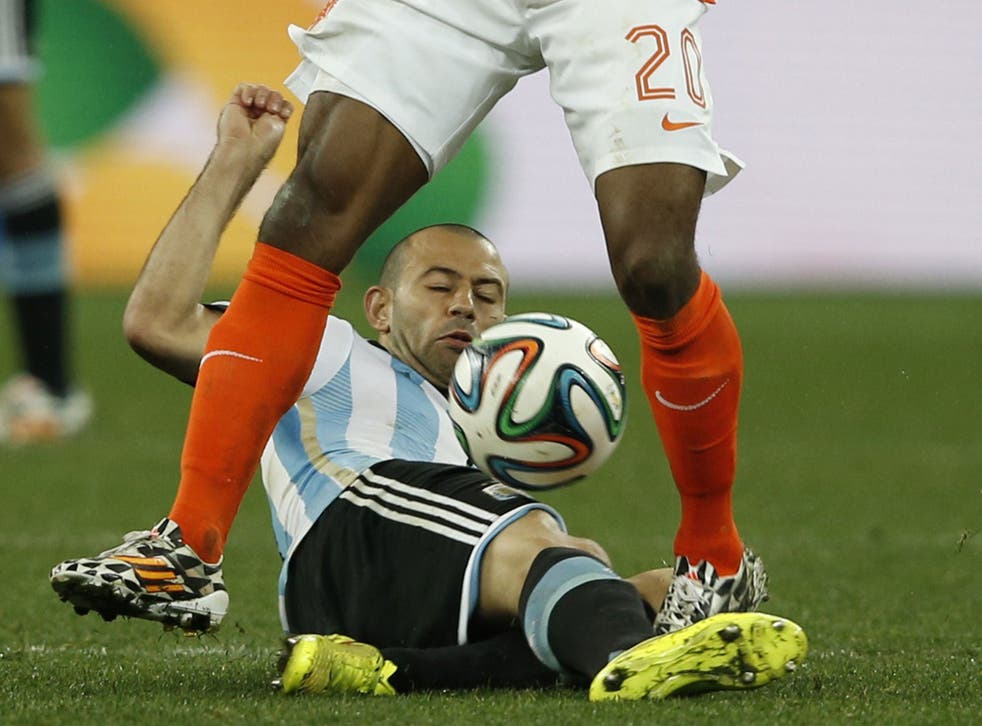 For a player who has not shown a single second's doubt or hesitation during this World Cup, Javier Mascherano's mindset is somewhat surprising.
The 30-year-old is talking about the moment that saved Argentina's entire campaign, and the thoughts running through his head as the events unfolded before him.
In the 90th minute of Wednesday night's semi-final against the Netherlands, Arjen Robben executed a gloriously quick exchange with Wesley Sneijder to finally put one of this tournament's finest attackers through on goal. Robben suddenly left the Argentina backline behind him and seemed set to finish them. But Mascherano trailed in his wake.
Given Robben's pace and pedigree, it all seemed so certain. Mascherano was not thinking any differently.
"It was terrible," he says. "I thought I'd slip, I thought I wouldn't make it, I thought he'd get ahead of me. I thought so many things."
Netherlands 0 Argentina 0 player ratings

Show all 22
In the end though, none of those thoughts mattered. His actions, once again, were all that counted. "But I did get there," Mascherano says, with a quiet satisfaction, "and it wasn't a goal."
The defensive midfielder somehow capitalised on a split-second's awkward slip by Robben to throw his body forward and get the crucial touch to foil a goal.
It may well have been the tackle of the tournament. It may well have come from the player of the tournament. While Lionel Messi will continue to get attention ahead of Sunday's final, it is Mascherano who best defines the resilience and durability of this Argentina side in making it there.
They have still not fully convinced in this World Cup, but have compensated by really knowing how to dig in and fight. Seen as Alejandro Sabella's "on-pitch manager", Mascherano sets that tone.
He is prepared to go the distance, to feel the pain. Wednesday night was an almost literal example.
Mascherano's early head injury may have received most of the attention, but he was preoccupied with pain in another part of his body.
"I don't want to be rude," he says with a smirk about the stretched challenge that stopped Robben, "but I opened my anus."
It is quite an image. Mercifully, there are many more images from the night that overshadow it.
Before the penalty shoot-out, there was the sight of Mascherano grabbing goalkeeper Sergio Romero and telling him "Tonight, you make yourself a hero". After it, as every other Argentina player sprinted forward in utter jubilation, the midfielder sank to his knees.
"We did the job," the former West Ham and Liverpool man said, before repeating the words. "We did the job."
It is little wonder Sabella described the player as "a symbol, an emblem" for the team. "He's a huge influence on our squad," the Argentina manager said of Mascherano. "Reaching the semi-finals took a huge weight from his shoulders."
That sense of redemption and delivery was another sentiment frequently expressed by Mascherano after Wednesday night's shoot-out win. Having made his debut in 2003, he has endured Argentina's recent history of underachievement more than most. His 11 years with the team have coincided with the longest the country has ever gone without winning a trophy. It is now 21 years.
On Sunday, against Germany, they have the chance to rectify that, and Mascherano is determined to seize the moment – and appreciate it.
"I have had 11 years where we have seen a lot of things but haven't seen the light," he says. "Tonight, we started to see it."
It's quite a poetic statement from a player most notorious for applying the game's darker arts. Yet, despite his abrasive reputation on the pitch, there is an unmistakable humility to Mascherano off it. It comes across when he describes the Robben challenge more.
"He played a great exchange with Sneijder but, because of that extra touch, he didn't quite hit it so early, it gave me the possibility, that extra split second. The truth is there's not much virtue for me. I just threw myself into it.
"If I was a moment off, it was a penalty. There's no virtue. Anyone could have done that, I was lucky to get there. The team was lucky Robben took one more touch. To get to a final, you always need a bit of luck."
You also need his defensive aptitude, his resilience. And some who know Mascherano say it is precisely his humility that makes him realise a chance like this should not be wasted for want of desire.
The game is evidently life to him, but that means it also requires a real work ethic. That's reflected when he talks about his experience after his first World Cup, in 2006. As Mascherano prepares for a World Cup final as one of the tournament's finest players, it is remarkable to think he was once kept out of the West Ham team by Hayden Mullins eight years ago.
"At football you have work, you have to keep a mentality," Mascherano says. "The best thing I did when I couldn't play at West Ham was I kept my mentality.
"I went to train every day to be a better player. I didn't have the chance to play all the games there I wanted to play but obviously football always gives you a chance. When I went to Liverpool I had a chance to show my quality."
He is also proud Argentina have now shown their true spirit. "We did the things we had to do. We have the tranquility of having given everything, of having performed like we had to.
"That forms part of this group. It's been so many years but now our country, and our flag, are in the eyes of the world, returning to a World Cup final, the most important match of our careers."
"It's a delight, a delight that lifts your soul. It's something you can't explain, something I never imagined, but there we are."
Ahead of it, Mascherano is asked about a previous moment from this tournament, and another defining image. Before the quarter-final against Belgium, he set the tone with his team-talk.
"I'm tired of eating shit," he roared. "I want joy for those who follow us and everything. We're going out to play the game of our lives."
What about now? Mascherano smiles. "In life, there's a bit of everything. You always have to... [this time the hesitation in his thoughts are all too evident]...eat a little bit of dirt."
He's also ready to play the game of his life on the grand stage of the Maracana in Rio de Janeiro on Sunday night.
Register for free to continue reading
Registration is a free and easy way to support our truly independent journalism
By registering, you will also enjoy limited access to Premium articles, exclusive newsletters, commenting, and virtual events with our leading journalists
Already have an account? sign in
Register for free to continue reading
Registration is a free and easy way to support our truly independent journalism
By registering, you will also enjoy limited access to Premium articles, exclusive newsletters, commenting, and virtual events with our leading journalists
Already have an account? sign in
Join our new commenting forum
Join thought-provoking conversations, follow other Independent readers and see their replies