Gonzalo Jara 'banned' for rest of the 2015 Copa America after he 'inserted finger into Edinson Cavani's anus'
Jara was caught on TV provoking Cavani which led to the Uruguay striker being sent-off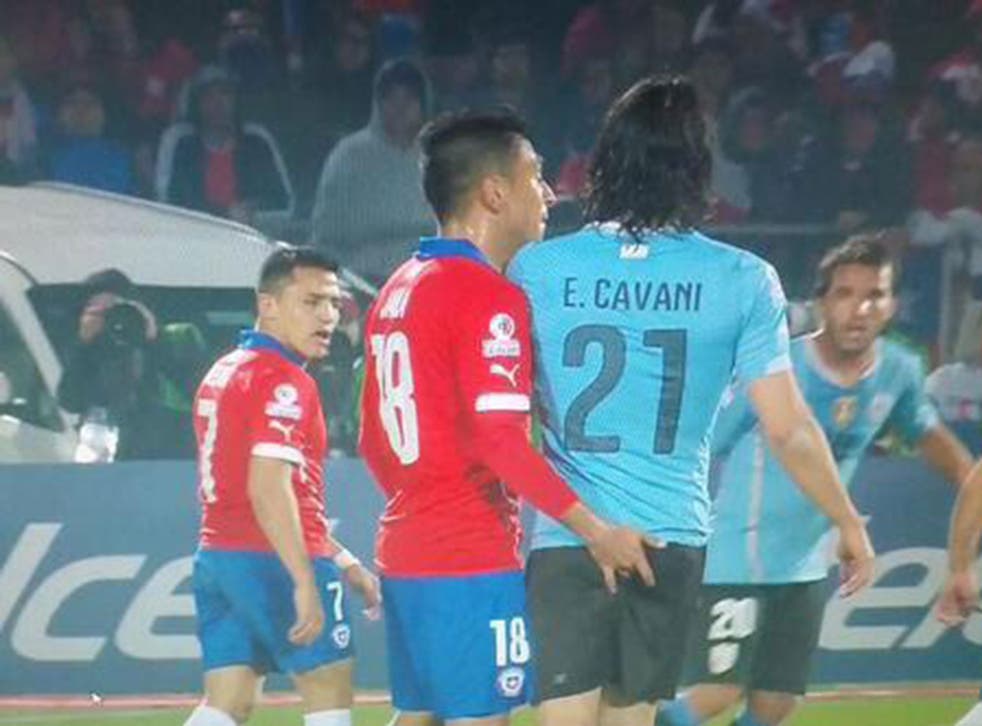 Chile defender Gonzalo Jara has been banned for the rest of the Copa America after he "inserted a finger into Edinson Cavani's anus", it has been reported.
The 29-year-old Mainz defender, who has previously played for West Brom, Brighton and Hove Albion and Nottingham Forest, was caught on TV provoking Uruguay striker Cavani following a confrontation between the two.
After referee Sandro Ricci spoke to the pair to try and dissolve the feud, Jara went back towards Cavani and shockingly tried to put his finger in Cavani's anus, with the Paris Saint-Germain responding by glancing the face of Jara.
Despite the little contact between Cavani's hand and Jara's chin, the Chile international flung himself theatrically to the floor, and Ricci issued a second yellow card to Cavani having already booked him in the first half for a foul on Arturo Vidal, meaning Cavani suffered the ignominy of being sent-off a year to the day after Luis Suarez bit Italy defender Giorgio Chiellini during the 2014 World Cup.
Cavani won't face a Copa America suspension given that Uruguay went on to lose the game 1-0 and suffer quarter-final elimination, but it appears that Jara's tournament is also over. South American journalist Juan Arango has reported that Jara will be banned for the remainder of the tournament for his actions, with official confirmation set to come later today over whether Jara will face disciplinary action.
"Huge blow: Gonzalo Jara suspended for remainder of Copa América after altercation tonight. #developing," Arango said on Twitter.
Earlier in the tournament, Brazil's Neymar was handed a four-match ban for a headbutt during the group game against Colombia, which ended his participation in Chile this summer.
Register for free to continue reading
Registration is a free and easy way to support our truly independent journalism
By registering, you will also enjoy limited access to Premium articles, exclusive newsletters, commenting, and virtual events with our leading journalists
Already have an account? sign in
Register for free to continue reading
Registration is a free and easy way to support our truly independent journalism
By registering, you will also enjoy limited access to Premium articles, exclusive newsletters, commenting, and virtual events with our leading journalists
Already have an account? sign in
Join our new commenting forum
Join thought-provoking conversations, follow other Independent readers and see their replies