I never wanted to swap Wales job for Crystal Palace return, claims Chris Coleman
The former Fulham manager has signed a new two-year contract with the national side
John Nisbet
Friday 15 November 2013 19:06 Comments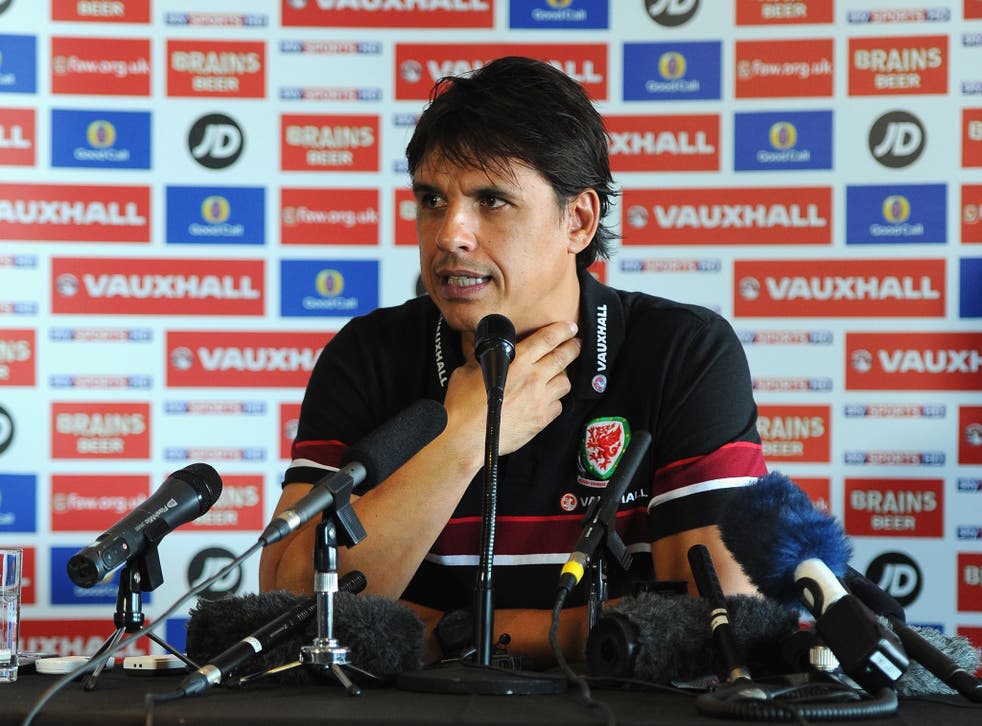 There were two things that Chris Coleman wanted to make clear today, after signing a two-year extension to his contract as Wales manager.
One was that he wants nothing else but to lead his country to success, ideally by qualifying for the 2016 European Championship. The second was to state that he does not want a return to the Premier League – and that he has had no contact whatsoever with Crystal Palace.
Coleman wants to "finish what he started" in charge of Wales, which, for the last two games, has seemed positive. "There was no temptation to go to Palace, there was no approach," he added.
"That was because I had five years with Palace as a player and I enjoyed my time there. Everybody thinks if you are a coach you want to work in the Premier League. Financially and with the media coverage it is seen as the best league in the world. I have had five years in the Premier League with Fulham, it's a great league.
"I don't have any aspirations to work in the Premier League right now. When my time is up with Wales, whenever that is, I would prefer to work abroad again. I learnt more working abroad as a coach.
"But the Wales job is bigger than any other job I will do, I will never get more responsibility. I've done it for two years now and it's been hard, but when you win then the rewards are fantastic.
"I don't want to hand that feeling on to someone else. I want to finish what I started with these players."
The deal with the Football Association of Wales had been "verbally agreed" as long ago as September, but defeats to Macedonia and Serbia caused the governing body to get cold feet.
The FAW decided that Coleman was indeed the man to take them through the qualifying process for the 2016 European Championships after he led them to a win over Macedonia at home and a draw in Belgium.
In between the verbal agreement and the two good results to round off their unsuccessful bid to qualify for next year's World Cup, speculation was rife that Coleman, the former Fulham, Coventry and Real Sociedad manager, wanted to leave his post and return to club football. Jonathan Ford, the FAW chief executive admitted, given the media speculation caused by the delay in Coleman's contract, the deal should have been signed back in September.
"With hindsight the timing was never quite right," said Ford. "We came to an agreement of wanting to move forward, we went through good negotiation and we planned on doing that somewhat sooner but then the Bale circus [the winger's world record move to Real Madrid] came to town and we had a couple of games that did not go our way.
"But in my mind we made the right decision then and we have made the right decision now. That's not really changed.
"In hindsight maybe we should have signed the contract a little earlier but we are looking forward, Euro 2016 is what we are talking about now and let's finish what we have started here."
Palace, meanwhile, appear to be closing in on former Chelsea defender Dan Petrescu to replace Ian Holloway despite his current club's insistence the Romanian is going nowhere. Petrescu is understood to want a three-year deal to leave Dynamo Moscow having held further talks with co-chairman Steve Parish yesterday, even if the Russian side yesterday denied he is set to leave.
"Dan works for Dynamo. He is not talking about leaving, he is not torn," a Dynamo spokesman said. "He is an honest man and there is nothing to hide. Petrescu doesn't even understand himself where the rumours are coming from."
Former Palace manager Iain Dowie has emerged as an alternative, although he would prove an unpopular choice with supporters having swapped Selhurst Park for arch-rivals Charlton in 2006.
Register for free to continue reading
Registration is a free and easy way to support our truly independent journalism
By registering, you will also enjoy limited access to Premium articles, exclusive newsletters, commenting, and virtual events with our leading journalists
Already have an account? sign in
Join our new commenting forum
Join thought-provoking conversations, follow other Independent readers and see their replies