Joe Hart: Bring on penalties says England goalkeeper (at least one Englishman is looking forward to them)
The England goalkeeper says he is confident if it comes to a shoot-out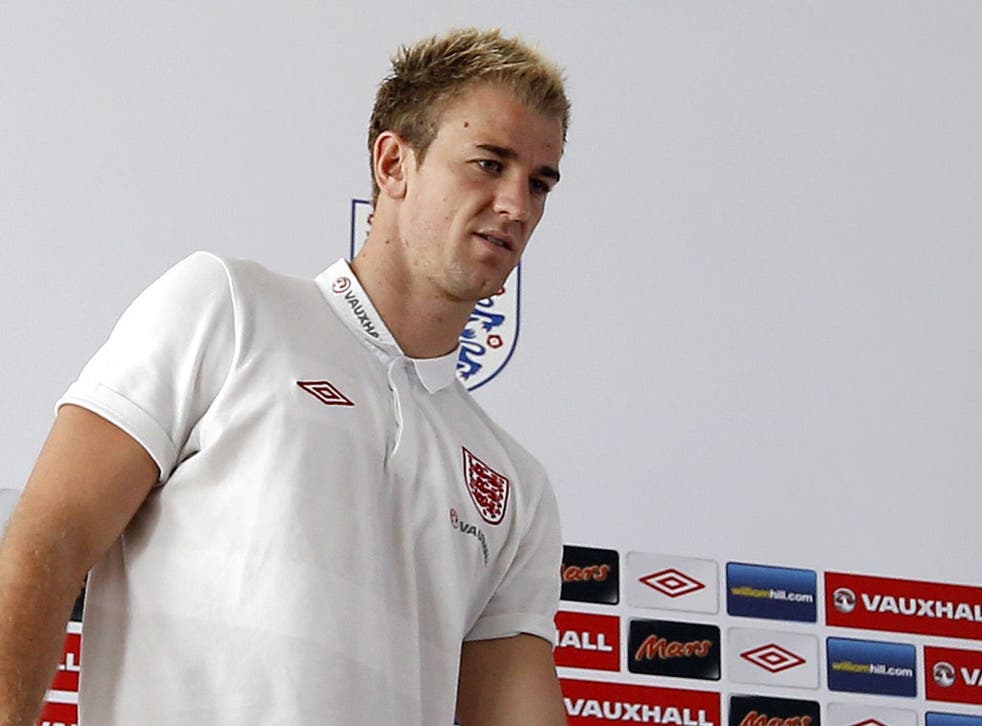 The England goalkeeper Joe Hart said yesterday that he is ready and prepared to face a penalty shoot-out against Italy in the Euro 2012 quarter-finals on Sunday and would even take a penalty himself as he did successfully for the Under-21s three years ago.
Hart was a star performer in the Under-21s team that was the first England side to win a penalty shoot-out since Euro 96 when they overcame Sweden in the European Championship semi-final three years ago, saving one and converting his own spot-kick. He was also booked during the shoot-out for trying to put off a Swedish penalty taker with a boxing routine, which meant he missed the final.
Hart said that he had prepared himself watching clips of penalty-takers and was ready if called upon. "I try not to talk about...what I want to do and how I deal with penalties, I don't want to," he said. "There's a big game on. I've not got a magic answer. I just know in my head what I want to do. If worst comes to worst on Sunday and it comes to penalties, I'd like to think I've got some kind of advantage.
"I don't know if I'll be one of the five penalty-takers, but I'll definitely put my name forward. But we've got some quality players in this squad and if there are five other potentially better than me, I'll be cool with that."
There was a penalty-taking session at the end of England training yesterday in which eight out of the eight spot-kicks were successfully converted. With many of those who started the game against Ukraine on Sunday only doing a light session it fell to Leighton Baines, Phil Jones, Theo Walcott and Stewart Downing to take the penalties against reserve goalkeeper Robert Green.
Roy Hodgson will have the first opportunity since the Ukraine game to put on a full training session this morning here in Krakow. Yesterday, Ashley Cole, who has struggled to train much at all in the last two weeks, left the pitch to use the swimming pool that adjoins the Hutnik stadium where England have been training.
The England medical department are confident that Ashley Young, another player who has been having treatment on an injury picked up against Ukraine, in his case a shin problem, will be fit for selection against Italy on Sunday.
Hart said yesterday that he would be prepared to do anything "within the rules" to put the opposition off in a penalty shoot-out, as he did in Sweden. "I found a way and we won. That was the main thing. The referee didn't find it as funny as I did, unfortunately, so I missed the final. But you find a way to win within the rules. I did that to the best I could and we won the tie.
"Penalty shoot-outs are the only way to settle a game that's been dragging on for 120 minutes. Usually by the 105th minute everyone's knackered and the last 15 are a waste of time. You need some way to settle it, and I think it's the best way."
Hart also said that he had spoken to his Manchester City team-mate Mario Balotelli about Sunday's game. He said that the two have a good relationship and a competitive edge in training and that Balotelli was desperate to win.
"He just is what he is," Hart said. "A lot is made of Mario, but unless you know him you definitely don't know him. He's not really interested in keeping people happy who don't know him. He's not interested in acting up. He just is what he is. I don't think there's any denying that."
The Italian centre-back Leonardo Bonucci, who placed his hand over Balotelli's mouth when the player shouted in the aftermath of his goal celebration against the Republic of Ireland on Monday, said yesterday that the striker had been grateful for his actions. "Yeah, he said to me 'thank you' for what I did," Bonucci said. "Now he has to be calm and to do his best on the pitch."
The England players were given the afternoon off yesterday and some of them were out around the centre of Krakow, able to walk about the city without attracting excessive attention. Hodgson was in such a relaxed mood he posed for pictures with fans.
Wayne Rooney said that the camp had been a harmonious place. "We are more organised than ever and we are all fighting for each other. We all want to do this together, so I think we have got a great chance.
"In the quarter-finals anything can happen but we feel good, we've prepared well and we are looking forward to it," he told talkSPORT.
"It's important that we believe in ourselves. We have got a great group of players here and we are confident – that's the main thing. We are all working together. Italy is not going to be an easy game but we have the players, the belief and the togetherness to do a job on them. Once you get to this stage of the competition, anything can happen."
The England coach Gary Neville said the players are benefiting working for a manager who is "calm, doesn't get carried away by things, brings a great deal of humility, trusts in his players and has faith in them".
"They are recognizing that he is someone they like and want to play for and I think that's important," Neville added.
Join our new commenting forum
Join thought-provoking conversations, follow other Independent readers and see their replies