Luis Suarez ban: Uruguay striker told Fifa panel that he 'lost his balance...and bite was not deliberate'
Liverpool striker was banned for four months following incident
Miguel Delaney
Monday 30 June 2014 10:01 Comments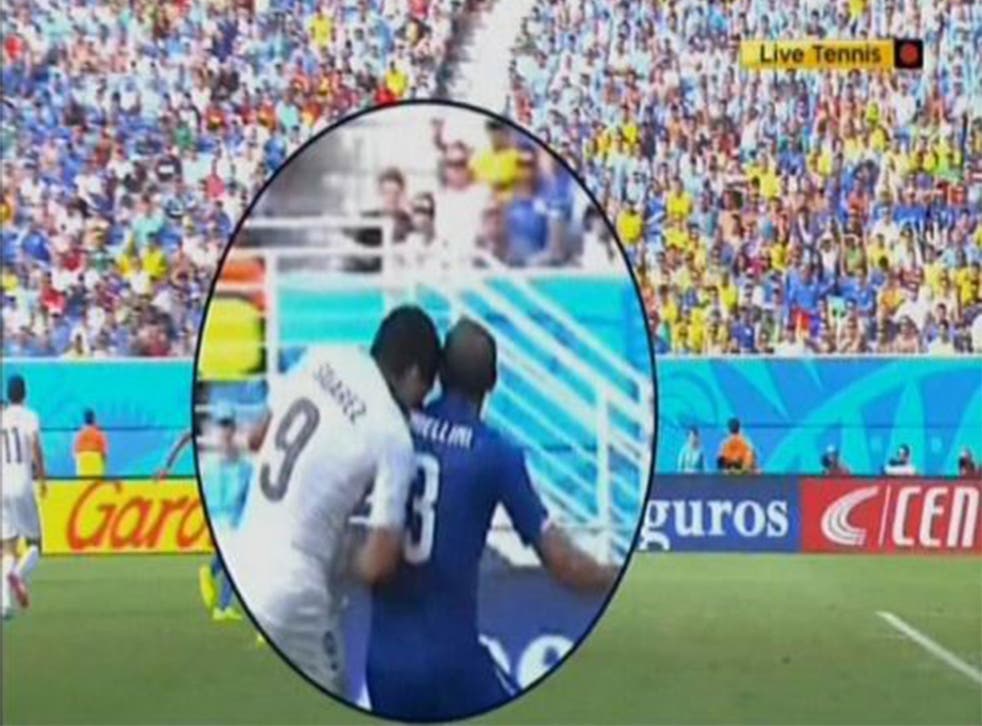 Luis Suarez refused to admit he bit Giorgio Chiellini, claiming he lost his balance and "hit his face" on the Italian defender's shoulder, when he put forward his defence to the Fifa disciplinary committee this week.
Although the Uruguay and Liverpool striker's claims were dismissed as he was handed a four-month ban, it adds another layer of controversy to what has been the World Cup's most contentious issue so far.
Yesterday saw the release of the full details of Fifa's hearing of the charges and ruling. Suarez said in his submission: "After the impact I lost my balance, that destabilised me and I fell on top of my opponent. At this moment I hit my face against the player leaving a small bruise on my cheek and a strong pain in my teeth and that's why the referee stopped the match. That is what happened and in no way was there any case of biting or intending to bite."
The seven-man disciplinary panel dismissed his arguments and imposed the four-month ban from all football activity, plus nine international matches and a SFr100,000 (£65,000) fine.
The panel's ruling stated: "The commission took into account that the offence was made directly against a player while the ball was not in dispute and that the offence was deliberate and intentional and without provocation. He bit the player with the intention of wounding him or at least of destabilising him.
Luis Suarez: His controversial career in pictures

Show all 28
"In such context the committee observes that the player had been sanctioned on previous occasions in club competition for similar acts."
Fifa has been formally informed of the Uruguay FA's intention to appeal against the sanctions imposed on Suarez. The Uruguayan federation – which is still understood to be "fuming" over the ban – now has seven days to prepare the details of an appeal.
Fifa head of media Delia Fischer told a news conference in Rio de Janeiro: "We have received a declaration that they are planning to appeal. The reasons for the appeal must now be given in writing within a deadline of seven days after the three days has expired."
Suarez has left the World Cup in Brazil and returned to Uruguay, where he has mostly received a hero's welcome.
Uruguay coach Oscar Tabarez has suggested the English media were to blame for the "excessive" sanction and announced he was standing down from his role on Fifa's Technical Study Group because he thought the World Cup record ban was too harsh.
Meanwhile, former Liverpool player and manager Kenny Dalglish is confident the club will not turn their back on Suarez, whom he believes needs help to control his emotions. Dalglish, who brought Suarez to Anfield from Ajax in January 2011, thinks that more understanding needs to be shown to the 27-year-old. "It is my belief that when you bring a player to a football club, he becomes your responsibility. You don't just turn you back on a player because he has done something wrong. I think you will find that Liverpool will not turn their back on Suarez, whatever the ban Fifa have decided he must serve. Of course it will be a heavy blow if the club has to do without him for the opening months of the season. You can't really ask any one person why what happened against Italy happened, because there is only one person who knows and that is Luis – some people have injuries you can't see.
"Sometimes, when people have something wrong with them, just because they don't have a plaster cast on their leg, people think they don't need help." Dalglish thinks the punishment is harsh on Liverpool as the incident was out of their control.
"When he was punished by the FA for the biting incident with Branislav Ivanovic and banned from domestic games, he was still allowed to play for his national team," he added.
Register for free to continue reading
Registration is a free and easy way to support our truly independent journalism
By registering, you will also enjoy limited access to Premium articles, exclusive newsletters, commenting, and virtual events with our leading journalists
Already have an account? sign in
Join our new commenting forum
Join thought-provoking conversations, follow other Independent readers and see their replies