FA chief executive Martin Glenn under fire after claiming women are less tolerant of 'banter' than men
Glenn drew ire when addressing the organisation's proposals for what he called 'enhancing the culture around the women's senior team'
Wednesday 10 January 2018 09:55
comments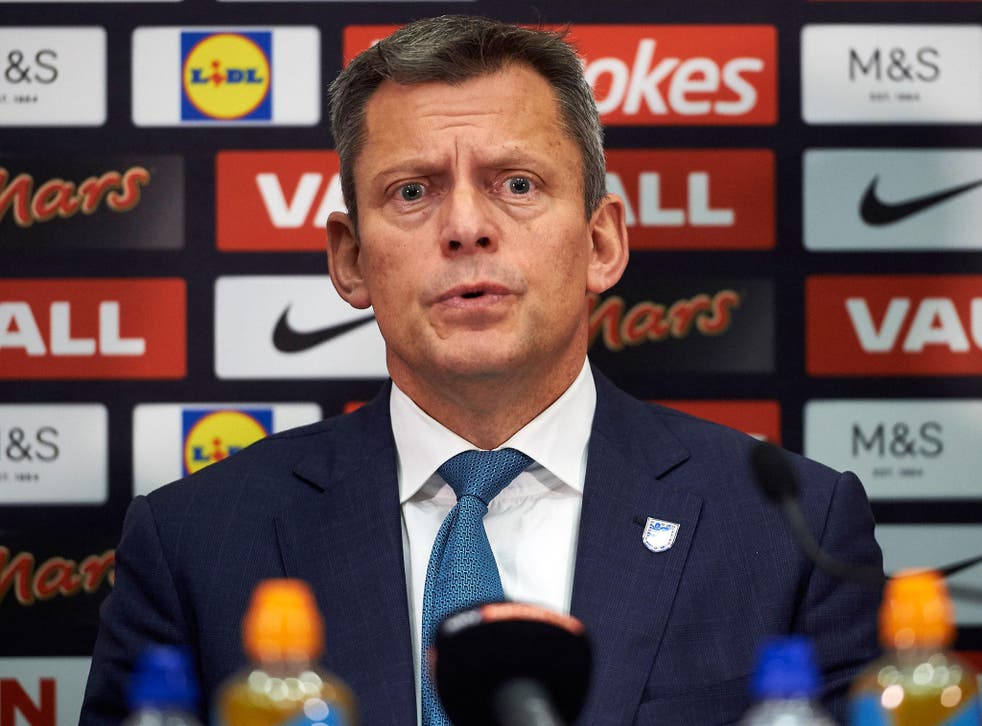 Chief executive Martin Glenn has risked undermining the FA's rebuilding efforts by suggesting that women are less tolerant of "banter" than men.
English football's governing body are desperately trying to repair their reputation after a damaging year following the fallout from the Eni Aluko case and the subsequent sacking of England Women's boss Mark Sampson.
Outlining the FA's plans for 2018 and their adoption of the 'Rooney Rule' in the appointment of future England managers Glenn drew ire when addressing the organisation's proposals for what he called "enhancing the culture around the women's senior team".
"I think culturally what women will be prepared to put up with has been a bit different from guys," he said while clarifying that he was not referring to Sampson's racist comments towards Aluko and other Lionness teammates.
Glenn added: "I guess banter would be a case in point. Now our grievance and whistle-blowing procedures are common across men's and women's teams. Our coaching guidelines are common across men's and women's teams.
"But I think it's fair to say from what we've seen is there are probably some differences in what they would expect to hear or say."
The 'Rooney Rule' will see the FA interview at least one candidate from a Black, Asian and Minority Ethnic background for future roles within the England set-up.
Glenn confirmed the rule will "absolutely" be implemented whenever the FA come to choose Gareth Southgate's successor as manager of the men's senior team.
Football's equality and inclusion organisation Kick It Out welcomed the proposals - and intend to make sure they are followed through in the years ahead - with chair Lord Ouseley hailing "a watershed moment."
A statement from Kick It Out read: "The organisation will be looking to work closely with English football's governing body to ensure the successful implementation and monitoring of its aims with regards to achieving equality, inclusion and cohesion."
The Rooney Rule, named after NFL diversity committee chairman Dan Rooney, requires American football franchises to interview at least one BAME candidate for each head coach or senior football operation vacancy.
In November, Sports People's Think Tank said 22 of 482 coaching roles in the top four divisions were held by BAME coaches.
Chair Lord Ouseley added: "I now expect those in positions of power across professional football, along with The FA, to drive forward the highest standards of activity in order to achieve these objectives which will benefit everyone who participates in the game."
Football League clubs had introduced their own version of the rule on January 1 and Glenn believes it is the duty of the FA to set an example.
Asked if the rule would be used to determine the next England manager, Glenn replied: "Absolutely. We are there to set an example. I think the Rooney Rule on its own isn't enough. All the other programmes about building the pipeline of talented young BAME coaches is also important at the same time.
"We are also quite a big employer as well if you think about the number of 28 England teams now, if you include men's, women's and disability. I think in talking to people at the Premier League and the FA, I don't see any resistance to it and to be fair the EFL has a Rooney rule in place."
Join our new commenting forum
Join thought-provoking conversations, follow other Independent readers and see their replies