Netherlands vs Mexico World Cup 2014: Arjen Robben says sorry for diving... but not for the penalty which was a foul according to the winger
Dutchman apologises for earlier dive during 2-1 win in Fortaleza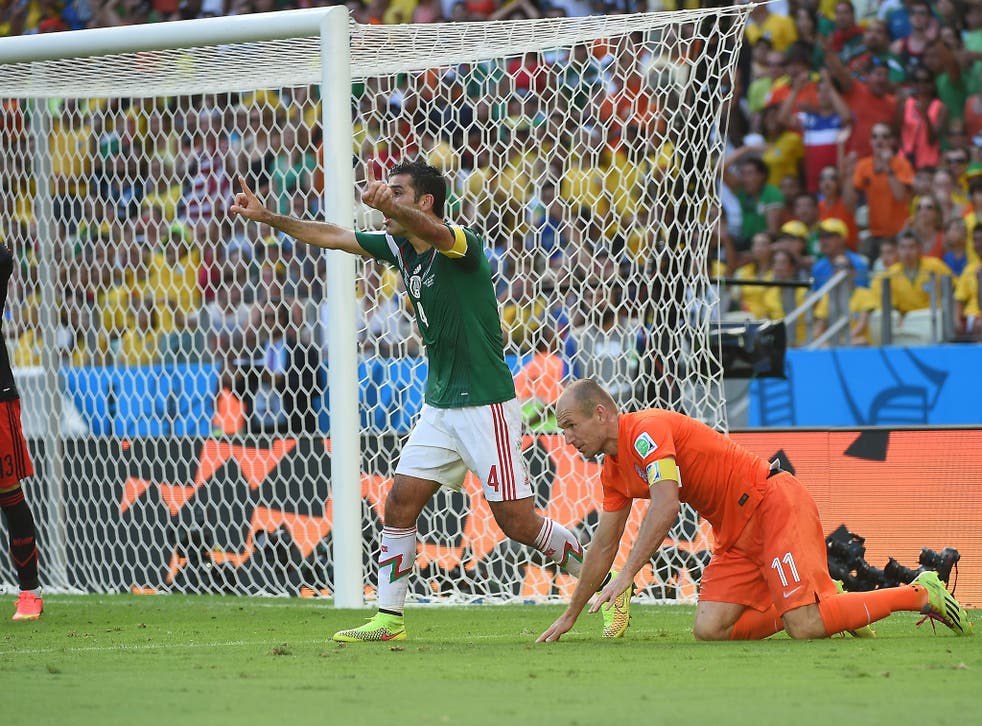 Arjen Robben apologised for diving during the Netherlands' dramatic victory over Mexico, but insisted that the crucial penalty that sent Louis van Gaal's side through to the quarter-finals was legitimate.
The Mexico manager, Miguel Herrera, accused the Bayern Munich forward of cheating to win the penalty that knocked his side out and demanded that the Portuguese referee, Pedro Proenca, be sent home from the tournament.
Speaking to Dutch television, Robben said: "The one at the end was a clear penalty but I have to admit there was an incident in the first half where I did dive. I must apologise. I should not be doing that."
With Robin van Persie off the field, it was expected that Robben himself would take the kick but he gave it to Klaas-Jan Huntelaar, on the grounds that Robben had been the one fouled.
Netherlands 2 Mexico 1 player ratings

Show all 23
Robben was perhaps remembering the 2012 European Cup final, where he had won a second-half penalty against Chelsea, took the kick himself and saw it saved by Petr Cech.
Nevertheless, Van Gaal will back himself to win the quarter-final in Salvador, although when he spoke he did not know whether he would be facing Costa Rica or Greece. However, he admitted to using the water breaks to reorganise his team from a 3-5-2 into a 4-3-3. This is outside the spirit of the water breaks but demonstrates the kind of cunning in which Van Gaal specialises.
"The players showed they have the belief to fight through to the end," he said. "Let me tell you that the Dutch media thought we would never survive the first round and so how we are suddenly favourites to qualify for the semis is something I have difficulty imagining. But with the team spirit that brought us this victory I think we will be very difficult to beat."
Video: Netherlands vs Mexico match report
That the spectacular equaliser was scored by Wesley Sneijder was, Van Gaal thought, significant. "It is not a surprise because he is one of the fittest players in the Dutch team, certainly he is the one that runs the longest and the hardest," the manager said.
"But it will be difficult to imagine Nigel de Jong, who broke down with a groin injury, being fit in time for the quarter-finals. Bringing off Robin van Persie was purely tactical. This is a coach who wants to win tournaments and to do that I have to make changes."
Join our new commenting forum
Join thought-provoking conversations, follow other Independent readers and see their replies