Neville: England are a top-eight team, that's it
Coach calls for realism and insists Hodgson's work can be built upon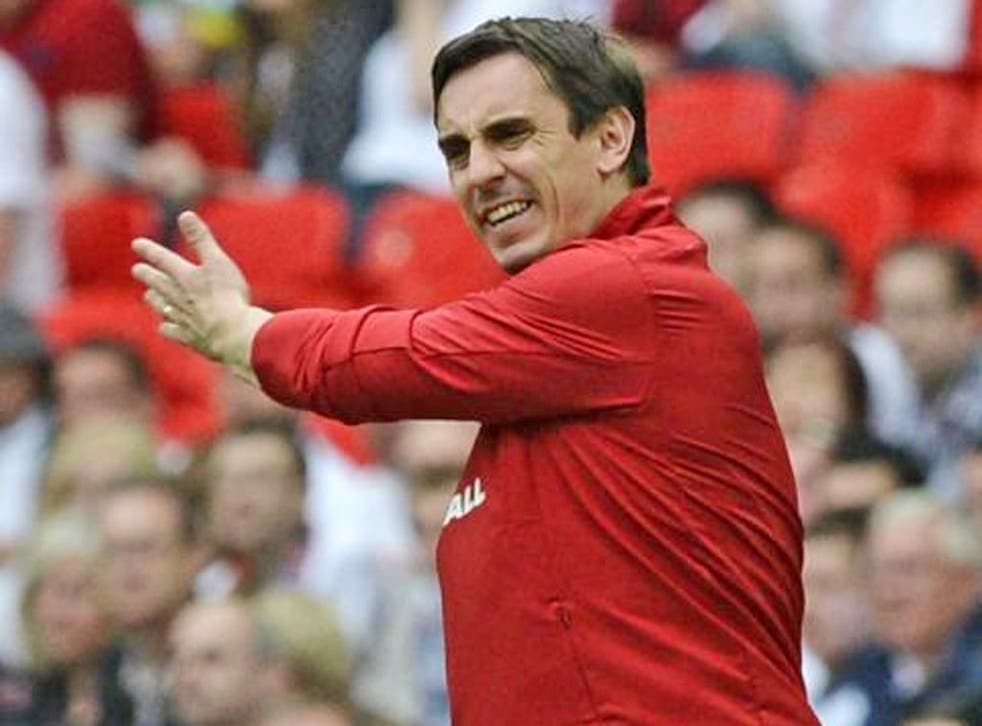 Roy Hodgson's coach Gary Neville has said the notion that England must always beat nations such as Italy is "arrogant" and "disrespectful" to such opposition and that a major dose of realism is required to dispel the expectation that the national team have to go close to winning every tournament they play in.
In his first newspaper interview since Hodgson's side lost on penalties to Cesare Prandelli's team in Kiev 22 days ago, Neville told The Independent that those who had rounded on England for their possession levels in the tournament were ignoring the standard of the opposition. "I never saw an England team in the last 40 years that kept possession against teams like France, Italy, Brazil, Spain and Argentina," Neville said. "Wake up everybody!"
Though the possession level in the quarter-final was 36 per cent, Neville said Hodgson's instructions to the players had been to show ambition. "We didn't go out there and say: 'You know what we're going to do today? We're going to give the ball away and sit back for 80 minutes and defend.' That's not the intention or what we tried to do. It was 'stay on the ball, be on the ball, pass the ball'."
Neville, who was appointed to Hodgson's coaching staff on a four-year contract in May, said: "There's always something you can do. I played for England for a lot of years and wanted to keep the ball better, wanted to be more successful, wanted a winning team – all those things. But it's disrespectful to other nations and arrogant to just dismiss them and talk about 'oh, we are England, we talk about ourselves'. We have to see ourselves in the light of Spain, Portugal, France, Italy, Germany, Argentina, Brazil. In terms of tournaments and measuring ourselves, the measure of an England team this last 10 or 12 years has been mainly around quarter-finals. It tells you where we are at. We are in the top eight teams in the world. That's fact."
Neville said the idea of England playing in the technical way demonstrated by Spain overlooked the fact that the country is still emerging from a style of football engrained in players in the 1970s and 1980s. He acknowledged that members of the England side who lost on penalties to Italy would say they could have "played better individually in that game" and accepted that criticism was to be expected. "You always have the inquests the week after," Neville said. "People try and change the world. What are we doing wrong? What should we be doing? Let's make everybody [Lionel] Messi. Let's make everybody Xavi. Let's make everybody [Andrea] Pirlo. It happens."
But in an argument which reflects one made by Liverpool's Jamie Carragher a few years ago, Neville called for realism. "The fact that we're getting into tournaments and knocking on the door, that there was a good spirit in the camp and everyone was behind the manager – let's build on that now and move forwards and do better. The idea that you can change English football and the way a kid kicks a ball when he's three years of age, that's a 20- or 30-year project, that's not for the current England manager. That's a project for the people who design the game. We have our culture and the way that we are. The idea that we want suddenly to be all Xavis, Pirlos and Messis – it's unrealistic. It's not achievable. It's about realism and honesty and doing the best that you can and trying to do the best that you can."
England's tournament has led many observers to pinpoint the lack of first-team experience in a Premier League packed with overseas stars as a problem. "In a perfect world you are going to have more English players playing in the Premier League, but how is the England manager going to change that?" Neville countered. "It's very difficult. All you can do is look at the players you have and try to mould them."
Register for free to continue reading
Registration is a free and easy way to support our truly independent journalism
By registering, you will also enjoy limited access to Premium articles, exclusive newsletters, commenting, and virtual events with our leading journalists
Already have an account? sign in
Register for free to continue reading
Registration is a free and easy way to support our truly independent journalism
By registering, you will also enjoy limited access to Premium articles, exclusive newsletters, commenting, and virtual events with our leading journalists
Already have an account? sign in
Join our new commenting forum
Join thought-provoking conversations, follow other Independent readers and see their replies